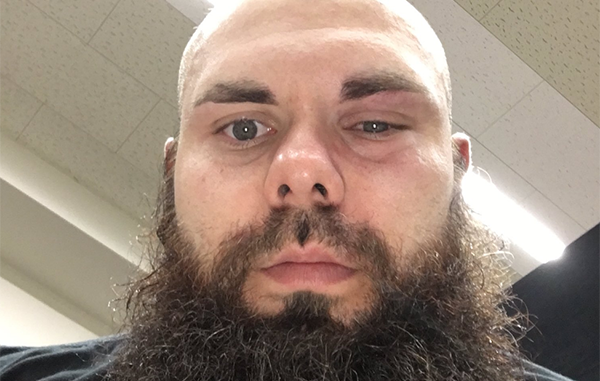 ---
SPOTLIGHTED PODCAST ALERT (YOUR ARTICLE BEGINS A FEW INCHES DOWN)...
---
Thanks to "The Two Man Power Trip of Wrestling" for sending along highlights below of their recent interview with Michael Elgin…
---
Podcast episode #223 of "The Two Man Power Trip of Wrestling" features an interview New Japan Pro Wrestling star and former Ring of Honor World Champion "Unbreakable" Michael Elgin. Still recovering from an orbital injury suffered earlier this year, "Big Mike" gives Chad and John Poz an update on his status for WrestleKingdom 11 and if he has been cleared to return to action for NJPW.
In this excerpt Elgin also discusses what it means to him personally to be considered a top star in New Japan and how he is now being compared to wrestlers that he looked up to as a fan. Please also checkout Michael Elgin's NEW wrestling promotion Glory Pro on Twitter @GloryPro2017
**NOTE THIS INTERVIEW WAS RECORDED ON 11/21/16**
•Update on his broken orbital bone: The eye is great. What happened was they take bone from my hip and put it under my orbital because if you use the same bones there it can break easier, so if you put the bone from your hip in there it makes it a little more sturdy so if you take impact to the orbital again and it won't break so easy. So they did that and to my understanding, I got home and you are supposed to wait three weeks to go to the gym (which I did wait) but my hip was still a little swollen and  I just thought (since) there  was a surgery that it is going to happen. I then worked out like two days and it just kept swelling more and more. I went into the hospital to have it checked and they were afraid I may have gotten a staph infection. They checked if there was any bacteria or any staph infection and there was not. They had a little surgery to drain it and double check wanting to make sure there was nothing on the bone and cause harm and it was clean. They gave me antibiotics just in case because sometimes on the bone they can lie dormant for a little bit and spring out of nowhere and  they wanted to do that as a safety precaution. I have a doctor's appointment tomorrow so I'm hoping that is all good news and that I will be back in the gym and back wrestling soon.
•Is it his goal to return to the ring in time for NJPW's Wrestle Kingdom 11: That is definitely the goal I have in mind. You don't want to miss the Tokyo Domes so I will not be missing that."
•Wrestling at last year's Wrestle Kingdom show against Jay Lethal for the Ring of Honor World Title: I have mixed emotions about it. It was surreal to be in the Tokyo Dome and be in a venue that I watched so many great matches from but it was also a downer that it was like here is a Ring of Honor match on a New Japan card. Not that I didn't want to wrestle Jay Lethal because I think he is super talented and one of the best wrestlers I have ever been in the ring with but I would have loved to my first time there to be against a New Japan guy in a New Japan match (if that makes sense). But it still doesn't dull down the experience of being at the Tokyo Dome and being part of it. I am definitely looking forward to getting in there in a New Japan sanctioned match rather than a Ring of Honor sanctioned match.
•Does he see the impact he has had in Japan as a top guy and is he surprised by how far he has come in one year: Without trying to sound (like) egotistical or anything like that it is not so crazy to me for the simple reason that I knew that if I really, really wanted to do something that I would do it. I've proved people wrong time and time again throughout my career. I was told I might never make my debut and I made my debut. I was told I would never make a living at wrestling and I've started making a living. I was told I would never be in Ring of Honor, I was told I'd never be Ring of Honor World Champion and I was Ring of Honor World Champion. I was told I'd never be in Japan and now I'm in Japan so it is just one of those things where people tell me that I couldn't do it fueled it more and I knew that I would make it and maybe I didn't know that I would make such an impact but I felt deep down I felt that if I worked hard and believed in myself it would be kind of hard to say I can't believe it and in the same vein I can't believe it as well so it's weird to say that but it is like a catch 22."
The full episode is also  available for download on iTunes, YouTube, Google Play, Spreaker, Player FM, Tune In Radio or by visiting our OFFICIAL web site tmptofwrestling.com.
NOW CHECK OUT THIS PREVIOUS INTERVIEW HIGHLIGHTS ARTICLE: Interview Highlights: Cody Rhodes talks about his ROH debut tomorrow night, life after WWE, why he left, more (w/Keller's Analysis)