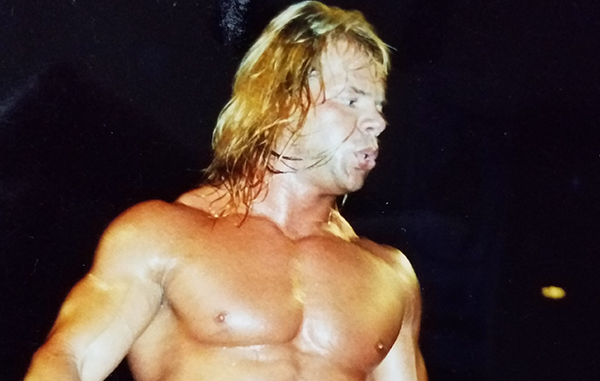 ---
SPOTLIGHTED PODCAST ALERT (YOUR ARTICLE BEGINS A FEW INCHES DOWN)...
---
The following is a correspondent report on a WCW live event from 20 years ago this week, originally published in the Pro Wrestling Torch Newsletter cover-dated Dec. 14, 1996, issue #419. VIP members now have access to the entire issue in PDF format and All-Text format which also including these topics:
-A cover story on the 1997 PPV landscape taking shape including an expanded PPV schedule… 
-WWF Newswire includes Jim Ross's notes on a woman filing assault charges against Shawn Michaels… 
-WCW Newswire details the on-air Charlotte reunion of Ric Flair and Roddy Piper… 
-Part one of the Torch Talk with upstart AWF promoter Paul Alperstein… 
-John Williams's feature column looks at the All Japan 1996 Tag League… 
-UFC Ultimate Ultimate PPV Report and Roundtable Reviews… 
-ECW Arena report including Raven regaining the ECW Title… 
-Plus ETC. Newswire, reports on Raw, Nitro, ECW, and other TV shows, and more.
Interested in being a VIP member? Tons of benefits, ad-free site, daily exclusive podcasts, three decades or archives, more: DETAILS HERE.
---
WCW LIVE EVENT REPORT
DECEMBER 8, 2016
BAUNATAL, GERMANY AT RUNDSPORTHALLE
REPORT BY MICHAEL RITTER, PWTORCH CORRESPONDENT
(1) Big Bubba Rogers beat Disco Inferno at 10:42. At the start Bubba insulted the fans, the city, and Germany to get heat from the dead crowd. Not much to the match. Bubba did what he usually does. At 10:00 Bubba hit his finisher, but Disco was able to kick out. Bubba then taped his fist and knocked out Disco for the win.
(2) American Males beat The Public Enemy at 20:45. TPE threatened to leave the arena if the fans kept chanting, "USA, USA." The Males came out together since Bagwell joining the NWO hadn't aired yet on German TV. At 10:50, Grunge grabbed a bag of popcorn and hit Marcus with it – "He's hardcore! He's hardcore!" At 20:40 Riggz got Grunge in the Fisherman's suplex for the three count. After the match Bagwell and Riggz argued because Riggz used Bagwell's finisher.
(3) Eddie Guerrero pinned Chris Benoit at 18:25. Both men worked really hard, but the crowd was still dead. At 11:45 they started a festival of aerial moves, including a couple of headscissors, top rope sunset flips, and superplexes. At 18:05 Benoit went for a diving headbutt but missed, so Guerrero finished him with a top rope frog splash.
(4) Glacier beat Mortis at 11:55. Glacier was over with the crowd compared to the pops Guerrero and Benoit received. They started early with a topé by Glacier at 1:00. Glacier dominated the match and took a great 360 degree bump after a stiff looking Mortis clothesline. At 11:49 Glacier caught the flying Mortis with a reverse kick and pinned him.
(5) Syxx (w/Vince) beat The Booty Man at 9:45. At the start, Vince held Booty so Syxx could beat him up. When Syxx went for a dropkick, Booty ducked and Syxx hit Vince instead. At 8:41 Leslie hit Syxx with his high kneelift finisher, but ref Nick Patrik grabbed his own neck in pain just before the third count. At 9:17, Bagwell came to ringside and handed Syxx a pair of brass knuckles. Syxx knocked Booty out and got the pin. Bagwell then put on an NWO t-shirt and after Booty hit Nick Patrik, the three heels beat up Booty Man.
(6) Alex Wright & Lex Luger beat Harlem Heat at 21:35. The first lock-up came five minutes after the bell. Heat hardly received any heat, even though they worked hard to get some. At 7:40 Wright took Booker T down for the first time with a series of European uppercuts, a dropkick, a flying headscissors, and a top rope dropkick. At 11:44 Luger got the hot tag after powerslamming Stevie Ray. At 19:40, Wright hit Booker T, who was coming off the top rope, with a very nice dropkick. At 21:19, Alex blocked a suplex attempt and rolled Booker up with a small package. Patrik argued with Luger, so Ray reversed the small package. As Patrik turned his attention to Ray, Luger reversed the small package again and Wright got the three count…
NOW CHECK OUT THE PREVIOUS FLASHBACK FROM: 20 YRS AGO: KELLER'S WWF Monday Night Raw Report: Steve Austin, Sid, Diesel, The Goon, Vince McMahon, Hunter, Michaels, Billy Gunn
OR GO VIP AND GAIN INSTANT ACCESS TO NEARLY 1,500 BACK ISSUES SPANNING FROM THE LATE 1980S THROUGH TODAY: DETAILS HERE.