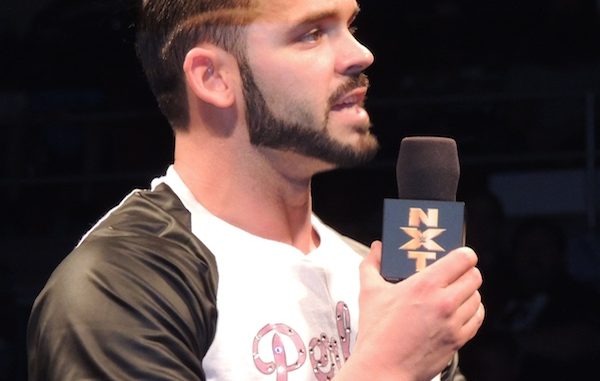 ---
SPOTLIGHTED PODCAST ALERT (YOUR ARTICLE BEGINS A FEW INCHES DOWN)...
---
NXT LIVE EVENT RESULTS
DECEMBER 8, 2016
MELBOURNE, AUSTRALIA
REPORT BY RYAN FROM AUSTRALIA, PWTORCH CORRESPONDENT
Close to a sellout crowd with some small patches of empty seats around the hard camera – I'd say around 5000 in attendance.
(1) Ember Moon beat Liv Morgan and Billie K after hitting her corkscrew Stunner. Good match with one missed spot which the crowd were quick to point out with "You F'ed up"n chants.
(2) Andrade "Cien" Almas beat Wesley Blake with a Hammerlock DDT. Fine match
(3) The Revival beat Tino Sabbatelli & Riddick Moss with the Shatter Machine. The Revival were out first to a huge pop. They cut a promo trying to get the crowd against them but got nothing but cheers. Sabbatelli and Moss were out to boos. The Revival worked hard to be heels and it was great seeing some of the more subtle stuff they do up close, but no matter how hard both teams tried there was just no way the Revival were getting booed – the crowd actually booed when Sabbatelli made the hot tag! Good match.
(4) Oney Lorcan beat Patrick Clarke with a single leg Boston crab. Fun match to bring the crowd down. Lots of "Sexual Chocolate" chants at Clarke, and the crowd "oohed" and "ahhhed" when Clarke took his gloves off to fight. When he removed his headband and threw it at Lorcan there was a Loud "holy sh*t" and "ECW" chants.  A couple of people tried to start a C.M. Punk chant a little later in the match which was met with HEAVY boos.
(5) DIY beat TM61 with their running knee smash/superkick finisher to retain the NXT Tag Titles. Crowd was really behind TM61 and the two teams put on an incredible match with great action as you'd expect from these four. Some good false finishes that the crowd got right into with several 'that was three!' chants. Both teams hugged after the match.
(6) Buddy Murphy & Tye Dillinger beat Elias Samson & Bobby Roode after Tye hit his Tye-breaker on Sampson. Samson got the most heat of the night, coming to the ring and attempting to play a song that was met with a loud "Shut the F up" from the crowd. Unlike most of the other guys on the show, the crowd seemed to legitimately HATE Samson! Roode was out to a HUGE pop and the whole crowd singing his Glorious theme. Big reaction for both Tye and Murphy, the hometown boy, who came out with an Australian flag wrapped around him. the "10!" Chant was strong throughout the match and the whole night – the crowd was looking for any excuse including an "Aussie, Aussie, Aussie – 10,10,10!" Chant. Lots of fun in this one and it made for a good match.
(7) Asuka beat Peyton Royce with the Asuka lock. Asuka got a good reaction, Royce was the only Australian to get a negative reaction on the the show but it worked well given Asuka was clearly a face on this show. Match was okay, brought down a little by the lack of enthusiasm in the crowd.
(8) Shinsuke Nakamura beat Samoa Joe with the Kinshasa to retain the NXT Championship. The cage somehow got stuck at a near 45 degree angle was it was being lowered and took about 10 minutes to correct which gave the crowd plenty of time to chant things at the cage like "you F'ed up," "botchamania," and finally a "You've still got it!" when they fixed it. Nakamura got an enormous reaction complete with a sing along of his theme, Joe was out to a good but noticeably quieter reaction. Match started off slow but built nicely and the crowd was into it the whole way. In the end Nakamura teased walking out the cage door only to slam it shut and hit two Kinshasas for the win.
FINAL THOUGHTS: All in all it was a fun night with a hot crowd that felt like a big party for the most part. It will be interesting to see what parts of this show they air as they did mention they were filming for NXT TV. I'm expecting they'll air Nakamura-Joe but hopefully they'll air the tag title match too as it was probably match of the night and a great display for both teams.
Tye Dillinger's "10" Chant seems like the next "Yes" chant, or more appropriately, the next "What?" Chant. The crowd were looking for ANY excuse as I mentioned earlier, and it was clear the workers had been told to avoid doing things that would elicit it. There were several moments in different matches where a wrestler would start multiple punches or kicks but stop as soon as the crowd started up the "10" chant (which they were pretty quick to do) and move onto something else. This was a much more enjoyable experience than the last two WWE main roster tours that came out here and hopefully it will become a yearly visit!
NOW CHECK OUT THIS NXT LIVE EVENT REPORT FROM THIS TOUR: 12/5 NXT in Perth, Australia: Results and thoughts on attending first pro wrestling live event with Nakamura, Samoa Joe, Revival, Asuka
---
Please send any news tips and results to: pwtorch@gmail.com. For instance, let us know if you hear a pro wrestling reference on a popular talk show, see a pro wrestling related Tweet or Instagram from celebrity, hear an ad for matches advertised for an upcoming WWE event, or anything else pro wrestling related that'd be of interest to our readers. If you attend a live event, please send results. We don't set up correspondents ahead of time and count on readers like you to send an email with a report on live events you attend – not just WWE, but also ROH, NXT, international groups. and anything else.