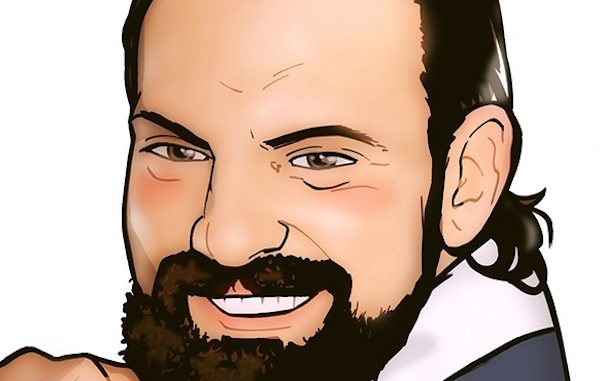 ---
SPOTLIGHTED PODCAST ALERT (YOUR ARTICLE BEGINS A FEW INCHES DOWN)...
---
Hits
Full On Sandow: It really is refreshing to see Aron Rex back in the role of Damien Sandow (minus the name). His babyface run in TNA was painfully awkward, and never really clicked. He's been doing his best work in the company over the past couple weeks by just doing what worked in the past. The promo he cut before his match with Moose had a couple of good lines in it when he asked, "Is three seconds really enough time to declare the winner of a match?" Then threatening to sue everyone in the crowd was also good for a laugh. Let's hope we see more of this Rex in the future.
Total Nonstop Deletion Hype: This wasn't Matt and Jeff Hardy's finest work, but they did a pretty solid job of building up next week's bound to be insane Total Nonstop Deletion episode. We were introduced to all of the key players in the segment, and Matt took a couple of fun digs at Shane Helms over his 3 Count and Hurricane past. Actually, I'd pop like crazy if 3 Count was in that match, but I digress. On the (slight) downside, while I can for some reason get into a gardener and Vanguard 1 (to an extent) as characters in this bizarre storyline, the thought of a two year old wrestling may finally make this angle jump the shark for me. We'll see if they can make it work!
Misses
Eddie's promo: Taking the title off of Bobby Lashley has not paid off one bit. Eddie Edwards is a good wrestler, and while he comes across as a likable guy, he's just not main event material. He's simply cast in a role he shouldn't be playing. He solidified that in his backstage promo during Impact. Edwards is kind of awkward on the mic, so they should take advantage of that! Play to his strengths, and have him be a quirky, endearing, and awkward champ. It may fail, but it will at least feel more genuine than having him in a suit cutting tough guy promos that he's clearly not comfortable delivering.
Aiden O'Shea vs. Mandrews: What a ridiculous match to book. Both men needed wins here, as O'Shea has not wrestled since coming back to television and Mandrews just turned heel. There was no reason to put them against each other! Josh Matthews didn't even bother putting over Mandrews' change in attitude. It made it seem like he wasn't watching last week when the X Division wrestler turned on DJ Z. It basically felt like this match was taped six months ago, and thrown into this episode to fill time. Well, Mandrews picked up the win, basically killing the gimmick of O'Shea as a credible enforcer. Matthews also strangely noted that Billy Corgan's former bodyguard was the "enforcer of Chicago" without any explanation as to what that meant, because he couldn't say Corgan's name. It was amateur hour all around.
Allie's First Real Match: I just hate the idea of someone being able to train for a few weeks in professional wrestling, and quickly being able to defeat someone who has devoted their life to the craft. On Impact, it was revealed that Braxton Sutter had secretly been training Allie, and it was somehow enough to give her the win over Laurel Van Ness. Just think of any competitive sport, and how absurd it is to be better than a pro in a matter of weeks. It undermines the very idea of wrestlers being talented in their respective field. Look no further than Brock Lesnar unable to join The Vikings, or Tim Tebow and Michael Jordan attempting to play baseball. These things take time! Besides that, the match should have been built up longer. They jumped a few chapters in Allie's story by having her beat Van Ness so soon. Last of all, there's no chemistry between Sutter and Allie. That just needed to be said.
The Strap Match: One of the worst matches of the year. When a 53 year old Al Snow is by far the best wrestler in an upcoming four person bout, you know you're in trouble. Strap matches are often underwhelming, but when they're booked, they should be saved for wrestlers that actually have a heated feud behind them. The Tribunal vs. Snow & Mahabali Shera does not fit that criteria. And while the strap shots likely stung quite a bit, they didn't look good on TV. Of course, the faces went over in the end, which made the newly repackaged Tribunal look just as ineffective as the old version.
You Deserve It? Moose opened up Impact holding the Grand Championship that he won last week. He quickly received a "You deserve it!" chant from the crowd. He deserves the Grand Championship? Is that what this awful chant has been reduced to? I thought it jumped the shark when Kevin Owens was greeted with it when he won the Universal Championship, but now it absolutely needs to go away forever. Moose also told the audience that he didn't win the title alone in his promo. "We did it." Nah, I'm good. I don't want any credit for helping win the Grand Championship. Thanks, though!
NOW CHECK OUT LAST WEEK'S IMPACT HITS & MISSES: 12/1: Moose becomes Grand Champion, Rosemary vs. Jade, The Crowd, DCC, Allie
---
(Andrew Soucek is a new PWTorch contributor who is going to write TNA Impact Hits & Misses each week and a new Specialists feature soon, also.)