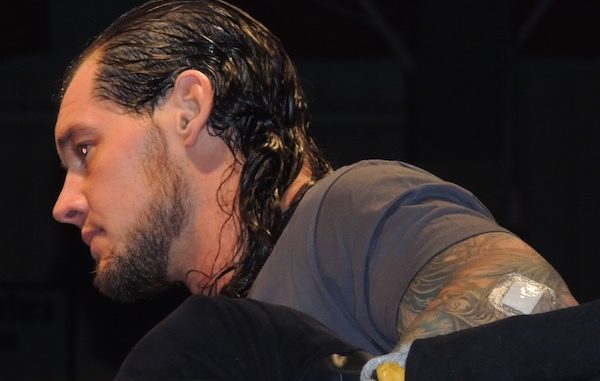 ---
SPOTLIGHTED PODCAST ALERT (YOUR ARTICLE BEGINS A FEW INCHES DOWN)...
---
Rising Star of The Week: Baron Corbin
You can have the Miz vs. Ziggler twentieth ring around the rosey or the "dying days of WCW" finish that was the Styles & Ambrose main event, both were good matches overall, but the best bout of TLC was Baron Corbin vs. Kalisto (Can't believe I'm saying that about a "chairs match"). Sure, you job out someone who would (and still probably could) draw you some merchandise sales in Kalisto, but at this point no one would have any inclination of creative going that route. The character of Corbin is one of the few WWE has stayed consistent with. He was unscathed by the Survivor Series shuffle and remains the heel through and through. He fly swats a chair into an airborne cruiserweight, then murders him into a pile chairs with an End of Days just as a garnish. Pretty heelish. Later on "Talking Smack" he demands to be in the main event picture while mocking his tiny GM, Daniel Bryan. Also, heelish. Corbin may be green as far as ring work goes, but if his character sticks to his "Lone Wolf" ways, he'll provide green in a feud with a babyface Styles or Ambrose.
Honorable Mentions:
Chris Jericho: With how Jericho has handled his character these past six or so months, he could steadily be on this list week after week, but his crumbling relationship with KO puts him in the right position as a top legacy babyface in a renaissance. Who doesn't want to see Y2J winning the Rumble by literally tossing and crossing people off The List (as my one friend suggested)? I'm sure some don't, but a big part of the live audience sure does. What's remarkable about this is I would have never made such suggestions six months ago, but now I'm all ready to drink it in, man.
Jack Gallagher: Gallagher may have suffered a loss to Ariya Daivari on "205 Live", but he was given the opportunity to showcase his unorthodox style and personality on Raw, something that many cruiserweights (champion Swann included) haven't been given a true chance to do. Gallagher easily could have been leveled in the role as a Spike Dudley to the beleaguered Vaudevillains, but there's much more to him than just a mustache grooming kit and striped trunks.
T.J. Perkins: Yes, Perkins lossed to Rich Swann on Raw, but his time on commentary during this week's "205 Live" more than made up for it. It's been a long time since a babyface seemed so polished in the commentator's seat. He traded credible barbs with an always game Austin Aries (setting up a potential feud down the road) and gave actual insight to the main event itself. Shining on commentary always a positive to Vince. Let's just hope he was listening.
---
Fading Star of The Week: James Ellsworth
I think the new cliche for "beating a dead horse" is "a pear-shaped misfit jobber keeps screwing up WWE Title matches". Ellsworth was/is fine as a one note tune. Heck, I'll even go as far to say that I enjoy the notion that he's obliviously dumb to the fact that he is, indeed, a jobber who's way out of his league, but for this to be Smackdown's primary storyline for practically months on end where he plays such a factor in determining who their top champion is completely ridiculous. Plus this storyline isn't even fleshed out. If you didn't catch the "Talking Dead", I mean, "Talking Smack", you wouldn't have caught any whiff of Ellsworth's Russo-esque reasoning at TLC. Having him on TV at all is very debatable, but anywhere he goes on the product would be a better place than this. WWE should heed the words of his Offspring tattoo and "Keep 'Em Seperated"
Dis-honorable Mention:
Enzo Amore: It shames me to put arguably one of my favorite acts in years on this list for two consecutive weeks, but half-assed booking doth giveth and taketh away. Enzo looks like a complete idiot in this angle. Forget the villainous fact that he could potentially be banging a married woman, but he catches one solitary argument between the couple so he considers it copecetic to accept an invite to her hotel room? Then add onto it that this whole story is built upon him flaunting his dong to said married woman doesn't exactly paint him into a happy tree of Bob Ross proportions. All things considered, I don't think this will hurt Enzo due to the "It Factor" he carries, just as long as they shore this up in the ring rather than in Room 207.
Good or bad, everyone else on Raw and Smackdown was par for the course from last week, so only one dishonorable mention. Unlike Corbin however, I still don't feel unscathed, somehow.
NOW CHECK OUT LAST WEEK'S DEBUT OF THIS FEATURE: RISING STAR & FADING STAR OF THE WEEK: Alexa Bliss, New Day, Austin Aries, Roman Reigns, Enzo & Cass, Cedric
---
(Dominic DeAngelo will present his Rising Star and Fading Star of the week every Friday on PWTorch.com in our new expanded slate of Specialists columns.)