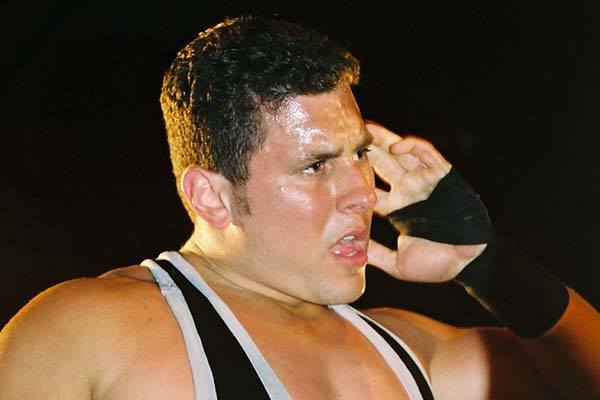 ---
SPOTLIGHTED PODCAST ALERT (YOUR ARTICLE BEGINS A FEW INCHES DOWN)...
---
HOUSE OF HARDCORE 22
DECEMBER 17, 2016
2300 ARENA (formerly ECW Arena)
PHILADELPHIA, PA.
REPORT BY TOMMY HOWLETT, PWTORCH CORRESPONDENT
At 8 p.m. the referee and ring announcer were sent to the ring and stood there for 45-50 minutes because the show had technical difficulties. When FloSlam was mentioned the entire place booed very loudly. Lot of Matt Hardy fans here and lots of "delete" chants throughout.
First match began almost at 9 p.m.
(1) The Brooklyn Brawler defeated Alex Reynolds by submission with the Boston Crab. The Brawler cut a promo saying he wrestled at the Spectrum hundreds of times against the likes of Roddy Piper, Dusty Rhodes and Andre The Giant. He said he was so excited to wrestle in the ECW arena that for tonight only he wants to be known as The Broad Street Brawler. He took off his New York jersey to reveal a Philadelphia Flyers shirt to a huge pop. Reynolds then attacked Brawler to start the match. Reynolds controlled the whole first 2 minutes then missed a moonsault and Brawler hooked the Boston Crab for the win. Not much to the match but The Broad Street Brawler was over big time.
(2) Taya defeated Jessicka Havok by submission with a single leg Boston Crab. Nice back and forth action with Taya getting a lot of "Lucha" chants for Taya and a lot of jeers for Havok about her size. The only distracting part of the match was Havok constantly pulling up her pants. Havok then attacked the female ring announcer after the match.
Stephen DeAngelis then came out to a nice pop to handle the rest of the ring announcing duties.
(3) Tony Neese defeated Lio Rush by pinfall. Lio Rush came to the ring with an amazing entrance and a version of "Paint it Black" playing. He was portrayed as the heel but the crowd really loved his entrance. Neese came out to a huge pop as it was announced this will be he last Indy date. "Please Don't Go" chants as soon as he entered the ring. Great match and in my opinion match of the night with some great spots including the finish when Neese landed a pumphandle into a tombstone. After the match Neese shook hands with Rush as Matt Striker, Bull James, Alex Reynolds, and Dan Barry all came out to say goodbye to Neese. Neese thanked each one by one for what they did for him and ended with Alex Reynolds. He said him and Reynolds started in every company together and been together since day 1 and he knows Reynolds will be the next to get signed. They hugged in the middle of the ring then Reynolds superkicked Neese to get some major heat. Reynolds then cut a promo saying the only reason Neese was going to WWE and he wasn't was because "they wanted Shawn… but settled for Marty." In the line of the night.
(4) Dan Barry & Kikutaro & Conor Braxton defeated Vik Dalishus & Eddie Kingston & T.J. Marconi by pinfall. If any member of team Barry lost then Dan Barry wasn't allowed to wrestle in HOH ever again. Nice comedy match with funny spots. Braxton did a tackle drop down spot on a hoverboad and Kikutauro did a slow motion spot for about 5 minutes that everyone worked perfectly. Finish came when Bill Carr came running out to a nice reaction and immediately botched a flying head scissors spot. Carr and Barry hit their finisher and Barry got the win.
(5) Moose pinned Colt Cabana. Decent match with some Colt comedy at the beginning including selling disgust at touching Moose. Moose looked great throughout but some high spots looked a little awkward including a moonsault attempt. Moose went for the Discus Clothesline a couple times before hitting it and getting the pin.
(6) Sami Callihan defeated Brian Cage by submission. Very good match with both guys getting in a ton of offense. Lots of action on the floor including an amazing spot where Callihan went to hit Cage on the floor with a running flip from the apron but Cage caught him in a suplex position to a hue reaction. Lots of stiff shots as both guys backs and chest were beat red. Finish came after several false finishes with Cage going for a pinfall and Callihan reversing into a stretch muffler for the submission.
(7) John Hennigan (a/k/a Johnny Morrison, Nitro, Mundo) defeated Fenix by pinfall. Lots of action in this one with the only drawback being a couple botches by Hennigan falling off the ropes or slipping which the crowd greeted with "You Fucked Up" chants. Hennigan hit a Starship Pain almost out of nowhere for the win.
They stared setting up the cage and announced HOH will return to the Arena in April with a meet and greet and autograph signing with Kevin Nash, Scott Hall, Ricky Steamboat and Ric Flair. Took a while to get the cage up as there were more technical difficulties with getting the door to stay on.
(8) Broken Matt Hardy defeated Tommy Dreamer by pinfall in a steel cage match. Started with Hardy about to cut a promo but getting cut off by Dreamer with brawling on the floor. Once inside the cage it was back and forth action and duling chants of "Fuck em up Tommy/Delete! Delete!" Dreamer hit a Spicolli Driver and was going to exit the cage. As he was about to leave, referee Kevin Keenan slammed the cage door on his head to massive heat. Then "Enter Sandman" hit and the crowd came unglued as Sandman ran down and canned Keenan. Then as Hardy was exiting Sandman canned him. Back on the floor as Sandman was about to hit Keenan again, Jeff Hardy aka Brother Nero came out of nowhere to attack Sandman to "Brother Nero" chants. Jeff went into the cage and pulled out a bag of thumbtacks that he dumped all over the mat. They teased a side effect onto the tacks but Dreamer fought out of it. He set up Matt for a Spicolli driver into the tacks but Jeff hit him with the cane. Matt then hit a side effect on Dreamer into the tacks for the pin and the win. After the match Matt was exiting and Jeff was following until the crowd chanted for "Swanton Bomb". Jeff thought about it but Matt took the mic and said he beat his addiction of being a spot monkey and not to listen to these people. Jeff kept acting unsure of what to do as Matt kept trying to talk him out of it and the crowd kept chanting for it. Finally Jeff exited the cage and flipped off the crowd with both middle fingers. Dreamer then got up and left with Sandman to a nice reaction.
FINAL THOUGHTS: Great overall show. Some matches felt a little rushed and short due to the late start and cage difficulties but the action and atmosphere throughout was great. Biggest pop went to Sandman followed by Jeff Hardy then Tony Neese. Most heat was for Kevin Keenan, FloSlam, and Alex Reynolds when he turned on Keenan. I would highly recommend everyone checking out HOH if their near you.
NOW CHECK OUT THE PREVIOUS REPORT ON THIS EVENT: 12/16 House of Hardcore in Philadelphia, Pa.: Hardy, Cabana, Dreamer, Moose, Steve Lombardi, Tony Nese at former ECW Arena