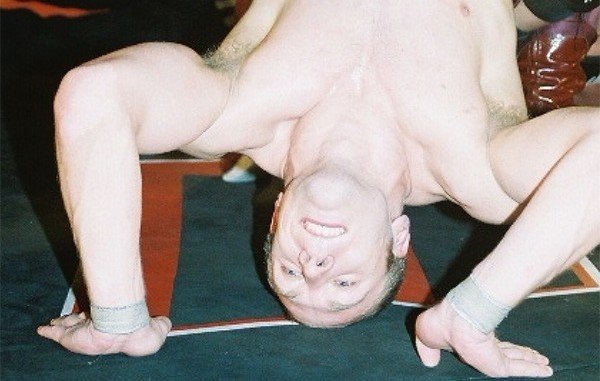 ---
SPOTLIGHTED PODCAST ALERT (YOUR ARTICLE BEGINS A FEW INCHES DOWN)...
---
ROH Live Event: "Final Battle 2006"
December 23, 2006
New York, N.Y. at The Manhattan Center
Report by Michael Mansfield, PWTorch correspondent
This was another sellout for ROH in the Manhattan center and another great show. The crowd was rabid and chanted for Homicide throughout the night. The only downside was a section of the crowd who seemed intent on making WWE chants all night and the guy next to me who just got more drunk as the night went on. Ill explain more about him later.
The show started with Santa Claus coming out to the ring with two elves, one being Pelle Primeau. They threw t-shirts into the crowd and I managed to catch one. It was a "Fat Drunk and Pissed Off" Carnage crew t-shirt. They did their schtick for about a minute before the Briscoes hit the ring and beat them down, with Primeau taking a painful looking backdrop onto his shoulder. They said that since the Kings Of Wrestling beat them last night, they wanted their rematch tonight.
(1) Jimmy Rave defeated El Generico, Christopher Daniels, and Davey Richards. This was my first time seeing El Generico, and he was very entertaining. The crowd loved him. This was a solid match with the highlight being El Generico's top rope brainbuster onto the turnbuckle on Richards. Rave spent most of the match on the outside before sliding in and tapping out El Generico with his single leg crab finisher as Generico was pinning Richards. Jimmy Rave is great. The crowd simply hates this man. After the match Nigel Mcguinness hit the ring and chased Rave to the back.
Adam Pearce and Shane Hagadorn were in the ring next, and they talked some trash about Homicide and dedicated the night to James E. Cornette. They made a promise that Homicide would not leave as champion. A big Homicide chant broke out. Then Julius Smokes and Ricky Reyes hit the ring. Smokes got a big laugh and a big chant by calling Pearce a "fake ass Repo Man".
(2) Adam Pearce defeated Ricky Reyes. Short match here with Pearce blasting Reyes with a roll of what looked to be masking tape for the pin. At one point Pearce turned to the Repo Man hecklers in the cheap seats and screamed " Whats mine is mine and whats yours is mine too!" Good stuff. Julius Smokes got in the ring and squared up to Pearce. Pearce and Hagadorn hit him with a spike piledriver and he was carried to the back.
(3) Jimmy Jacobs & Brent Albright defeated B.J. Whitmer & Colt Cabana. He didnt look it in WWE, but Brent Albright is enormous. Not that tall, but a seriously large man. The contingent in the corner broke into some derogatory chant before the rest of the building chanted at them to "Shut the F*** Up." Good crowd heat late for this match. Cabana and Whitmer set up a table on the outside early, and Whitmer ended up being powerbombed from the ring through it right in front of us. It was a rough looking fall, and Daizee Haze was crying at ringside. Albright hit five rolling German Suplexes on Cabana, and Jacobs pinned him after a senton from the top. Whitmer was helped to the back during a "Thank You BJ" chant.
Kings of Wrestling hit the ring next with a guy they introduced as Hero's new agent, "Sweet and Sour" Larry Sweeney. Sweeney did a bit of a Ric Flair strut and said a few words. Hero said that he had a special night planned for Claudio, but now they were going to fight the Briscoes.
(4) The Brisco Brothers defeated The Kings Of Wrestling. Awesome match. KOW were way over with the crowd. There were a couple of great spots in this match, including one where Claudio wrapped both of the Brisoces legs around his neck and swung them around. Claudio accidentally nailed Hero with the briefcase, leading to a great top rope legdrop/shooting star press combo for the pin. Both of these teams are fantastic. After the match, the crowd chanted "Thank You Claudio". Claudio got on the mic and thanked the fans but said that hes going to stay longer in Ring Of Honor and the KOW were gonna have a great 2007. He stumbled a couple fo times while talking, but explained it away by saying that he's Swiss. English is his second language. Sweeney took the mic and said that he and Hero had big plans for 2007 and they didnt include Claudio. Claudio and Hero had a discussion mid ring. Hero shook Claudio's hand, but then turned and walked out with Sweeney.
After Hero left, Claudio stood in the ring while Samoa Joe's music hit. Joe took the mic and told Claudio that he's not his friend and to get out of his ring. Claudio picked up his briefcase and walked over the rail and through the crowd to the exit. Joe apologized for not being able to wrestle, but issued an open challenge to NOAH. He said " Give me Morishima! Give me Marafuji! What the hell, give me Mitsuhara Misawa!" to progressively bigger pops. Nigel McGuinness hit the ring, called Joe fat, and challenged him to a match February 16th, the next time ROH is in the Manhattan Center. Jimmy Rave attacked Nigel from behind, but Joe stopped him and slapped him across the face to the outside. Rave backed up the entrance tunnel while Joe said that Nigel and Rave should fight tonight.
Intermission
(5) Jimmy Rave defeated Nigel McGuinness. This match started slow but finished strong. Nigel seemed a bit pissed off at the crowd, who wasn't into the match in the early going. A boring chant broke out from the idiots in the corner, which, once again, was quickly drowned out by the rest of the arena telling them to shut up. Good, stiff match, which saw Nigel hit Rave with just about everything, but couldn't seem to beat him. Finally, Rave caught him with his crab finisher, and Nigel tapped. Jimmy Rave's buildup is great. Besides Homicide, Rave got the biggest crowd reactions throughout the night. After the match, Rave took the mic and said that after proving what he could do tonight, he wanted a title match on February 16th.
(6) Cima & Shingo & Matt Sydal defeated Roderick Strong & Austin Aries & Delirious. Delirious was way over. He and Cima had a great staredown in the beginning where Delirious squatted with his hand in front of him for a good four minutes with Cima on his knees in front of him. Delirious did'nt move until the bell rang, whereupon he went mad and ran around the ring for a while. This was the best match of the night. Strong chopped the crap out of everyone and Delirious just shouted gibberish the whole way through. Sydal hit a great move similar to the one in Edison last month where he stood on Strong's chest as Strong was standing and jumped off into a sunset flip. Excellent match. Everyone in this match stood out as a star, especially Delirious.
(8) Homicide defeated Bryan Danielson for the ROH World Title. Crowd heat was tremendous for this match. Homicide came to the ring without Julius Smokes, courtesy of the spike piledriver earlier. It was slow paced early, with both men working each other's injured shoulder. Homicide hit the three amigos suplexes which led to an "Eddie" chant. As he went to the top, Shane Hagadorn and Adam Pearce came out and beat on Homicide. The ref called for the bell. Homicide's crew came out and chased back Pearce and Hagadorn. Smokes stayed out with Homicide. Danielson grabbed the belt and went back to the locker rooms. The crowd chanted "Bullsh*t." As Cruise was announcing the decision, Sinclair grabbed the mic and restarted the match. Danielson came back out and then the match really picked up. Homicide dived on Danielson on the outisde before Dragon jumped from the top into the crowd. The drunk guy next to me had been screaming nonstop all night. Smokes turned to him and told him to shut up, that he was distracting Danielson and Homicide. He quieted down for a while before starting up again. Smokes charged at him and screamed at him before security came over to talk to the guy. Anyway, Homicide escaped numerous cattle mutilations before hitting a nasty looking cop killer for a near fall before finishing him with a lariat. It was one of the loudest crowd pops ive ever heard. The locker room emptied out and Homicide made a speech thanking everyone. It was a great moment and a fitting ending to an excellent show.
Great show on par with Glory By Honor Night 2. The Crowd was hot all night, and the wrestlers really seemed to feed off that. After the show, we met the Briscoes, Matt Sydal and Nigel McGinness walking around. We also met Shingo and Cima signing autographs. Another great ROH show.
By the way, the guy who Wade talked about on his daily update who attended almost every WWF show for a couple of years was in the front row tonight. It had been a long time since I saw him.
NOW CHECK OUT THIS PREVIOUS FLASHBACK: 20 YRS AGO: WCW live event report from Germany with Guerrero, Syxx (Waltman), Booty Man, Luger, Booker T, Disco Inferno