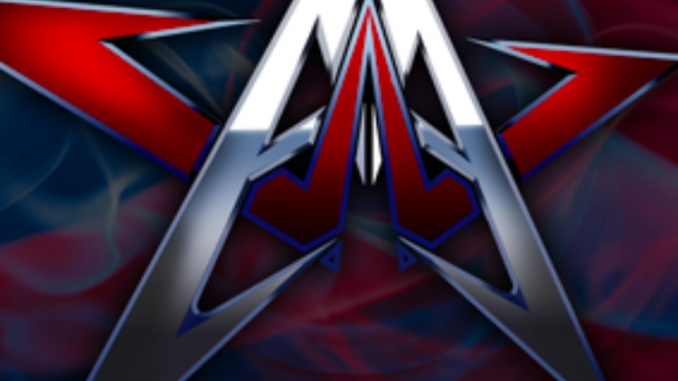 ---
SPOTLIGHTED PODCAST ALERT (YOUR ARTICLE BEGINS A FEW INCHES DOWN)...
---
AAW UNSTOPPABLE REPORT
DEC. 30, 2016
CHICAGO, ILL.
REPORT BY QUMAR ZAMAN, TORCH CONTRIBUTOR
To finish off the year 2016, AAW Pro Wrestling Redefined brought "Unstoppable" to 115 Bourbon Street in Merrionette Park, Illinois. Interrupting the AAW commentary team of Phil Colvin, Derek St. Holmes, and Tyler Volz was Scarlett Bordeaux and the duo she manages, Conor Braxton and Eddie Machete. After having a match on WWE's Monday Night Raw earlier in the week, Bordeaux bragged about not needing an introduction, but she was angry at the fact that Braxton was not scheduled for a match tonight. Before she could get another word out, the music of the Notorious 187, Homicide hit.
(1) Homicide beat Connor Braxton. Braxton impressed in the early going, as the youngster used his height to this advantage. However, the cunning veteran Homicide went into his old bag of tricks. Homicide found a steel chair under the ring and tried to subdue his opponent. Sensing her man was in trouble, Scarlett entered the ring to break up a submission attempt. Homicide was more surprised than anything as he hit an RKO on Scarlett. He was then able to finish off Braxton with another one off the top rope, earning the pinfall.
After the match, Eddie Machete tried to exact some revenge on Homicide, but he paid the price in the form of a Cop Killer. Then, the Killer Cult came into the ring to put Homicide in the number disadvantage. Led by JT Davidson, Jake and Dave Crist double teamed Homicide. Homicide tried to fight back, but the Crists hit their combination spike piledriver. The celebrations for Jake and Dave Crist didn't last long. Kongo Kong and Markus Crane appeared on the stage and Kong launched Crane into the Crist brothers.
(2) Jake & Dave Crist beat Kongo Kong & Markus Crane. The impromptu battle between Jake and Dave Crist and Kongo Kong and Markus Crane went all around ringside. Kong brought the fight into the crowd, attacking Jake Crist. Meanwhile, Dave Crist suffered a painful attack on one of the columns near ringside. Eddie Machete came to the aid of the Killer Cult. Kong went on the offensive against Dave Crist, throwing him into a corner barricade and then cannonballing him.
The Killer Cult was able to regain some advantage when Kong ran into the column, allowing Jake and Dave Crist to isolate their attack on Markus Crane. The fight was able to enter the squared circle, with Crane taking a beating. Crane was eventually able to muster enough strength to get both Crist brothers down and tag in Kong. Kong displayed some impressive agility, but took too long on a diving splash attempt from off the top rope. Dave Crist hit four superkicks to the face of Kong, but Crane blind tagged himself into the match. Crane had a couple of near falls, but the Crist brothers were able to hit another stomp spike piledriver combo move on Crane to pick up the victory.
Following the match, a video was shown of an interview taking place backstage. Marty DeRosa was interviewing the Besties in the World, Davey Vega and Mat Fitchett. Silas Young was also present. DeRosa mentioned that the last time Silas teamed with them, there was a money issue. Silas made sure to get his money upfront. Vega and Fitchett ran through their gameplan for the night, as Fitchett was involved in a 4-way match and Vega and Silas were teaming up.
(3) Matthew Riddle beat Davey Richards. The fans at 115 Bourbon Street were in for a surprise, as Matt Riddle went one-on-one with the returning Davey Richards. The fans offered dueling chants, as both men displayed some impressive mat wrestling. The match soon intensified with chops and punches being traded, with the ante being upped at every turn.
Davey Richards, as he often does to his opponents, picked out a limb to isolate. Richards went to work on Riddle's left leg, using various submission attempts. Richards antagonized the crowd when he faked a figure four leglock, but soon felt the pain when Riddle executed a figure four that nearly went into the figure eight.
The two men then took their battle to ringside, with Richards laying Riddle's left leg on top of a corner guardrail before hitting a running knee to it. Returning to the ring, Riddle was able to gain an opening when he hit a brainbuster on Richards. Riddle and Richards once again traded attacks, but it was Richards who was able to get the last blow. Richards put Riddle in to a Texas Cloverleaf, but Riddle got out of it and rolled into a small package for only a two count. Both men traded near falls, but Riddle was able to force Richards to quickly tap out to a submission.
(4) Michael Elgin beat Paco Gonzalez and Desmond Xavier and Matt Fitchett.  The next match was a 4-way with the first fall deciding the winner. The four participants were Mat Fitchett, Paco Gonzalez, Desmond Xavier, and Michael Elgin. The edge in the match obviously went Elgin's way, with all three of his opponents clearly outsized and outmatched by the former AAW Heavyweight Champion. Before the bell rang, Elgin delivered a worm in the ring and walked off to celebrate his dancing skills.
It was Mat Fitchett and Paco Gonzalez who kicked off the contest, with both men trading impressive maneuvers. Desmond Xavier tagged himself in and got the edge over Paco. That was short-lived as Michael Elgin tagged in to bring Xavier down a peg. Elgin then stood up Xavier for a suplex, still holding on in spite of two separate attempts by Fitchett and Paco to disrupt him, and dropped the youngster down. Elgin exacted revenge with a two-man suplex on Fitchett and Paco.
With the action going outside of the ring, Elgin was the first man to suffer an aerial attack, as Paco, Fitchett, and Xavier all hit some impressive aerial maneuvers. Back inside the ring, Paco nearly got the edge over the man who trained him, but only got a two count on Elgin. Soon afterward, Elgin delivered a series of German suplexes to his opponents. Big Mike just couldn't get a pinfall on Fitchett or any of the other opponents.
All four men subsequently knocked each other out with some amazing maneuvers. When they regained their balance, the objective became to gain a pinfall by any means. The numbers game made it impossible for any one man to reach the three count, no matter the move. Michael Elgin was just too much for his three opponents, using Paco as his whipping boy. He powerbombed Paco over the ropes, landing onto Fitchett and Xavier on the outside. Paco was able to get back up and tried to hit a hurricanrana from the corner, but Elgin pulled him up and hit a diving sitdown powerbomb from the top rope to gain the pinfall victory.
After the match, a video was shown of Marty DeRosa interviewing Chuck Taylor. Taylor mentioned that he would have Colt Cabana to protect him in his match against Silas Young and Davey Vega.
(5) Drew Galloway beat Jeff Cobb. In singles action, Jeff Cobb went one-on-one with Drew Galloway. Galloway had the height advantage, but the heavyweight Cobb was the more physically impressive man between the two. Cobb showed off his strength during tie-ups with Galloway, going so far as tossing the Scotsman around like a rag doll. Galloway went through numerous methods of trying to bring Cobb down, needing some dirty tactics to subdue the Hawaiian heavyweight.
Once Galloway got Cobb to the outside, he was able to gain momentum. A diving flip onto Cobb and dropping the big man onto the top of a guardrail helped Galloway. But, Cobb reversed out of an Irish whip into the column at ringside, eventually returning inside the ring.
The two men traded attacks trying to ascertain a pinfall. Cobb thought he had the match won after he hitting standing moonsaults on Galloway. Galloway thought he had Cobb ready to tap out to his Iron Maiden submission, but the big man was able to get out of it. Frustrated with their failed attempts, the two men traded blows until Galloway snuck away and catapulted himself off a corner turnbuckle. Galloway then hit his Future Shock DDT and managed to gain the three count win over Cobb.
After the match, Marty DeRosa went to the stage to interview the winner, Galloway. Galloway grabbed the mic and a chair and sat down in the middle of the stage. He says he forgives the fans and wants to tell them a story. Galloway mentions a match he had on September 15th in the UK in which he suffered a broken back. Galloway encourages the fans to say what they want, and that he left the WWE to make a name for himself. Galloway mentions the large crowds in the UK that he's wrestled in front of. Galloway says that Vince McMahon was right by calling him the chosen one, but not his chosen one. Galloway mentions that his list of wrestling companies he wants to work for is very short, which includes AAW.
(6) Pentagon Jr. beat Chris Hero.  One of the most anticipated rematches in AAW was ready to hit 115 Bourbon Street. After their stellar first time meeting at the Windy City Classic last year at the Logan Square Auditorium, it was time for "Hero Miedo 2". Chris Hero once again donned the facepaint of his opponent, Pentagon Jr., on one side of his face.
The two men fist-bumped in a sign of good sportsmanship, but Hero soon slapped Pentagon Jr. after he displayed the Cero Miedo. Hero then went off of the ropes and the top rope snapped off and the ring post was broken. The match quickly went to the outside. Hero then tossed Pentagon Jr into the crowd.
After fighting in the crowd, they returned to ringside to continue their brawl, while the top rope was trying to be repaired. Hero and Pentagon Jr. traded slaps and kicks as they sauntered around the ring. The two men then went back inside the ring to continue their match, in spite of a lost top rope. Hero tried to gain the pin with a piledriver, but only managed a two count.
With the top rope removed, the two men improvised with the malfunctioned ring. Hero even hit an impressive Canadian Destroyer, but Pentagon kicked out before three. Pentagon Jr. returned the favor not just once, but twice. Pentagon Jr. then cradled Hero and sent him down with the Pentagon Driver to pick up the pinfall victory. The two men raised each other's arms and Hero delivered Pentagon Jr.'s "Cero Miedo" hand sign in appreciation. Pentagon Jr. even left the ring to allow Hero a chance to speak to the crowd.
Hero went on to express his displeasure for his part in breaking the ring, but also his amazement for what happened to the ring post. Hero thanked all the hundreds of fans for their support of pro wrestling, and their support of him, in spite of his lack of appealing physical appearance. Hero has mentioned that he's never been a part of a bad match or seen a bad show put on by AAW. Hero mentions how AAW has become a Midwest home for him and that he's been asked a lot of questions, and is disappointed that he does not have an answer. He's been asked if it's his last show or not, but he doesn't know. All he knows is that he's not quitting wrestling and he thanks the fans for allowing him to make a living through pro wrestling.
During intermission, the ring crew was able to temporarily repair the top rope. The night resumed with a video shown of Rey Fenix expressing his anger at AAW Heavyweight Champion Sami Callihan for trying to unmask him and humiliating his family.
(7) Chuck Taylor & Colt Cabana beat Davey Vega & Silas Young. Next up was a tag team match, as Davey Vega teamed with "The Last Real Man" Silas Young to take on Chuck Taylor and Chicago's very own Colt Cabana. It was Chuckie T and Silas who began the match, as Taylor became very hesitant to cross the repaired top rope. Silas tried whipping him into the ropes, but Chuck Taylor put on the brakes before hitting the top rope. Taylor eventually grew comfortable with those ring ropes, and soon tagged in his partner, Colt Cabana. Silas snuck away and tagged in Davey Vega.
Cabana's evasion tactics on Vega worked to perfection and he tagged Taylor back in. However, Silas was having none of the shenanigans made by his opponents, breaking up double teams and saving Vega from various moments of duress during the match. At one point, Vega and Silas were able to knock Colt out of the ring and double team their attack on Taylor. Vega tried to attack Taylor's groin, but he pulled out a cup and hit Vega with it. Cabana and Taylor tossed Silas out of the ring. Colt pulled Vega into the Billy Goat's Curse, while Taylor put his cup in the face of Vega to illicit a quick tapout.
(8) Heidi Lovelace beat Kimber Lee. In women's action, a grudge match took place as Heidi Lovelace challenges Kimber Lee. Kimber attacked Heidi Lovelace at the Windy City Classic following her match, creating this match for "Unstoppable". As Heidi was going around ringside to greet the fans, Kimber hid and delivered a sneak attack. Heidi was able to recover and the two would trade blows along the guardrail until Kimber swung Heidi head first into the guardrail.
Inside the ring, Heidi went on the offensive, delivering a flurry of chops and a kick to the head of Kimber Lee. But, the defiant Kimber was able to respond back with some punishment of her own. The two women traded some devastating suplexes that left them down for a moment. Heidi broke out a big crossface after her crucifix pin attempt only garnered a two count, but Kimber was able to roll to reach the ropes.
Heidi remained persistent in her attacks, but Kimber was not going to give in to a three count. Heidi tried a senton splash, but that got a one count. She tried a kick to the face and another attack, but still no three count. Kimber hit three successive German suplexes on Heidi, but Heidi would not give in either. The persistence paid off, as Heidi hit her Heidi-canrana followed by another senton splash, earning the three count and revenge.
Following the match, the crowd threw streamers into the ring. Heidi then shook hands with Kimber, as the two women collected themselves after the match. Kimber thanked the crowd for their support, but ceded the microphone to the former Heritage champion. Heidi referenced it being her last show and the irony of the top rope breaking. Heidi thanked Danny Daniels for giving her a chance to compete in AAW and that every ounce of success she attained in wrestling was because of AAW. Heidi fought back tears as she thanked them for allowing her to call AAW her home.
(9) ACH beat A.R. Fox to become the new AAW Heritage Champion. The AAW Heritage Championship was on the line as one-time former titleholder ACH challenged the current champ, AR Fox. While ACH was dancing along to AR Fox's entrance song, Fox jumped from off the top rope and hit a jawbreaker. Fox then went and hit a splash from off the top rope and went for a pinfall, but only gained a two count.
ACH was able to recover from the quick attack and kicked AR Fox down and out of the ring. Fox turned the momentum in his favor by executing two splashes to the outside, one between the ropes and another over the top rope. Fox continued his assault on ACH with some more punishing attacks at ringside. Back inside the ring, it was more of a slow attack to subdue ACH.
The challenger soon regained some swagger after he put AR Fox in a submission maneuver, weakening the champ. It more or less served as a wake-up call for Fox to continue bringing pain to ACH, doing so with a diving legdrop from off the top rope onto ACH, who was lying down over the apron. ACH regained momentum and hit a pair of impressive German suplexes.
The two men traded pin attempts and various attacks to put down the other, with Fox thinking he had retained his title on a couple occasions. However, it was ACH who was able to toss Fox from off the top rope. He followed it up with a 450 splash onto AR Fox, putting him down for the three count at 11:46.
AR Fox took the title from the referee and wanted to personally present it to ACH. The grateful and elated ACH once again held the AAW Heritage title over his head in victory.
(10) AAW Champion Sami Callihan beat Rey Fenix. In the main event match, the AAW Heavyweight Championship was on the line. Rey Fenix challenged the reigning champion, Sami Callihan, who was joined at ringside by JT Davidson and the Killer Cult. After they were introduced, Callihan got right in the face of Fenix, and the two men both spat at each other.
The action was fast paced from the get-go, with Fenix delivering more of the punishment. The luchador delivered some high risk attacks to the outside, including diving onto both Callihan and Davidson. Returning inside the ring, Callihan was able to regain momentum and began a reckless assault on Fenix on the outside. The attack was a major turning point for the champion, giving him greater control over his opponent.
Back inside the ring, Callihan slowed down Fenix with a couple of sleeperholds and chinlocks. The only way for Fenix to get back into the match was with his own speed and quick hitting maneuvers. That method nearly worked for Fenix, as he was able to get a two count. Fenix didn't slow down his attack, despite the fact that it didn't amount in a pinfall.
Callihan showed some desperation in the aftermath of Fenix's comeback, but Fenix continued fighting back with even more effort. Callihan looked broken and could barely stand on his own, but he willed himself to force a submission on Fenix. Whenever Fenix brought the fight to Callihan, the champ wanted more. The match lasted 16:40, at which point Sami Callihan's Stretch Muffler with an added on kick to the face of Fenix forced the challenger to tap out.
After the match, Callihan gets on the mic and brags about his abilities. Callihan also brags about how important the AAW Heavyweight Championship is in the world of wrestling. Callihan puts aside his hatred for masked wrestlers and thanks Fenix for the match they had. Callihan says he respects Fenix and wants to shake his hand. Callihan gets the crowd to chant Happy Birthday to him. In the end, it was all a ruse, as he hit him with a low blow. Dave Crist then picked up Fenix and Callihan hit him over the head with the title.
Homicide came out to even the odds and hit an RKO on Crist. Fenix then hit a suicide dive onto both men on the outside. Homicide got on the mic after raising the Fenix's hand with the title. Homicide issues a challenge to Killer Cult for a steel cage match on January 20th, when Eddie Kingston will be back in the building. Fenix added on that if Callihan were to ever have another match against him, Fenix would kill Sami. Homicide then wished the fans a happy new year and led a more appreciative happy birthday song for Fenix.
AAW Pro Wrestling Redefined will hold the first of their new series of events in LaSalle, Illinois on Saturday, January 7th at the Knights of Columbus. Entitled "Tradition Continues", this new set of events branching out to the LaSalle market will feature the best of AAW and more. Already scheduled is a match for the AAW Heavyweight Championship between the titleholder Sami Callihan and challenger John Morrison. For the first time ever, Rey Fenix takes on Michael Elgin. Colt Cabana will face Silas Young. In a six-man tag match Arik Cannon and Spears & Beers take on the team of Nick Brubaker and Zero Gravity. Former AAW Tag Team Champions will collide as The Besties in the World (Davey Vega and Mat Fitchett) collide with The Hooligans. And, in women's action, Jessicka Havok will go head-to-head with Taya Valkyrie. More information on this event, as well as the place to purchase tickets can be found at AAWrestling.com.
AAW Pro Wrestling Redefined will return to 115 Bourbon Street on Friday, January 20th for "Don't Stop Believing" for Silas Young's final AAW appearance. Also scheduled to appear at that event include Drew Galloway, Eddie Kingston, Andrew Everett, Matt Sydal, Brian Cage, Abyss, and more.