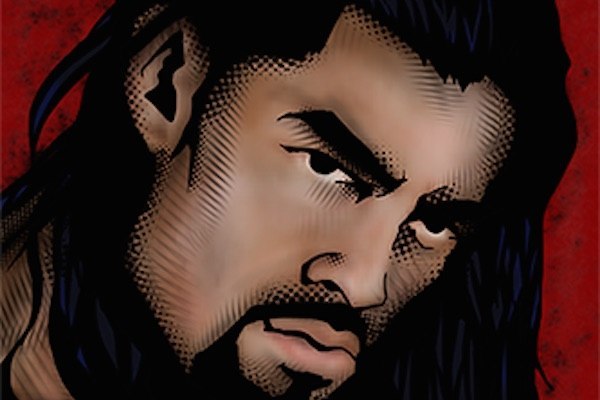 ---
SPOTLIGHTED PODCAST ALERT (YOUR ARTICLE BEGINS A FEW INCHES DOWN)...
---
Is it just me, or is WWE on a roll as of late? For the third week in a row wrestling fans were treated to two very well-produced shows with minimal down time and significant storyline developments. As the road to WrestleMania draws near, let's take a look at who shined and who missed the mark this week.
RAW ALL-STAR: ROMAN REIGNS
Yes, you read that correctly. I am among the folks who firmly believe there is an endless amount of money in a year-long Roman Reigns heel run that would further boost him and his brand once the turn back to babyface happened. That being said, we've been conditioned to understand that it may never happen. His performance Monday night, however, started turning my opinion a bit as he finally got the reaction Vince and his team desired. For the first time since the days of The Shield, Roman sold like a true babyface which garnered a ton of sympathy and fueled the crowd's reaction during his comeback and victory. The booking of this match created a perfect scenario for this to play out and a ton of credit should be given to Chris Jericho for playing the antagonist we all wanted Roman to beat. There was no drawn out promo or outlandish story pitting Roman against the authority figures on the show, just a tough and believable wrestler trying to overcome the cheating and manipulation Y2J was adding to the match. Roman was also perfect in the ring on Monday, capping off one of his best overall performances in quite a while. Before going too over-the-top here, let's see how next week and future episodes play out to further these developments.
RAW NOTABLE ALL-STAR: KARL ANDERSON
Many WWE fans who are not familiar with Karl Anderson's resume in New Japan Pro Wrestling have the opinion that he is very plain. Aside from a few comedy segments with the New Day, the creative team has not given him much to work with. On Monday, he finally got to showcase his talents in a singles match and did not disappoint. Anderson is an incredibly skilled wrestler and booking him to work with Cesaro allowed him to perform a different style than what we have seen in the past and proved he belongs in a WWE ring. Regardless of how the finish went down, the former IWGP Tag Team Champion finally got a much-needed win under his belt against a very formidable opponent which could set up a tag team feud leading into Royal Rumble. For anyone looking to see Anderson perform at his highest level, check out his match against Shinsuke Nakamura at Power Struggle 2015. It is a classic.
RAW UNDER PERFORMER: STEPHANIE MCMAHON
Stephanie McMahon has made it a habit to run down and degrade wrestlers each week, but on Monday her actions against Mick Foley, Kevin Owens, and Chris Jericho were not only borderline deplorable but also very unbelievable. Regardless of how scripted it was, let's hone in on exactly why her actions did not fit any narrative structure. First, why would a multimillionaire like Chris Jericho, who has a full time career as a musician and nothing left to prove in WWE, stand to be talked down to in such a manner? In real life, that person would tell his/her boss that they are quitting and would never even entertain coming back. Kevin Owens, who is being billed as Stephanie's husband's golden boy and the new "chosen one" was talked to like a child in the center of the ring and had absolutely no rebuttal. Why wouldn't the overconfident and sarcastic Owens stick up for himself? Further, the snarky banter between Steph and Mick Foley patting each other on the back then passively voicing certain frustrations came off as awkward and confusing as some of the booking Raw has showcased since the roster split. The Bayley interaction can be excused because it seems like it is being built as a long-term story, but the words she had for the three aforementioned wrestlers did nothing but disparage the characters they work so hard to establish and make the fans more frustrated about the presence of authority figures on television every Monday.
SMACKDOWN ALL-STAR: DEAN AMBROSE 
On a recent post-Smackdown PWTorch Livecast Greg Parks brought up a great observation. He spoke about the importance of Dean Ambrose entering a feud revolving around a personal issue coming off a losing effort against A.J. Styles for the WWE World Championship, and he could not have been more correct. While still staying on the good side of the fans, Ambrose has shown the real mean streak we (and Steve Austin) have been looking for. JBL mentioned the word "unhinged" quite a bit on Tuesday and it was finally befitting of the Dean Ambrose character. Unhinged is NOT coming to the ring in an oversized blue cowboy hat. It means mentally unbalanced and deranged, and the way Ambrose acted last week on Talking Smack and on this week's episode of Smackdown is a much better reflection of the word. The conflict between he and Miz, with Maryse and Renee Young playing a fantastic supporting roles, has made Dean stand up and fight for something other than a title or contrived animosity toward another wrestler. On Tuesday, Ambrose showed a new passion that further endeared him to the fans and culminated in a huge pop when he pinned Miz for the Intercontinental Title. Miz has been a tremendous villain in this feud and the two have great chemistry in the ring. The match itself was brilliantly performed with minimal highspots and smart psychology. I will look past the non-finish as it was the only hiccup in an otherwise first-class performance from Dean. It will be interesting to see where this goes from here.
SMACKDOWN NOTABLE ALL-STAR: BRAY WYATT
Bray Wyatt's manipulation of Randy Orton has produced one of the most compelling storylines heading into 2017. His promo on Smackdown may have finally caught the attention of so many fans that have been tuning him out for the past year for speaking in innuendo and losing the majority of his big matches. On Tuesday Bray spoke directly to American Alpha, explaining away last week's loss and making it very clear that their intentions are to take the titles back. It was short, sweet, and to the point which is something we needed from Bray. While his stories and philosophical promos help to build more mystique in his character, delivering a message the way he did to Alpha reminded us how dangerous he can be.
This week I once again found myself searching long and hard for an under performer on Smackdown and I just could not do it. The roster is performing at such a high level and almost every segment was produced and executed brilliantly. It was actually harder leaving guys like John Cena & A.J. Styles off of the all-star list, but the two performers above deserved the credit. Have a great weekend everyone!
---
NOW CHECK OUT LAST WEEK'S COLUMN: ALL-STARS & UNDERACHIEVERS: Who shined and who under performed on Raw and Smackdown this week? Strowman, Alpha, New Day, Styles,