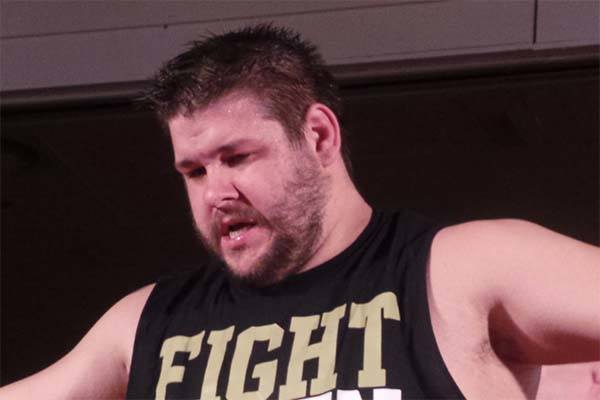 ---
SPOTLIGHTED PODCAST ALERT (YOUR ARTICLE BEGINS A FEW INCHES DOWN)...
---
The Kevin Owens show wasn't just last week on Raw; it's been running since the moment the man himself stepped on to the main roster and #BeatUpJohnCena. Already he is a major draw. He's too good to boo. I would love a feud between Owens and C.M. Punk where every time they're about to fight, something gets in the way, so they just talk at each other every couple of months. Book it, WWE! Unfortunately, his reign as Universal Champion has been plain embarrassing.
There are a lot of reasons for this. We can't underestimate how quickly the story was changed after Finn Balor was injured at Summerslam, but that doesn't change the fact that the man who gave us great matches against John Cena and Sami Zayn has been effectively hung out to dry as a paper champion.
My name's Tom Colohue and this is a Friday Feature.
Kevin Owens – Paper Champion
So what makes Kevin Owens a paper champion? Easy. Since the day that Kevin Owens won the belt, I can recall only one clean win and that was a match against long time rival Sami Zayn – a match that we were told would not happen again for a long time.
This even includes the match in which he actually won the title. In that match, Triple H interfered on Owens's behalf. Since then Chris Jericho has been the one interfering. At Hell in a Cell he ran into the cell to interfere. At Roadblock: End of the Line it was Jericho again who ensured Owens the victory. Owens' first title reign will not be remembered all too well.
What this means is that Owens himself is made to look weak. He can't beat Seth Rollins without help. He can't beat Roman Reigns without help. Has he actually competed for the belt against anyone else in the near five months that he has been champion?
It also makes Rollins and Reigns look weak, since nothing that they have done has managed to get the job done. Since these are your top four guys on Raw right now, the entire championship reign has actually only put one man over: A.J. Styles – the fighting champion on the other side who is winning matches clean and putting on great matches.
It even makes the belt look weak. With the Universal Championship in its infancy, and with the downside of being infamously hideous, they needed a fighting, strong champion to give the belt prestige. Given how far the U.S. Title falls every day that Reigns forgets it in the locker room, they need a title to stand out and really mean something.
Right now, the top three titles in the WWE likely read WWE Championship, WWE Intercontinental Championship, and the Raw Women's Championship. The Universal Championship is forever harmed by its association with a paper champion, and this is a role that someone as talented as Owens does not deserve.
Where does it end? It's hard to say. Personally, I'm confident that Owens will be carrying the belt to WrestleMania and hopefully a successful, clean title defense. Hopefully, again, against Chris Jericho. Jericho has the storyline in place and could do the title and Owens a massive favor by losing clean at WrestleMania and putting the young talent over. Will that happen? Only time will tell.
Paper championship reigns help no one and nothing. Unfortunately, they're sometimes necessary. The Miz was an infamous paper champion because his character and the situation at the time could only be used in such a way. Lately, though, The Miz has been a perfect champion; looking strong almost as much as he would look weak when cheating to win. Owens is a tremendous talent who could well hold the title many more times, but with continued poor booking people will start to lose interest.
One clean win over a major talent though? That could change all that.
---
Follow Tom Colohue on Facebook and Twitter @colohue for updates.