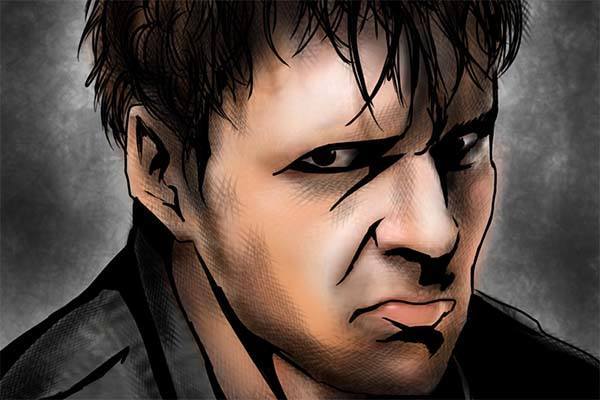 ---
SPOTLIGHTED PODCAST ALERT (YOUR ARTICLE BEGINS A FEW INCHES DOWN)...
---
SMACKDOWN HITS
Opening Segment: Smackdown got off to a good start with The Miz coming out to address the situation with Renee Young. As a whole, I am not a fan of this angle. I don't like making an announcer more of a character. There is no reason to bring up real life situations that play out on Total Divas. But, the mic work here was strong from Miz in calling her out. Dean Ambrose was good. I liked his line at the end that Maryse hits harder than Miz. It was a nice way to set up their Intercontinental Championship main event. They also followed up well during the show with some backstage encounters involving Maryse, Young, and Ambrose.
Corbin vs. Ziggler: This was a good match. Baron Corbin has been improving in the ring, although he has been helped out a lot the last two weeks by A.J. Styles and Dolph Ziggler twice. He still has more improving to do, but he is moving in the right direction. The match was well booked and Ziggler stepped up to help carry Corbin to a good match. It went over 13 minutes, which felt right for it. And Corbin who is on the verge of a big push (even if he isn't quite ready for it) got the needed clean victory. And it spurred the heel turn for Ziggler afterwards (more later).
Contract Signing: I didn't like everything about the scripting of this segment, but I liked the performances enough to give it a Hit. I don't like the idea that Daniel Bryan gave John Cena a WWE Title match because it is the biggest match possible, not because he is deserving of the title shot. It feeds into the problems I have with talking about ratings on Raw or Smackdown. After Bryan left the ring, the segment really picked up. A.J. Styles was very good in addressing Cena. I liked how he cut Cena off when he tried to say that he respects Styles. The comparisons of Cena and The Rock made sense. Cena showed great passion in talking about his passion for WWE. Some of the lines were better than others. On the whole, it was good. The interruption by Baron Corbin didn't work that well. I'm okay with the idea to capitalize on his win over Ziggler earlier in the night if they are going to get behind him as a top heel. However, his performance was not strong. It wasn't bad, just not good enough. Because of my reservations, I will say the contract signing is a marginal Hit.
Ambrose vs. Miz: This was a good Intercontinental Championship main event. Dean Ambrose and The Miz worked hard and put on a good match. They played around a little with the typical Miz formula when Maryse tried to get Miz intentionally disqualified by slapping Ambrose in front of the referee. I liked Ambrose's reaction and attempt to get the referee to expel her from ring side instead of disqualifying Miz. It appeared that Miz was still going to capitalize on the distraction when he hit Ambrose from behind with the IC Title belt. I really thought Miz would retain in this match, so Ambrose's win was a genuine surprise to me. I'm not sure I agree with it. I have to say that while I enjoyed a lot about the Miz's character in 2016 after Maryse was brought back, I am tired of him as the IC champ. So, I am ok with him losing it. I'm ok with Ambrose winning it, but I'm not sure about the timing. I do think that Miz has won it too many times already. So I hope he doesn't win it back any time soon. It is starting to get to that ridiculous point where it feels like WWE is giving him so many Title victories so that he will pass Chris Jericho as the wrestler who has won the IC Title the most times. That isn't a good reason to have a Title change. He needs to go away from having the Title for a long time. But I doubt that will happen.
SMACKDOWN MISSES
Ziggler Heel Turn: You could see this coming, but it also felt like it came out of nowhere. Now that may seem like a contradictory statement, so I will try to back it up. A heel turn seemed obvious for Ziggler after he lost the IC Title back to Miz. It had to happen sooner or later, and it was obviously about to happen when Kalisto came to his aid. But that is coming from more of an insider's point of view knowing how WWE works and knowing that they had nothing left for Ziggler as a babyface at this point. That does not mean that WWE did a good job of laying the grounds for this heel turn. Ziggler hadn't shown enough frustration at his losses lately. More hints that this might come would be more realistic. Also, Kalisto isn't a strong enough babyface for the heel turn to have enough impact. And they haven't established any type of friendship between Ziggler and Kalisto. So it didn't feel like Ziggler stabbed someone in the back. I am glad that Ziggler turned heel. I hope that it works out for him. But, it could have meant a lot more with a better story surrounding it.
Tag Team Title Victory Follow Up: Having American Alpha win in a strong way made sense one week after winning the Smackdown Tag Team Championship. However, in a way it was too strong. It didn't last long enough to show much of their moves. It was only 20 seconds. A squash is better to me if it goes more like 2 minutes. But if you go this route, at least give them some mic time. That is my biggest disappointment with how American Alpha has been used since their call up. They haven't had a chance to talk much and to get over their characters. After a 20 second squash, give them some time with an in ring interview. WWE has been using those interviews quite a lot lately which is nice. One was needed here to let them talk about what winning the Titles meant to them last week. Then you can have The Wyatt Family interrupt to hype their rematch next week. Last week, part of my problem with the Title switch was that the emphasis was on the argument between Randy Orton and Luke Harper, not the new Champions. Here, the emphasis was right back on the Wyatts instead of American Alpha.
Jon Mezzera is PWTorch.com's WWE Hits & Misses Specialist, providing his point of view for Raw and Smackdown each week. Email him at jmezz_torch@yahoo.com.
Follow me on Twitter @JonMezzera (pretty clever handle right?). Just be aware that I don't live tweet Raw, I don't tweet much about wrestling, and I don't tweet much at all.
For another view from the original Hitlist author, compare Jason Powell's views to mine by visiting prowrestling.NET's "Hitlist" section here.
NOW CHECK OUT LAST WEEK'S SMACKDOWN HITS & MISSES: 12/29: Alexa vs. Lynch, Styles vs. Ziggler vs. Corbin, Alpha title win, Ziggler promo
OR CHECK OUT ORIGINAL HITLIST AUTHOR JASON POWELL'S LATEST SMACKDOWN HITS & MISSES HERE.
---
Jon Mezzera is PWTorch.com's WWE Hits & Misses Specialist, providing his point of view for Raw and Smackdown each week. Email him at jmezz_torch@yahoo.com. Act now and become my 68th Twitter follower@JonMezzera (pretty clever handle right?). Just be aware that I don't live tweet Raw, I don't tweet much about wrestling, and I don't tweet much at all.