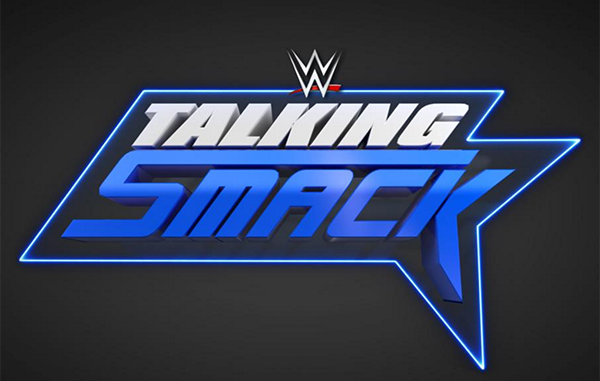 ---
SPOTLIGHTED PODCAST ALERT (YOUR ARTICLE BEGINS A FEW INCHES DOWN)...
---
TALKING SMACK REPORT
JANUARY 10, 2017
AIRED ON WWE NETWORK
Report by Brandon Beauchamp, PWTorch contributor
Renee Young was excited to be joined by "The Commish" Shane McMahon to host this week's edition of Talking Smack. Shane has all the excitement and charisma of "Hacksaw" Jim Duggan's two-x-four and then some. It looked as if someone had just woken him up to be on the show. Shane brought up the big announcement of WrestleMania coming back to New Orleans next year. Renee said last time they were in New Orleans for WrestleMania it was her favorite moment in WWE. Shane accused her of only liking it because she could go out and drink. Renee agreed that was definitely part of it.
Renee brought up The Undertaker announcing he will be back and in the Royal Rumble as the other recent big announcement. Shane lists off all the big stars currently named to be in the Royal Rumble this year. Renee hinted at Shane maybe jumping in this year but Shane quickly dismissed the idea. Renee switched to Maryse missing the slap intended for Dean Ambrose on Smackdown Live and hitting her husband The Miz instead and how it brought her joy to see. Renee then mentioned the historic steel cage match for Smackdown Women's Title next week and with that they welcome the challenger Becky Lynch and WWE Smackdown Women's Champion Alexa Bliss to the show at opposite ends of the table.
Guests: Becky Lynch and Alexa Bliss:
Shane said there would be no excuses, no La Luchadora, saying that we will see the best woman win. Renee asked if Alexa was upset she has to defend the title or if she was just upset she will be defending in a steel cage. Alexa said she is not upset, but she knew Becky would be in Daniel Bryan's office trying to get another match. Becky said she was in there because she made Alexa tap out last week. Alexa said she was upset no one cared or asked how she was doing when her elbow was disconnected last week.
Shane said they have a lot to prepare for next week. He said when the cage door closes, it's an eerie feeling. He said there is no option to run outside the ring, when you run the ropes you can hit your head on the cage, it is a whole new dynamic. Renee said very few women have had the opportunity to wrestle in a cage. Renee asked Becky how she will walk in not not knowing what she's getting into. Becky said she will prove she is the best female sports "entertainment" the company has and will win because Alexa can't beat the best.
Renee asked what makes her the best. Becky said no one has had to over come the obstacles she has had to. Alexa's face told a story of distain for her opponent and her sad sob story. Becky said she is the best and proved it time and time again. Alexa said, "Except when I put you through a table at TLC all by myself." Becky replied by saying, "Nice eye gouge at TLC. I like that you have never beat me fair and square, but I have made you tap out time and time again."
Alexa said there is no fair in fighting and she will do what it takes to win because she is a fighting champion. Renee said in a cage it must be a pinfall or submission and asked, "Will we see who the best women is?" Becky said she will smash Alexa into the cage and dislocate her arm again over the top of the cage. Shane said it is difficult to win the championship and difficult to keep the championship and we will see who is the better women next week. Alexa said she ended 2016 with the title and will end 2017 with the title. Becky said to hold the title tight, shower with it and "go to the bathroom with it, maybe you will get rid of some of that crap you talk." Becky told Alexa to make sure she shines it up cause she's going to be giving it back next Tuesday. Alexa said Becky has a week to come up with a good excuse as to why she won't have it because she's not taking the title back.  Becky said "see you next week" and they both walked away.
Shane wondered if it was something he and Renee said that drove Becky and Alexa to walk off so angry. Renee said no, but it is definitely heated. Shane said that Daniel Bryan did a great job making it a steel cage match to keep everybody focused. Renee asked Shane if he knew who La Luchadora is and he said he did not.
Renee switched gears to the Wyatt family seeming to fall apart week after week. She said Randy Orton has been a loner for a very long time in his career and it was only a matter of time before it got to this point. Renee asked Shane which one of the Wyatts should he be most concerned about at this point. Shane said that Randy has been a loner but the Wyatts have been an amazing group. When they were on the same page they became Smackdown Tag Team Champions, and tonight they saw what happens when they are not on the same page. He noted what an amazing match they had tonight and gave huge credit to American Alpha. "They brought their A game," he said. "Excuse the pun."
Renee asked Shane with watching what American Alpha has ben able to do and being at the top of their division how impressed has he been with them. Shane said he has been extremely impressed, saying that they are intense and you can really see the effort they put in in the ring. Renee said just seeing Randy and Bray Wyatt and what happened tonight things are going to get nasty with the Royal Rumble coming up. Shane said we'll see. With that Renee welcomed the next guest to the show, Mojo Rowley.
Guest: Mojo Rowley
Mojo asks Shane what's up and then Renee compliments Mojo's hat which looked like it should have had a propeller spinning on top of it. Shane told Mojo to talk into the mic as Mojo tried to say thank you. Renee said from the exact moment Mojo walked into NXT he had star power and then coming up to Smackdown to team with Zack Ryder, but with Ryder going down with an injury she asked if we would be seeing a singles run for Mojo. Mojo said that's exactly what were going to see, but it was heartbreaking to see what happened to Ryder. Mojo said it was hard to see American Alpha go on and take their spot as number one contenders but added that Ryder is doing much better. He said he is not supposed to be in the gym yet but he has been sneaking in every day to get his workouts in. Renee said she didn't care for Ryder shaving his beard and accused him of dying it.
Mojo said he was at Ryder's new house the other day helping him unload his hundred's of boxes of toys. "Excuse me, adult collectables," Mojo said to correct himself. Mojo said Ryder told him it's on him now that Ryder will be out for a while and Mojo has the opportunity of a lifetime and he would be a fool if he didn't take it.
Shane said to Mojo that he is not stranger to injury himself, bringing up Mojo's injury in the NFL. "My calf tore right off and rolled up like a window," he said. Mojo said he is a firm believer in everything happens for a reason and that got him to the WWE. He said he was working on his career in the NFL and his financial career on Wall Street and WWE came out of left field. He told the story of how his best friend's dad was a college roommate with Mike Rotunda and that is how he got his call to try out.  He said he had a decision to make to leave a whole career behind to try something new, but it was a no brainer. He said being in the WWE was the first thing he ever wanted to do and there was really no decision to be made at all.
Shane asked what are we going to see different now. Mojo said, "It's time to be me." Mojo said it's time for a fresh coat of paint and the fun and games are over. Renee asked if that means she can keep the hat. Mojo said she could, but then she offered it up to Shane as she couldn't wear it with her hair all done up. Shane then tried on the ridiculous hat. Mojo said it looks better on him and offered it to Shane. Shane mentioned it still has the sticker on it. Mojo said he was told that that's the style and that's what your supposed to do. Renee wished Mojo best of luck and looked forward to seeing what he brings to the table as Mojo left the set. Shane continued to play with the hat, saying Mojo has a massive head.
Renee switched gears to John Cena vs. Baron Corbin tonight, saying Corbin was looking to make a statement by beating Cena, but it did not happen tonight. Renee said Cena is back, infuriated and fired up. Shane said Cena is not here to prove himself but re-prove himself. Shane said Corbin is a great rookie and he got in there with Cena and Cena did his thing. Renee said he was making a statement to the locker room and it was a sign of what he will do to A.J. Styles. Shane corrected her by saying it's a sign of what he might do. Shane said A.J. is phenomenal and has already beaten John Cena clean. But Cena is coming back and coming back strong.
Renee moved onto talking about Carmella and James Ellsworth, asking Shane if he buys that they are a couple and on the same page. Shane said romance is like a fine wine – it needs time to breathe. Renee was still skeptical.
Guest: Dolph Ziggler
Renee and Shane brought on the final guest, Dolph Ziggler. Renee asked how he was doing; he said good. Shane asked if that hat offended Dolph to which Dolph said it did a little. Renee added the hat was a little loud. Understatement of the night. Renee said that for what feels like months they have asked what was next for Dolph. She asked why it took so long for him to get to the point he's at now. "Honestly, I don't know," Ziggler said. "It's been years, but it felt right what I did tonight." Dolph said he can try to work hard, but that's what everybody's doing. He said on Smackdown you can bide your time and hope someone will hand you a title shot, but with all the talent on the roster, to stand out no one is going to do it for him. He said there has been a lot of frustration over the years and no matter what he did it was never good enough for him or anybody else. He said that frustration has come out in the matches now.
Shane said kudos to him because he has great matches and is a great performer, but the frustration definitely came out tonight. Shane said now he has a target on his back with Kalisto and others. Dolph said he welcomes the target on his back and he is confident in his abilities, but something has been lacking for years. He said the chip is still on his shoulder. No matter how good he does, he needs to be better for himself and the brand. Dolph said he loves this and lives for this and can't sleep at night wondering how he can be better because he feels he is a level above everyone else.
Shane asked when Dolph hit Kalisto with the chair and the crowd booed, how it felt. Renee added to that question asking if that's the reaction Dolph's looking for. Dolph said for the last few months he has been smiling on the outside, but not on the inside because half the crowd was booing the guy who wants to perform for them. Dolph said that's not good enough. He said the chair attack was not premeditated but it felt to him like the night he cashed in the Money in the Bank briefcase. He said he felt like he was back to something that mattered again. He said he felt like someone who can change the business and not just be a part of it. He said that was the Dolph that could be a world champion.
Renee asked if this was a last-ditch effort or hitting bottom. Dolph said it yes he felt he was already at the bottom after losing over and over. He said he tried not to let that frustration come out and distract him and cause him to lose again, making it worse. Shane added that Dolph lost again tonight. Dolph said he felt he either needed to go away for a year or find another way to stand out, get people out of his way, and get noticed. Shane said he was noticed tonight. He said he has a target on his back and two guys are really pissed off at Dolph right now. Dolph said he completely understands and if they want to get retaliation he is right here and he challenged them to try to beat him when he will not let himself lose. Other than tonight, of course. Shane and Renee thanked Dolph for joining them. Dolph said before he leaves he wanted to enter himself in the Royal Rumble match. Dolph said: "If I'm not in that match, then what the hell am I doing here?" Shane said he accepted Dolph's entry as Dolph left the set. Renee and Shane closed the show and said they will see us next week.
NOW CHECK OUT LAST WEEK'S REPORT: 1/3 WWE Talking Smack: Renee Young & Daniel Bryan chat with Corbin about facing Cena, a fuming mad Miz, and Carmella and Ellsworth talk about hanging out