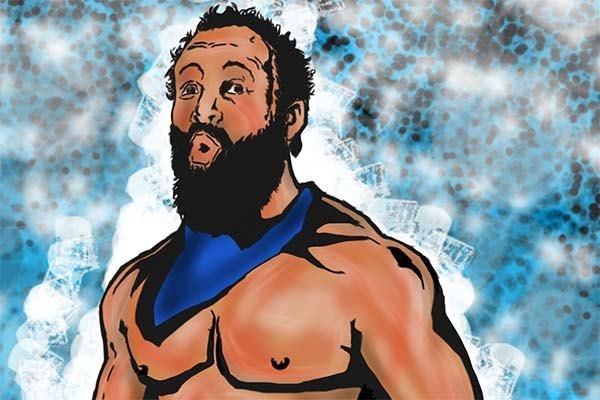 ---
SPOTLIGHTED PODCAST ALERT (YOUR ARTICLE BEGINS A FEW INCHES DOWN)...
---
Welcome once again to the NXT TRACKER, where I pick an NXT talent, assess their progression to this point and make bold, sure-to-look-hilarious-in-retrospect predictions about their future prospects. Let's look at that li'l up-and-comer Eric Young.
The Talent
Eric Young was a longtime TNA loyalist and was at the center of one of their attempts to grow a fanbase with a shock World Title victory. Young defeated Magnus for the title in April 2014 and held it for just two months before dropping it to Lashley. As others have said around the internet, Young probably could have had a decent title run with his current character, but at the time, he was treated like a placeholder. Young wrestled Samoa Joe for the NXT Championship in a surprise appearance this May, and lost. He re-emerged in October as the leader of the SAnitY stable.
Signature Wins in NXT
Nothing to report at this time. Young has been an asset in NXT in his short time so far, but it's been to get over a stable. Young has been able to maintain his heat while losing, as his more unpredictable allies – Nikki Cross in pArticular – cause him to be disqualified.
Live Reactions
SAnitY had one of the best debuts to date in NXT. Sawyer Fulton and Alexander Wolfe have been kicking around taking the occasional loss on NXT for some time, and Nikki Cross has just sort of been there as well. When the four of them made their debut together – fully masked with Eric Young not-so-secretly at the helm – it passed the first test of being cool. A "holy s**t" chant broke out relatively quickly. Eric Young has the kind of respect that will make a large portion of the NXT fanbase cheer him regardless, but I think the stable as a whole is a good spot for him, which will allow him to help younger stars develop while remaining over himself.
The Booking
Young is off to a promising start in NXT, though it'll be interesting to see if this for him, or if his main goal is to work with younger talent. Fulton, Wolfe and Cross (and now Killian Dain, in place of the injured Fulton) are all going to benefit from being tied to this stable. In general, the original SAnitY members could use some work. Wolfe gesticulates, Fulton eats his hair and Nikki smears her face. Much like Sycho Sid blinking a lot, they could really work a little variation into their insane act. Young is doing a great job as the psychopath-lite who's able to hold them together by the skin of his teeth. I expect all of it to lead to something between Young and Dain, and maybe a face turn for Young, but this is hopefully a farther-future thing.
The Future
Eric Young is in a pretty good spot as far as the success and development of NXT is concerned, but whether that's enough for him is a fair question. If his true reason for being in NXT is to act as enhancement for younger wrestlers, whether he wins or loses his own matches, I wouldn't be surprised if he wasn't aware. Young has worked extensively for Bobby Roode, so if Roode is the next NXT Champion as I suspect he will be, we probably have our near-future plans in place for house show main events.
Predictions
If Shinsuke Nakamura drops the title at Takeover and debuts on the main roster at the Rumble, as I've decided to commit to, I don't see how Young doesn't shoot up into the main event picture alongside Bobby Roode, and perhaps Tye Dillinger and No Way Jose. Turning Young face might be the natural play here, but Roode is cheered despite constant classic-heel booking, and it may be easier to turn him face than it would be to turn Young. Plus, if Young is turned, it leaves Alexander Wolfe and Nikki Cross in the lurch (I suspect Killian Dain will be fine). Let's go halfsies on this and say that Young will be challenging Roode before long for the NXT Championship, but I won't say which is the face. As for Young's main roster prospects, I doubt he's in the plans for the near future. However, if SAnitY stays together, I think they can make a splash and bring the idea of a heel stable back to the forefront after years of WWE not going to that well.
---
NOW CHECK OUT LAST WEEK'S ARTICLE: NXT TRACKER – ASUKA: A weekly assessment and predictions on the prospects of an NXT wrestler's main roster future