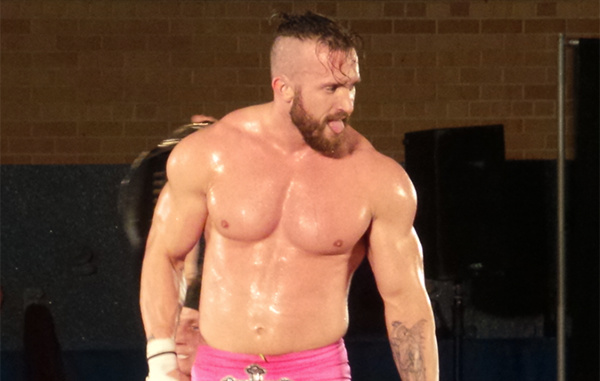 ---
SPOTLIGHTED PODCAST ALERT (YOUR ARTICLE BEGINS A FEW INCHES DOWN)...
---
IMPACT HITS
Eli Shows an Edge: Eli forcing a man to read off his handwritten note to the audience, then beating him up afterwards for no good reason made him look like a huge bully. It's exactly what he needed. That was pretty deplorable! In the past Eli has been played far more for humor, which prevented him from being taken as much of a threat. Like The Miz in 2016, he needs to start showing more of a mean streak to be taken seriously. His pairing with Tyrus should work out well for both guys. The silly "Fixer" act needed to go, and Eli could use some muscle to intimidate his opponents further.
Braxton Beats Bennett: I continue to be impressed with how good of a job TNA is doing with the Maria/Allie storyline. Earlier in the show, Maria shouted Allie down. Later on, Allie got a little bit of revenge by costing Mike Bennett a match. It wasn't the big victory that fans want to see, as that will be saved for when she beats Maria down the line, but it was a nice way to outsmart her tormentor while keeping the program going. Contrast this approach to what we've seen on Raw with Charlotte and Bayley. Those two have fought so many times, in so many different matches, that their Royal Rumble match is bound to be a fraction as interesting as it should have been if WWE had any patience. Well done TNA.
Robbie E drops the Act: Well, at least I think Robbie E dropped the Jersey Shore thing on Impact. He wore normal clothes, and wasn't hopping up and down like an idiot. If so, that's the hit of his career! His mic work wasn't overly strong while confronting Rex, but anything beats him playing an embarrassingly awful character from a reality show that ended years ago. Now for the next chapter, let's get him a haircut to further distance himself from the old act!
Rosemary's Promo: No woman in TNA or WWE is better at playing their character right now than Rosemary. Charlotte is hindered with delivering unrealistic WWE scripted dialogue filled with pop culture phrases("And I thought Emma Stone was best actress!"). Sasha Banks has yet to click as a face. Even Bayley hasn't yet found her groove on the main roster. Rosemary, though, feels like a psycho when given a microphone, which is exactly how she should come across. It's too bad that Jade was so stiff in her responses, otherwise the segment could have been really good. Still, Rosemary shined with what she was given.
Someone Finally Remembers: I feel like I'm grading on a curve here. It only took approximately about four months, but Bram finally brought up the fact that Decay once kidnapped him! Not one single person on the roster, or the announcers themselves, questioned what happened to him when Decay threw him in the trunk of their car over the summer. For all we knew the guy was dead. On Impact, Bram revealed that he was out for revenge, which should make him the good guy in the angle, but both sides still seemed to be playing the roles of heels. Really, the storyline is one huge mess that is deserving of multiple "misses", but the fact that they bothered to bring up his disappearance for the first time ever gets the smallest of hits here.
IMPACT MISSES
Aron Rex's New Act: Huh. That was uh… that was something. Yeah. Aron Rex has only been in TNA since August. Since that time he's already been cast as a babyface out to prove he deserved better. A tweener who may be cheating his way through the Grand Championship. An all-out heel who went back to his Damien Sandow roots. And now…he's Liberace? So all those years he was talking in a fake voice, and this is his real one? I thought his last persona was the right one to go with, but they dramatically shook things up with this repackaging. It didn't start off so hot, but maybe he'll tweak it a bit (which it sounds like they've already done) and make it somehow work. For the night, though, it was more of a jarring mess than an exciting new direction.
The Opening segment: TNA's match logic continues to be maddening. It's just so incredibly stupid to have wrestlers announce that they're going to be in a No. 1 contenders match ON THE SPOT. Even dumber is that Pope and Josh Matthews just accept their declaration as a matter of fact. Okay then, why doesn't every single wrestler declare a title match every single night? Seriously. For example, after Eddie Edwards wrestles, why doesn't James Storm (or anyone) say "I declare a title match. RIGHT NOW!" and then go fight him? Also a big miss to EC III for his line of, "It does not take Wikileaks to see collusion. Relevant." Blech. The smirk on his face where he looked like he delivered something really clever topped off a lousy opening segment. Oh yeah, add him talking to the Anthem Owl, and Carter was approaching John Cena levels of lame comedy here.
Return of Feast or Fired: Despite every change in creative, this insane, idiotic, incomprehensible match remains. It is just as dumb as it was years ago when it was first created. Note to everyone in TNA: there are roughly four-to-six potential challengers in every single division on the show. Just wait a little bit and you'll get your shot at a title. No need to put your job on the line for an opportunity at the X Division belt. Besides, as we saw on the show, you can just declare a number one contenders matches anytime you want. Problem solved!
---
NOW CHECK OUT LAST WEEK'S ARTICLE: TNA IMPACT HITS & MISSES 1/5: Bennett vs. Moose, Allie's revenge, Eddie Edwards, Swoggle, Trevor Lee, Hardys