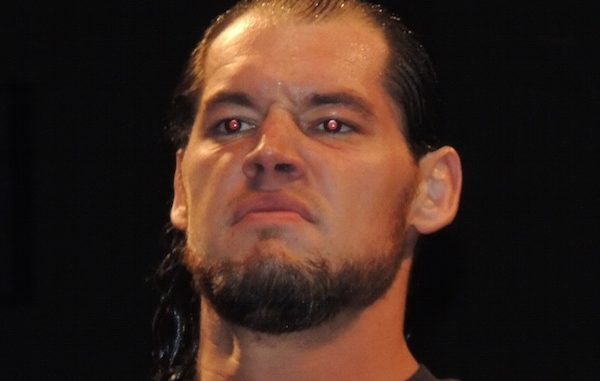 ---
SPOTLIGHTED PODCAST ALERT (YOUR ARTICLE BEGINS A FEW INCHES DOWN)...
---
RISING STAR OF THE WEEK: Becky Lynch
No matter which way you shake it, Smackdown's babyface roster is way more polished than Raw's. It's not too much of a stretch considering Monday has heat-scooping Stephanie lurking throughout it's three hour block and it's top babyface just turned 50, but this is true for both the men and women. In just a short backstage exchange with Daniel Bryan, Becky Lynch managed to show personality, fire, and cleverness when dealing with Alexa Bliss (not counting that shoehorned in "Meryl Streep" comment). By the end of their segment, I was sold on their cage match next week. I just hope they plug it like they have been with their previous main events. If done right, it could be memorable in a good way for both Becky and Bliss.
HONORABLE MENTIONS
Baron Corbin: Corbin earned the top spot of "Rising Star" a couple weeks back, but to say this week wasn't a pinnacle one for him would be a disservice. He duked it out with John Cena in the main event and had a featured video package to build up said match. He also looked like he belonged. The ring presence he carries is one of his best highlights and he is not afraid to build on emotion (his in-match barbs with A.J. Styles being a perfect example). Corbin fits his character and, in today's scripted age, that's not a simple task.
Rusev: That HBK segment was not needed whatsoever. After getting through teasing a Rumble return, Shawn Michaels was just there to plug his movie and scrapbooking Rusev and Lana into interrupting him seemed a little one-trick pony. He interrupts legends just as much as Teddy Long made tag matches, but dang, did he take it and turn it into chicken salad. It may have been clunky, it may have been awkward, it may have lowered my IQ level a point or too (see what I did there?), but Rusev showed some range.
---
FADING STAR OF THE WEEK: Shawn Michaels
Did I mention how unnecessary that HBK segment was? If the point was for him to hurt his on-screen legacy, then the segment went above and beyond it's objective. Shawn Michaels was at his zaniness on Monday, so much that he redefined his "Showstopper" moniker (The show stopped, alright, dead in it's tracks). I think it's admirable that he doesn't take himself so seriously and that he has stuck to his retirement guns, but could he be a little more buttoned up – a little more "legendary" when he's doing these on-screen appearances? This over-the-top, "I just got done watching a 'Mr. Bean' episode" HBK is not the HBK people want to see. Just be a little cocky, a little cool, and then maybe you can sneak a dad joke in there to self-deprecate, but don't get all Daffy Duck on us.
DISHONORABLE MENTIONS
Bayley: Bayley just didn't fall victim to the booking hammer this week, but she fell victim to "Too Tall" Stephanie kicking sand in her face. At least Sasha stared up enough to stare her down, Bayley just swallowed the bitter pill of acceptance and then went on to get pinned (yet again) by Nia Jax. Her persona has also been struggling to find solid ground; it's probably the script getting in her way. The solution is simple: Just do what was done in NXT. She's got too much star power and potential to have the boss's daughter put her in her place.
JBL: For those of you fortunate enough to avoid last week's "Bring It To The Table," JBL's bullying may seem a little more of "the norm" than what it did for me, but him pulling double duty with the brow-beating of James Ellsworth and "Mildred Burke" jobber C.J. Lunde made it tougher to stomach than it did most weeks. That match with Carmella was harmful to the eyes and heart, but the man just doesn't stop with the insults. It's one thing if Mauro Ranallo or David Otunga fired back at him (not counting that "hanger-on-er," Tom Phillips), but they either don't acknowledge it or yuk along. It feels like I'm watching Mean Girls.
---
NOW CHECK OUT LAST WEEK'S ARTICLE: RISING STAR & FADING STAR OF THE WEEK: Was Heyman's performance on "Bring it to the Table" his heel turn on ardent long-time fans? Plus Ambrose, Stromwan, more