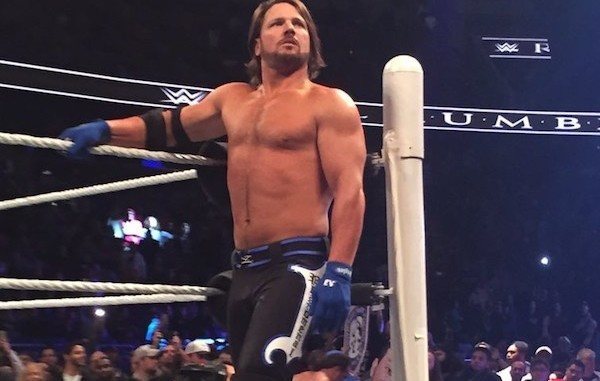 ---
SPOTLIGHTED PODCAST ALERT (YOUR ARTICLE BEGINS A FEW INCHES DOWN)...
---
SMACKDOWN PREVIEW
JANUARY 17, 2017
MEMPHIS, TENN. AT FED EX FORUM
By Joey Galizia (@RamJam89), PWTorch Specialist
"HISTORY IS HISTORY….BLOOD IS BLOOD"
In Chicago Becky Lynch failed to regain the SD Women's Championship over Alexa Bliss thanks to interference from La Luchadora. Who is this mystery woman that has been a thorn in the side of the Lass-Kicker? Alexa (being the hard-boiled detective she is) tried to crack the case but her only reward was having to defend her title…again…against Becky….IN A CAGE. No complaints here. While the Raw brand may have overhyped the Sasha vs. Charlotte Hell in a Cell match it cannot be denied that they did make history. Tonight, history will be made again as this is the first women's cage match since SD's inception, and while Lynch and Bliss haven't had masterpieces in terms of in-ring work, this feud has been a strong showcase for both. Hopefully it will peak tonight, but don't forget about Mickie James…uh…I mean…La Luhcadora who may reveal herself yet again.
"NOBODY MAN ENOUGH TO BRING THE PAIN"
Cena vs. Styles 3 is already the best match I've seen in 2017 and it hasn't even happened yet. It's so good that it broke the space-time-continuum and ripped a hole in the universe. (Sorry I haven't had my morning coffee yet) Last week Cena triumphed over the Lone Wolf Baron Corbin clean as a whistle, and took another step forward in proving that his return is legitimate, and that he can still go. AJ Styles is still not impressed, but how will the newly claimed "FACE WHO RUNS THE PLACE" respond to Cena's surge? I'm not certain, but if there is one thing that Styles has proven, is that he know how to RESPOND.
"TARGETS ON THEIR BACK"
American Alpha successfully defended their belts against the Wyatts and again it was Orton who ate the pin. While the tag team scenario on SD has been a LITTLE more focused than the one on Raw we still need new challengers for the belts. Don't forget that Jimmy and Jey were none too pleased with Alpha after their elimination from the 4 way title match a few weeks back. Usos have been much more exciting to watch under their new pissed off personae, and I would pay good money to see a 2-out of-3 falls matchup between these two teams, especially considering the fluidity the partners have with each other. The Wyatts on the other hand are severely lacking any type of partnership. Harper and Randall just can't seem to get on the same Paige (HAHA I DID IT AGAIN) and it's causing Bray to severely doubt his own leadership skills. In the long run this may be setting up an Orton vs. Wyatt feud, but I would much rather see Luke Harper be the key centerpiece in this triangle. Also go read Luke Harper's twitter…LIKE RIGHT NOW.
"THIS IS MY SHOW…YOU'RE THE COWARDS"
Miz is still unhappy with the poor officiating during his title match against Ambrose. Instead of a DQ the ref allowed the fight to go on and Dean would eventually hit his very well protected finisher (SERIOUSLY) and become the IC champ for the second time. We just saw this same type of confusion last night when Cesaro and Sheamus kept their belts even after they clearly lost by pinfall. (GET IT TOGETHER REFEREE STAFF YOU'RE ALL NOTHING WITHOUT EARL HEBNER) Miz still hasn't invoked his rematch clause, but it's not helping him out that Dean is handing him participation awards for trying. This is all very good.
"NOTHING GETS SWEPT AWAY"
Ziggler is over losing. He took another loss to Kalisto last week so Dolph was like "HEY MEET MY FRIEND STEEL" and destroyed the luchador. Apollo Crews again tried to do the right thing, and again he suffered a beatdown by Ziggy. Also, Dolph is in the Royal Rumble so unless he wins the whole thing no one is safe.
What of Baron Corbin? Besides his loss to Cena he has been on a hot-streak as of late. I could foresee him being the next challenger to the lunatic Fringe. In fact, make that happen Shane.
Nikki has something special going on tonight but Nattie will be there to make her feel bad and who knew these two could provide such sports entertainment? Either way expect more salt on already open wounds.
Carmella is on a win streak. James Ellsworth may get the credit for it but I'm going to give the credit to Carmella because Ellsworth is the death of joy. (Again I haven't had my coffee yet)
We are in Memphis…which means….YOU GUESSED IT….return of Jerry Lawler. (I hope he wrote down all his words)
Another fun episode is ahead of us plus 205 afterwards. TUNE IN.
---
NOW CHECK OUT LAST WEEK'S ARTICLE: SMACKDOWN PRIMER: What to expect tonight based on what happened last week with Cena, Corbin, Wyatt Family, Alpha, La Luchadora, Ziggler, Bliss