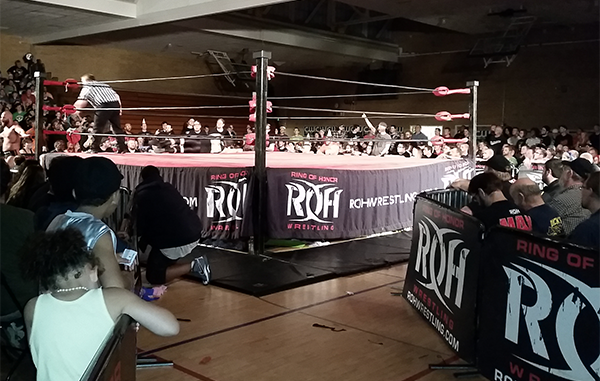 ---
SPOTLIGHTED PODCAST ALERT (YOUR ARTICLE BEGINS A FEW INCHES DOWN)...
---
Note: This news contains ROH TV Taping spoilers.
Update: In an update from what was reported earlier, PWTorch has learned that according to sources close to ROH officials, certain ROH officials were aware Lee was leaving and  signing with EVOLVE. Lee had told management he planned to sign with the company ahead of the TV tapings this past weekend. ROH management did not expect Lee to sign his EVOLVE contract the day after the tapings. Many people in ROH were kept in the dark about Lee's pending departure and were very upset he was booked so strongly on TV.
Original story:
Keith Lee announced on Twitter this past weekend that he has signed with EVOLVE. Lee had been under a non-exclusive deal that recently expired. EVOLVE quickly announced that he will face Chris Hero in one of his final EVOLVE matches on Jan. 27 in San Antonio during Royal Rumble weekend.
According to sources, ROH officials were aware that Lee was negotiating with EVOLVE, but he was still working on a handshake deal with ROH. Lee's tag team partner, Shane Taylor, recently signed an non-exclusive deal with ROH. Lee had offers on the table from EVOLVE and ROH. ROH officials were aware of Lee's negotiations with EVOLVE, but weren't expecting him to sign there in the near future.
Lee and Taylor appeared as a tag team on ROH's TV Tapings last weekend in Atlanta on Jan. 14. According to multiple sources, Lee didn't tell anyone in the ROH locker room or the office that he was going to sign with EVOLVE. ROH ended up booking Lee & Taylor to go over strong on The Briscoes during an in-ring segment. One top wrestler was furious that Lee appeared on the tapings without notifying ROH management he was going to sign with EVOLVE and noted that he and Taylor were booked to look strong against The Briscoes, which likely would not have happened had Taylor notified ROH management he was leaving the company.
According to a source close to Lee, he chose to sign with EVOLVE because the money was the same and being under a non-exclusive deal really limits where talent can work outside of ROH. ROH recently added a clause to their non-exclusive deals that states that talent can't wrestle on independents that air on FloSlam. With FloSlam expected to become affiliated with more prominent indie organizations in 2017, wrestlers under a non-exclusive deal will have a hard time finding bookings.
Sources have confirmed with PWTorch that one of the companies that ROH has added to the banned list for those under non-exclusive deals is Beyond Wrestling. Beyond Wrestling does not air regularly on FloSlam, as they've only had one show air on the service, but ROH is using a very broad interpretation of their clause to ensure talent doesn't work for the company.
ROH management reportedly dragged their feet when it came to moving negotiations towards a close. One source noted that ROH booker Hunter Johnston expects things to fall into place and is never proactive when it comes to negotiating new deals. According to sources, Johnston was advised not to put over Taylor & Lee strong at the ROH TV tapings given Lee's tenuous status with the company, but he did anyway.
EVOLVE management was thrilled to sign Lee, who they see as a potential star on the indie scene in 2017. ROH management wasn't as high on Lee as EVOLVE is. According to sources familiar with ROH managements thinking, they see Shane Taylor as more "TV ready" than Keith Lee.
Radican's Analysis: ROH needs to end the practice of signing talent to exclusive and non-exclusive deals. The landscape of indie wrestling is changing and given that FloSlam is now on the banned list, ROH should just put all of their talent under exclusive deals. One source noted that ROH should worry about what their talent does inside the company instead of blocking them from working other places under non-exclusive deals. Although some of the people I spoke to in ROH may not agree, I see Lee as a major star in the future that is now on the fast track to get signed by WWE now that he's under contract with WWN. Lee has shined as a singles performer outside of EVOLVE and now he has a chance to excel under EVOLVE booker Gabe Sapolsky, who is starting him off fast with a match against Chris Hero.
I saw Hero-Lee for the first time ever live last month at Beyond Wrestling and they put on an incredible match, so it won't be surprised if everyone is talking about Lee coming out of Royal Rumble weekend after he faces Hero.
ROH need to find a way to push talented wrestlers like Lee so they become a draw for the company. The management needs to stop dragging their feet in negotiations and step up and get deals done as well. Lee had the potential to be a name that drew fans to the company as a fast rising star. Maybe Taylor can be that person for ROH, but Lee has already shown he's got an "it" factor as a singles performer.
-PWTorch has learned that Donovan Dijak is currently working as a freelance talent with Ring of Honor after his contract expired. His name has come up as someone that WWE would potentially be interested in signing. One source noted to PWTorch that Dijak might not have had any progress with his WWE talks because the company was busy between the holidays and the U.K. Championship Tournament held last weekend.
Last weekend, Dijak appeared on the ROH TV tapings and became the new #1 contender for the ROH World TV Title.
Radican's Analysis: Dijak is another talent with huge potential that hasn't been in ROH. The thought amongst several people I've talked to close to the situation is at Dijak will end up in WWE near future. Nothing is expected in terms of WWE signing new talent to NXT until after the next Takeover special.
It is puzzling that ROH keeps putting unsigned talent in high profile positions, but hopefully Dijak has assured them he will finish out his program for the ROH World TV Title before making any decisions about his future.