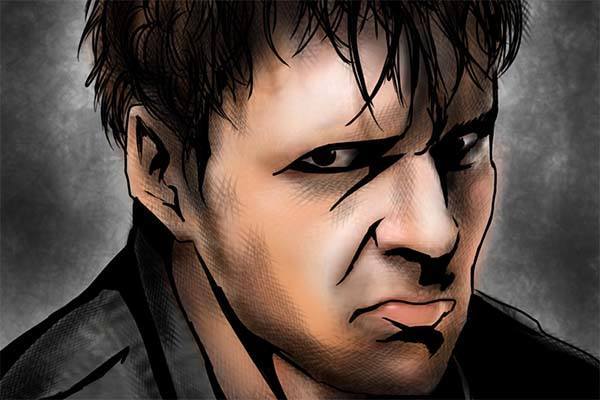 ---
SPOTLIGHTED PODCAST ALERT (YOUR ARTICLE BEGINS A FEW INCHES DOWN)...
---
SMACKDOWN HITS
Ambrose Asylum: This was a pretty good start to Smackdown. You got the expected announcements that both Dean Ambrose and The Miz are entered in the Royal Rumble. The mic work from both Ambrose and Miz was good. It wasn't great. It wasn't something that made me really look forward to seeing a rematch between these two for the Intercontinental Championship down the line. But, it was amusing and followed up nicely on Ambrose's Title win last week.
Natalya and Nikki: Smackdown is doing a good job with their women wrestlers. The first bit that we saw of them this week was the advancement of the feud between Natalya and Nikki Bella. Natalya did a nice job playing the heel role by taunting Bella after attacking her in the back. Nikki showed good fire in attacking Natalya before their match could start. Their pull apart brawl was well done and the fans reacted exactly how you would want them to with the "Let Them Fight!" chant. It was also smart to end with Natalya getting the better of Nikki by locking in the Sharpshooter. This is good basic wrestling booking and it is working.
Kalisto vs. Ziggler: Kalisto and Dolph Ziggler put on a good match. It was a nice first step in the heel run for Ziggler. The announcers were on point in talking about how Ziggler is acting and not handling losing well. David Otunga has been better lately in actually presenting the aspects of the wrestlers that make them heels or babyfaces. The ending with Kalisto getting a leverage pin on Ziggler played into the idea that Ziggler is on this losing streak which is causing him to change his personality over his frustrations. The attack afterwards made sense. The only part that I didn't like was Apollo Crews's "save". I could probably give that aspect of it a Miss. He seemed very late. He didn't so much save Kalisto as attack Ziggler long after Kalisto needed saving. Then he didn't do much before Ziggler got the better of him. This made Crews look weak. Otherwise, it was a good match and follow up.
Tag Title Match: It was interesting to see a wrestler with a strong amateur background like Chad Gable doing mat wrestling with Bray Wyatt. So I liked the start of this match with that mix of styles. This was a good Tag Team Championship match. These are four talented workers with different styles which mixed well together. It was fun to watch. American Alpha should have gotten a stronger win than having to capitalize on more miscommunications among Wyatt Family members Randy Orton and Luke Harper. But, I will take the win to keep the Titles on them. But, WWE should note that Wyatt and Orton get a strong star reaction from the crowd. Gable and Jason Jordan do not. They should be stars, but WWE needs to do something to help American Alpha connect with the crowd and getting strong clean wins against good competition will help.
Steel Cage Announcement: Both Alexa Bliss and Becky Lynch play their parts very well. Lynch is a very good babyface and Bliss is becoming a very good heel. I don't think she is good enough in the ring yet to be the Women's Champion. But I hope she gets there, because she is to that level as a character. They played off each other well here with Daniel Bryan trying to figure out who the new La Luchadora is. Bliss was hilarious in claiming she had gone undercover to figure it out before Becky ruined it. The announcement of their rematch in a steel cage next week worked well. Becky got the tap out victory on the Champion to earn another shot and given the outside interference, the steel cage stipulation makes perfect sense.
SMACKDOWN MISSES
American Alpha Interview: Man, this was boring. Am I wrong? Didn't Jordan and Gable have personalities in NXT? I know their in ring work was always superior to their mic skills and acting skills, but I remember them being better than this. I greatly enjoyed their journey as a team early on with Gable's goofy personality eventually bringing more personality out of the more stoic Jordan. I'm not saying they can go back and redo what they did with them in NXT, but WWE should be doing something to show them as a fun duo which they are.
Carmella vs. Lunde: This did not belong on TV in any way, shape or form. I like the idea that Carmella is facing jobbers. I like that she is obviously using James Ellsworth to help cheat and win these matches. It is a good demotion down the card for Ellsworth to where he belongs. The problem is that the combination of Carmella and CJ Lunde did not belong in the ring together. It was an ugly match. Neither of them looked good enough to be on Smackdown. The ending looked like Lunde was going to get hurt, and I'm not sure whose fault it was. But the real issue was the offensive commentary from John Bradshaw Layfield making fun of Lunde's appearance for the entire match. The match didn't last long, which kept us from hearing more of the terrible insults from JBL as he was going to keep doing them while the match lasted. Even if he is a heel, having an announcers make fun of a woman's appearance is so sexist. I know he makes fun of Ellsworth's appearance too, but still. It made me so uncomfortable to watch. It made me feel dirty and happy that my wife wasn't watching that part of the show with me.
Corbin Loses: I have mixed feelings about the main event. It was a solid match. I didn't give it a Hit, but it certainly wasn't a Miss. John Cena had to win the match. He needs some strong wins before the Royal Rumble and his WWE Title match against AJ Styles. Styles was entertaining on guest commentary during this match. I particularly liked how he questioned why Baron Corbin was mad at him when he was rooting for him in the match. But, Corbin is being presented as the #2 heel on Smackdown right now. He is in the World Title picture. He was the first Smackdown wrestler to announce that he will be in the Rumble. An argument can be made that Miz should be #2 behind Styles and that Corbin isn't ready for this spot. However, he is in that position. Given that, he shouldn't be losing even to Cena. He needs to be protected more. Smackdown needs a strong contender to be a possible winner of the Rumble. Corbin could be that person, but he doesn't look like a potential WrestleMania main eventer after he lost this match. While Smackdown is the better show, it is the Raw Superstars who have been shown to be the strong contenders to win the Rumble other than Undertaker who goes where he wants to go. So Corbin should be winning to give Smackdown at least one legit contender. And if you don't think Corbin should be in that position, then you better start building someone else pretty quick because once you get past Styles and Cena, you need more main event talent on this roster. But, Cena couldn't lose this match which is why I wouldn't have gone to it in the first place.
NOW CHECK OUT LAST WEEK'S COLUMN: SMACKDOWN HITS & MISSES 1/3: Ambrose-Miz, Ziggler Heel Turn, Contract Signing with Styles and Cena, Alpha Tag Title win follow-up
OR CHECK OUT JASON POWELL'S HITLIST ARTICLES HERE.
---
Jon Mezzera is PWTorch.com's WWE Hits & Misses Specialist, providing his point of view for Raw and Smackdown each week. Email him at jmezz_torch@yahoo.com. Act now and become my 68th Twitter follower@JonMezzera (pretty clever handle right?). Just be aware that I don't live tweet Raw, I don't tweet much about wrestling, and I don't tweet much at all.