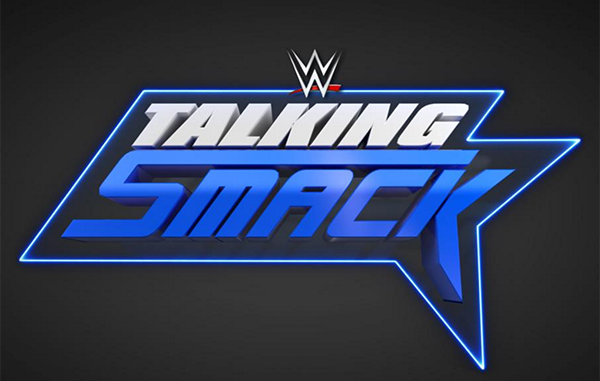 ---
SPOTLIGHTED PODCAST ALERT (YOUR ARTICLE BEGINS A FEW INCHES DOWN)...
---
TALKING SMACK REPORT
JANUARY 17, 2017
AIRED ON WWE NETWORK
Report by Brandon Beauchamp, PWTorch contributor
Renee Young joined by the "Commish" Shane McMahon – not by popular demand, as Shane said – as he looked absolutely not thrilled and excited to be here again. Perhaps it is past Shane's regular bed time? Renee brought up that it was Shane's birthday on Sunday. She asked what he did. Shane said he went snowboarding. Renee had a cupcake brought in with a candle in it as Shane dug in.
Guest 1: Jerry the King Lawler
Renee wasted no time bringing in our first guest as she welcomed Jerry "The King" Lawler. King cracked his first joke of the show, saying birthdays are nice but too many of them will kill you. Renee congratulated King on "King's Court" returning tonight on Smackdown. Shane thought Renee was going to say, "Speaking of killing, you almost died." Referring, of course, to that memorable night in Canada when King almost died several years back.
Renee asked how it felt to be in front of friends and family again and then have Dolph Ziggler bring up King's heart attack and then kick him in the chest. King said t felt as good as he could feel after being kicked in the chest. King said it was the first time he had been in the ring with Ziggler since the incident. King corrected Renee, saying that a heart attack and cardiac arrest are two different things. King said, "Only seven out of a thousand people survive a cardiac arrest."  Shane said, "How about that for a kick out." King said thankfully the medical staff was on hand to attend to him so quickly.
King attributed the cardiac arrest to the multiple elbows delivered by Ziggler that night knocking his heart off rhythm, then adding he has not had any issues since. "Knock on wood." Shane pretends to knock on Renee's head. Very classy. King brought up Ziggler taking credit for the elbows. Renee asked if King blames him for the cardiac arrest. King said he didn't blame Ziggler, but does feel his ten elbows in that match were responsible for it.
Renee brought up King saying to Ziggler, "No matter how many times you change your attitude, you're still a loser." Renee asked if King really meant it. King said it was said in the spur of the moment, but all you got to do is look at Ziggler's track record. Kings said he was on a long losing streak and just couldn't figure out what path he should take and said he thinks that's why Ziggler's frustrated. King said Ziggler might have to face the fact that there is more to this losing streak than just his attitude.
Shane said he thought Ziggler had a poor attitude tonight in attacking King and, on behalf of Smackdown. Shane apologized. Shane said Ziggler should not have done that to a Hall of Famer. Shane said he and Daniel Bryan give a lot of leeway and sometimes guys can take that and do something negative. Most of all, he's glad King is fine. King said it would feel a lot better if the apology was coming from Ziggler, but admitted he had himself to blame partially as well for being in that situation and pushing Ziggler's buttons. King said he still blames Ziggler for the cardiac arrest, but does not blame him for what happened tonight. Wait, didn't King just say earlier he didn't blame Ziggler for the cardiac arrest? Oh well.
Renee switched gears to a lighter note, saying King will be on the kickoff panel at the Royal Rumble and calling the Rumble match itself. King said he is excited and it is a great honor being a part of the 30th annual Rumble match. King said it should be a lot of fun. King plugged his bar and grill for the after party tonight, saying his deep fried ribs could give you a heart attack. He had a good chuckle with Renee. Renee thanked King for joining the show. King exited the set.
Renee mentioned Kurt Angle being the first inductee into this year's Hall of Fame. Renee asked Shane how he felt hearing that announcement as he filled his face with cupcake. Shane said it was awesome. He said Kurt is very deserving and highly decorated. Shane said he was very excited to see that. Renee asked Shane if he knew any other names to be added to the Hall of Fame. Shane said it's still being discussed, but he knows a few names that are being floated around. Renee tried to get him to write a name on a piece of paper. Shane shot her down. Renee lobbied to be part of the selection process.
Guest 2: Baron Corbin
Renee welcomed the next guest, "The Loan Wolf Baron Corbin." Corbin sat down at the table and shook Shane's hand. Shane very politely offered Corbin some of his cupcake, but Corbin declined. Renee said last week he was on Talking Smack talking about how he was looking past John Cena and looking forward to the Royal Rumble and then winning and going on to WrestleMania. Actually, it was two weeks ago, but who's keeping track? Renee asked after falling short in his match with Cena how does that set back Corbin's career. Corbin said there is no set back. Shane butted in, advising Renee she needs to ease into those sort of questions. Renee said they don't have a lot of time, so she needs to get right to those questions. Shane said Renee has got to understand why Corbin would be defensive.
Corbin said there is no set back. "I've played in the NFL a few years; you don't win every game," he said "It happens and you can still end up world champion." Corbin said nothing changes in his plan. He went out there and a fifteen-time champion got lucky. Corbin said he was testing the waters with Cena. He said Cena is fighting with everything he has to hold on to his last few moments and Corbin just brought a little bit of what he has. Corbin said, "I got caught, it happens, but I'm not going to deviate from my plan."
Renee asked if it will change Corbin's attitude or tactic. Corbin said no he has a plan going into the Rumble match. He said he has thought long and hard about what he is going to do. He said he has been looking at the layout. He said every week guys are trying to earn their spot. Corbin mentioned himself along with The Undertaker, Brock Lesnar, and Goldberg as guys who are main event guys who came out and told everyone what they were going to do. He said Brock and Goldberg are going to be so focused on each other he's not concerned about them. Corbin then mentioned how the Undertaker, or "Taker" if you know him really well, came out and said he dug 29 holes. Corbin defiantly said: "That's good. The world needs ditch-diggers." Renee and Shane gasp at the nerve of Corbin. He said: "He's done the work for me and I plan on filling them holes." Corbin said he plans on going in and winning and getting a shot at the WWE Champion. Shane said if the lights go out and Undertaker pops up, he's out of there. Corbin smirked and said he would punch him in the mouth and see what happens. Shane said he tried that and it's not that easy.
Renee asked Shane what his reaction is to Corbin saying that. Shane said he's never been in there with Corbin, but he's been around a lot of great talent, and Corbin has the potential to be one of those. Shane puts over all of Corbin's assets and said he is excited to see where this road takes him, and loves the confidence.
Renee asked Corbin if all the compliments from Shane, JBL on commentary, and even Rolling Stone magazine saying Corbin is the next big star is distracting to him. Corbin said not at all. He said he has been on this show seven or eight times and his story never changes; he believes he is the best and, if he doesn't think he is the best, he shouldn't be there but should just go home sit on his couch and complain on social media like everyone else. Corbin said: "These people in the audience say I'm no good. Well they paid for a ticket, their money's in my pocket, what do I care what they think?" Corbin said to all the fans jumping on his bandwagon, he doesn't need them. Corbin said he has a plan to win the Royal Rumble, fight his way into the Elimination Chamber, win the title, and walk into WrestleMania the champion and number one contender, tell everyone "I told you so," go back to Tampa, and enjoy his night. Shane laughed in approval at the brash confidence of Corbin.
Shane said he had to defend the fan base. He said they pay the bills for everybody, telling Corbin to not knock the fans. Corbin said he enjoys their money, it's great, it fills his pockets, but their telling him that he's earned their respect doesn't fill his pockets, so he doesn't care about their opinions. "They can save them for somebody who cares." he said. Renee thanked Corbin for joining the show and wished him best of luck. Corbin exited the set.
Renee said to Shane that confidence is one thing, but asked is there some ignorance as well? Shane said there is some arrogance in there, but as Corbin said if you don't believe you should be there you're going to implode. Shane said: "Believe me, that's a guy who believes in what he's doing."
Renee segues to the big return of Mickie James tonight on Smackdown. Renee asked Shane what effect he thinks she will have on the women's division on Smackdown. Shane said: "We already seen she had a huge effect helping Alexa Bliss win tonight." Shane asked Renee if she had any insight into why she was helping Alexa Renee. Shane said he had nothing. Renee said she met Mickie briefly at NXT Takeover Toronto and said she is ring-ready and ready to come back and prove a point. Shane said she definitely proved a point tonight.
Renee asked Shane how proud Shane was of the very first women's cage match here on Smackdown. Shane said he was very proud. Shane said how nervous both Alexa Bliss and Becky Lynch looked today walking around and looking at the cage. He pointed out little things he noticed in the match that told the story of how unforgiving the cage can be. Renee asked Shane how he felt how he felt in his first cage match. Shane said he just hoped to numb up after the first few brutal shots and then hopefully not feel it as much going forward. Renee welcomed back Mickie James and then moved on to the final guest of the evening as the camera panned over Bray Wyatt, who was already sitting at the desk looking eerily at both Shane and Renee.
Guest 3: Bray Wyatt
Renee and Shane were a little taken aback by Bray being alone. Renee asked Bray why no Luke Harper or Randy Orton. Bray said he has a lot on his mind right now. He said things weren't going the way he thought they would, so he dismissed the two of them for the night. He said: "We have a huge battle next week and we're going to settle everything before the Rumble." Renee asked why he put them in a match next week against each other, referring to Harper and Orton. Bray said to Renee she must not have a brother or sister. He said he has a lot of brothers and, when brothers have conflict, they need to settle it in a brutal way. He said it can't be fixed until it completely explodes, and once it explodes they will be able to head into the Rumble with their minds completely cleared and achieve what they want to achieve.
Renee said in the Royal Rumble it's every man for himself and asked if this will be a problem for the Wyatt Family and if Bray is concerned this won't get sorted out next week. Bray said, "No, not at all." He said he has been in several Rumble matches both by himself and with his team and he knows that after next week they will be completely clear. He mentioned going to war at Survivor Series and was able to work together. Bray said he see's people like Baron Corbin saying he's going to win. Bray said, "He doesn't know what it takes, he's never been in there, he's never done anything." Bray said he has been there and seen everything and there is no better team with no better chance than the Wyatts if they are completely together.
Shane brought up the luck of the draw and if they are all spread out one could get eliminated early and the others could be all alone. This amuses Bray as he laughs with a sinister glare. Bray said it doesn't matter what anybody thinks. He said, "We are going to win the Royal Rumble. When I say we, I mean me, I am going to win the Royal Rumble." Bray then dropped the mic and walked off.
Renee let out a sigh. Shane said that was a bold statement. Renee asked Shane when Bray said he was going to win what that means for Harper and Orton. Shane said it remains to be seen. He said we will find out after the Wyatt Family explodes (Copyright Mega Powers). Shane said he understands what Bray was saying. With brothers, sometimes it has to boil over to come to a conclusion. Renee plugged the match next week between Luke Harper and Randy Orton. Shane dug back into his cupcake as the show went off the air.
---
NOW CHECK OUT LAST WEEK'S REPORT: TALKING SMACK 1/10: Shane McMahon joins Renee for interviews with Bliss and Becky, Ziggler, Mojo