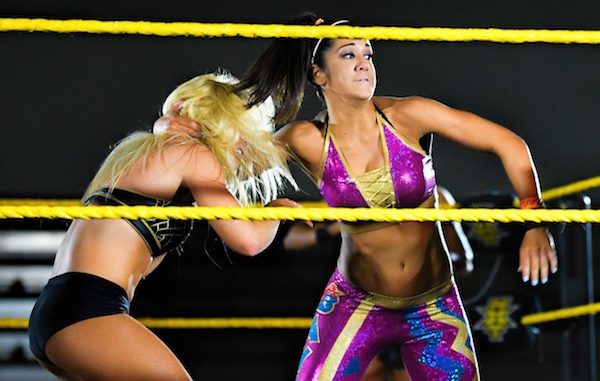 ---
SPOTLIGHTED PODCAST ALERT (YOUR ARTICLE BEGINS A FEW INCHES DOWN)...
---
RISING STAR OF THE WEEK: Bayley
Hey, what a turn around seven days will do for you, especially when it's wrapped up in WWE's roller coaster world of whacky booking. Bayley went from "Dishonorable Mention" to "Rising Star of the Week" just like that. Her segment with Charlotte on Raw positioned her as "us," and that's exactly where she should be. Sure, there was poor rhyming, a little forced dialogue, and WWE corporate speak sprinkled throughout. (The phrase "WWE Live Event" never passed through my lips when I was going to a wrestling show.) But Bayley stood her ground as a fan first and wrestler second. And like that horrible Paula Abdul song where the cartoon cat so poignantly stated, "Opposites Attract," and Charlotte is the perfect foil to our San Jose Hugger. If they heat Bayley up enough to the position where she should be, then this could easily be the hottest feud Raw has going (not counting anyone Goldberg is spearing).
HONORABLE MENTIONS
Jerry Lawler: Now, I'm not as fortunate as most with my latest impressions of Jerry. I last heard King's voice doing a rap solo he dropped on his son's newest album. Yes, you didn't misread that, Brian Christopher a/k/a Grandmaster Sexy a/k/a Jerry Lawler's son just released a rap album. Let's just say it was so horrible that it put me in a 12-hour depression that I just couldn't shake. The song's called "Puppies" and it's on Spotify if you're some sort of masochist. But he looked like the "King of Giving The Rub" (gah, that sounds dirty) in his angle with Ziggler on Tuesday. I've stated before that Ziggler is Mid-Card Broken at this point in his hot and cold career, and I still think that's true, but Jerry's always a solid hand at helping someone garner heat, and even this occasion was no exception. Plus, King reclaims his color commentary throne for the Royal Rumble.
Cedric Alexander: As I've yet to see "205 Live" this week, Cedric's HM comes courtesy solely of his performance on Raw. The love triangle with Alicia Fox and Noam Dar has been mostly hit and only somewhat miss, but if you looked at his match with Brian Kendrick, Cedric is one, if not the only, babyface cruiserweight getting over with very little mic time. His finisher is tight, his ring presence is strong, and his theme music is OutKast cool. The cruiserweight division sure needs help, but Cedric remains apart of it's silver lining.
Sami Zayn: Much like Bayley, Zayn was right where he should be on Raw – mixing it up with the rest of the top card talent. Forget the matter of him taking the pinfall to Braun or that Reigns & Rollins didn't quite  "appreciate his enthusiasm" backstage, Sami's far more believable and relatable than Rollins or Reigns has ever been during their dismal face runs. He's one of those guys that still gives me underlying hope of pulling out a Royal Rumble win, and although that's extremely low probability (I'd hate to see the "WWE math" on that puppy), that's a wonderful feeling to have as a fan come late January.
---
FADING STAR OF THE WEEK: Braun Stroman
So this is peculiar considering Braun's being pushed to the moon, he's been an honorable mention several times on here, and he gets a reaction that Roman Reigns can only hope for, but I had a little gripe with one of Stroman's backstage segments. I know he hasn't been handed a lot of speaking time and some of the stuff the creative team brews up on a script comes across about as natural as a Big Mac, but the way Braun delivers his lines can be downright off-putting at points. Once in awhile he sounds like Augustus Gloop slipped into the ooze that formed the Ninja Turtles – unbelievably deep with a mouthful of chocolate. For a second I thought JeriKO took a trip on a psychedelic boat ride with the late Gene Wilder. Braun's star may be being propped all nice and high in McMahon's galaxy of main eventers, but this one is sure to fade for the fans if they don't fix this guy's delivery. One tip, Brauny Man: Don't try to make every syllable of your discourse sound like the beginning of your entrance music.
DISHONORABLE MENTIONS
For the sake of consistency, I could give Dolph a Miz Participation Award for forcing his heelish best this week, but I shall stay steadfast in his stagnancy. No one else truly underwhelmed this week, but with the Rumble right around the bend, I expect a few to get thrown out there.
---
NOW CHECK OUT LAST WEEK'S ARTICLE: RISING STAR & FADING STAR OF THE WEEK: Becky Lynch, JBL, Baron Corbin, Rusev, Shawn Michaels, Bayley