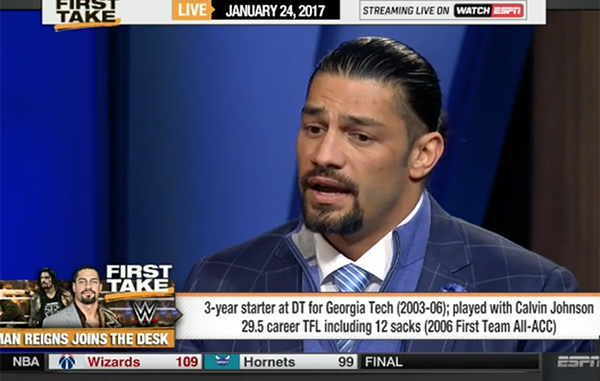 ---
SPOTLIGHTED PODCAST ALERT (YOUR ARTICLE BEGINS A FEW INCHES DOWN)...
---
Roman Reigns talked about his transition from football to pro wrestling on ESPN's "First Take" this morning.
"My time with football was just up," he said. "It was what it was. I wasn't making any teams at that point. I just had my daughter, who's nine now. It was time to man up. Either do your business or get off the pot."
He said after the NFL career came to an end, he worked for his sister's business installing office furniture. "I was just working nine-to-five." He said when he looked in the mirror every morning, "I knew I wasn't supposed to be putting on the furniture shirt. I was supposed to be doing something else. And I didn't know what it was at that point, but I knew WWE could possibly be that team I was looking for. Thank god I was right. They helped me out and gave me an opportunity and I'd like to think I hit my head on the goalpost."
He said he's happy that today they're a PG product. "The goal is to put smiles on people's face, especially the kids, and bring families together… I love it. I feel like I'm leading the new generation today."
Keller's Analysis: He was a good "face of the company" here, although he hit the upright when talking about his transition from working for his sister to joining WWE. He said he was just "just working nine-to-five," and it made it sound like he felt that was beneath him, when 99 percent of the fans who pay to see WWE are working nine-to-five. A more p.r. savvy top star would see that opening and instead say something along the lines of: "When I was working nine-to-five, I was earning an honest living. After being in the NFL, it was different for me. My family has a history in pro wrestling, and that always appealed to me. I was a fan growing up, but my focus had been on the NFL. I knew I had to chase my dream and try to follow the footsteps of my family who had been Superstars in WWE. To anyone out there working nine-to-five jobs who feel there's a different dream you want to chase, I say go for it. I did, and I haven't looked back. It's been a lot of hard work, but this Sunday when I beat Kevin Owens to win the Universal Championship, it will all be worth it." Anything along those lines is better than saying he worked "just" a nine-to-five job, giving off a potential vibe it was beneath him. It's not that he meant anything by it, but he so often in these settings comes across as if he's trying to impress the interviewers as a big shot and a side of him sneaks out in his words that isn't great for someone in his position. As is par for ESPN's coverage of WWE, this interview began with the hard-hitting question, "Why is Royal Rumble a can't miss event?" Oh, he picked Atlanta to win the Super Bowl.