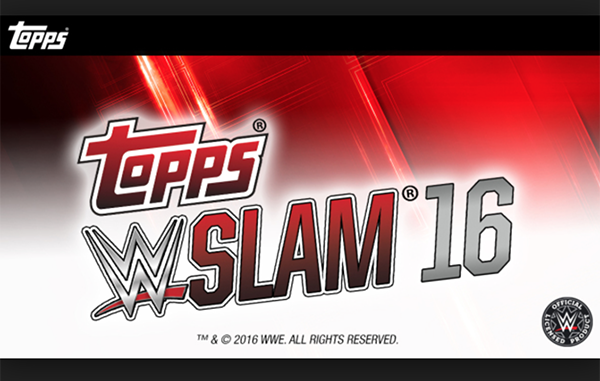 ---
SPOTLIGHTED PODCAST ALERT (YOUR ARTICLE BEGINS A FEW INCHES DOWN)...
---
Welcome to the first edition of a new recurring column focusing on the extremely popular Topps WWE Slam Digital Trading Card App for iOS or Android devices.  For those of you in the dark, the app is a fun way to get more involved with your favorite WWE and NXT Superstars, both current and legends, by collecting and trading digital trading cards.  It's been around since last spring and there are almost 4,500 different cards in the app so far with more being released every single day.
Virtually every single current performer is featured on at least one card, and many have dozens of unique specimens to collect.  Legendary wrestlers such as Bret The Hitman Hart, Shawn Michaels, Randy Macho Man Savage, Ultimate Warrior, and Andre the Giant are also available (though not Hulk Hogan yet) plus announcers, managers and valets are even represented.
The Topps company was founded in the late '30s to distribute the new fad of chewing gum and candies.  In 1951 they entered the burgeoning Baseball card field holding a license for Major League Baseball Trading Cards ever since.  Over the years they have produced physical cards for every major and minor sport as well as thousands of entertainment brands.  Most importantly they've been producing WWE related sets since 1985, and have had an unbroken streak of publishing multiple sets every year since 2005.
In 2012 Topps introduced Bunt, the official digital baseball card trading app where collectors could buy and trade digital baseball cards, and as an added bonus, they could use those cards in fantasy baseball games within the app.  It proved incredibly popular with fans, and soon Topps expanded into football and soccer.  In 2015 they introduced their first entertainment product, an app based on Star Wars cards and the popularity far exceeded their expectations.  
Today there are eight different Topps digital trading card apps, and there are other companies doing their own versions of digital cards.  Of course there's only one that we wrestling fans care about and that's WWE SLAM, though we'll touch on the other apps as time passes, since cross trading between the apps is a facet of the game.  Yes, we do call it a game too, even though there is no fantasy component to the app, it's still a game to try to collect as many cards as you can.
Slam was released on July 15, 2016 with a 188 card "base" set in 5 color variations, each more difficult to procure.  The easiest color to collect is white, following with increasing difficulty: green, teal, orange and lastly black.  Base cards are available for the longest period of time, until a new base set is released which is typically only once or twice a year.  In addition to the base set there are various insert sets available and these are by far the most important aspect of the game, since these are the most popular and valuable cards, and they are only available for a limited time after which then they "sell out" and can no longer be found in packs.
Each card in the game has a card-count or "CC" which tells you exactly how many of a given card are available in the game.  Base white cards now number in the hundreds of thousands, while base black cards are still in the 500-600 CC range.  Insert cards tend to be much lower on average, from a hard limit of 250 to 2,500.  There are also "base variation" cards which are the same cards as the base set only in different colors with limited availability.
Every day a collector logs into the app they are gifted with 25,000 coins to use to purchase packs of digital cards. Every 7th day of logins without a break you get 50,000 coins.  You can purchase more coins using your iTunes or Android account, or you can earn more coins by doing Tapjoy offers within the app.
Each pack usually costs between 5,000 and 12,500 coins and will contain anywhere from 5 to 10 cards.  Insert cards are available in specifically designated packs that contain a chance at getting that insert, called odds.  The most common inserts are often found 1 in 5 packs or 1:5 odds.
The most valuable inserts (which tend to be cards featuring a wrestlers' signature or "sigs") typically have very very long odds.  Packs usually don't have more than one insert set in them either, so if you are "chasing" more than one set you have to buy multiple packs and there are usually at least six different packs to purchase at any given time.  One constant is that every pack will have a random selection of base cards.
To make matters a bit more confusing, each insert set may have multiple variations or colorways of each card.  For example one of the first insert sets available was called "Aerialists" and focused on high-flying performers like Sami Zayn, Neville and Rob Van Dam.  The set was available in two different variations, a green open edition and a white limited edition.
An open edition means that the card will never actually sell out and while it may not be available at all times, might be available again in the future.  The white limited edition cards were only available in packs for 24 hours at a time, one card at a time and as such they have CCs of less than 1000.  About 3/4ths of all insert sets have multiple variations, the most common paradigm being three tiers: an open edition, one limited to 24 hour availability, and one limited to a hard count of 500 or 1000.  Some sets don't have any variations at all and are limited to 24 hour availability or a hard count.
The most important aspect of the game for many are the award badges that are given out for completing a set.  These badges often come with a special card that is only available for completing the set, and sometimes even a coin reward as well.  The award for base white, green and teal do not have any extra bonus cards or coins, but orange and black get a small coin bonus.  Insert sets almost always have award cards attached and the more difficult insert sets will have the coin bonus as well.  Base awards are always available, while insert awards will have a deadline, and completing the set after the deadline will not give you the award.
Beside the base and insert sets Topps also issues special Pay-Per-View sets based themed on each major event that the WWE produces (though they haven't done one for the Cruiserweight Classic or the UK Championship tournaments).  This started with Summerslam last year and every PPV since has had at least a small set (10-13 cards in one or two variations, with a few signature cards), with very large sets saved for the "big four" (50+ base cards in two or three variations and 5 or more signature cards).
The upcoming Royal Rumble set is hotly anticipated by collectors and many folks are saving hundreds of thousands of coins to purchase packs.  PPV sets will have awards for not only completing the base insert set, but a season length award given for collecting all the base sets for multiple events.  The current season ends with Royal Rumble.  The previous season (the first) was from Backlash to Survivor Series.
Additionally there have been two sets issued that are based on physical trading card products and are virtually the same cards only digitized.  While almost all of the base and insert cards are exclusive to the app, the Heritage and Undisputed sets were designed exactly as their physical counterparts, right down to the card number on the back, which aren't featured on the digital exclusive cards.
As aforementioned the Royal Rumble set is due to be released this week by Topps so now is as good a time as any to get into the game to get a jump start before the WrestleMania themed sets hit.  Also Base Series 1 looks to be on it's way to being retired so you want to get in before it's sold out and Base Series 2 is released, though it has not been announced quite yet players suspect that it will happen around the beginning of Spring.
Going forward this column will look at many of the hot topics in Topps WWE Slam as they pertain to collectors and traders.  Next time we'll look at card values and trading, as not only can you trade these digital cards, but you can buy and sell them on the secondary market (eBay) and believe it or not, some of these cards have quite a bit of real-world cash value.
Meanwhile if you have any questions or comments, please leave them here for me, or find me on Reddit.com/r/Toppswwe where I'm "wmnoe."  You can also find my in-depth Frequently Asked Questions about the game there, and many other resources that will help and guide you as you start to collect and trade.  In-game my username is GRENDELSEN, and I'm a very active player and trader.  Drop me a line and let me know what you think.  Until next time, happy collecting!