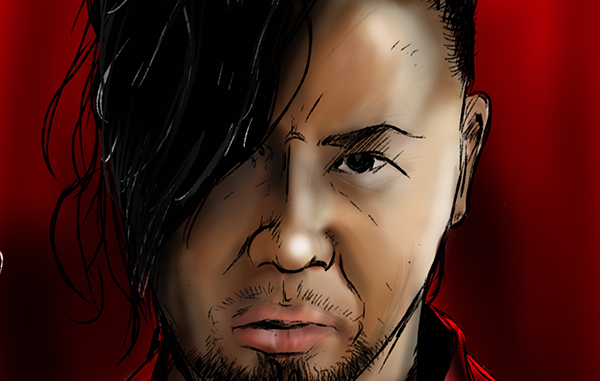 ---
SPOTLIGHTED PODCAST ALERT (YOUR ARTICLE BEGINS A FEW INCHES DOWN)...
---
Welcome again to the NXT Tracker. Normally, this feature focuses on a wrestler's progress through in-ring work and booking; today we're going to look at the state of the booking as we head into NXT Takeover: San Antonio's five matches.
NXT Championship: Shinsuke Nakamura (champion) vs. Bobby Roode
A month or so back, before Roode won this opportunity in a four-way elimination match, I made the prediction that Bobby Roode would be the next NXT Champion, and the opportunity came up sooner than I would have expected. While I think Roode wins here and Nakamura moves up to the main roster, my main reservations have to do with the fact that someone has to be the leading babyface in NXT, and admittedly, the fact that Nakamura won the title back fairly recently. I don't think the hotshot title change to Samoa Joe was worth the trouble – not for Nakamura, and not for Roode, should he end up winning this title.
As far as the hype for this match, it's been decent. NXT used to do a great job of giving weight to each match in the upcoming Takeover, but since the promotion of their head writer Ryan Ward to SmackDown, we've seen NXT become a more straightforward show, and it's gradually lost its status as must-see wrestling. For all the issues with the NXT midcard's booking, we've still seen NXT do a good job of setting the stage for the main event. Yes, we've gone to the well of the tired contract signing, but the workers have made the match seem important, and the match itself has great potential.
NXT Women's Championship: Asuka (champion) vs. Nikki Cross vs. Peyton Royce vs. Billie Kay
NXT has some difficult decisions to make. If Shinsuke Nakamura really does head up to the Rumble with Samoa Joe, someone's got to take the lead on the house show circuit, and Asuka remains their best hope to do this, barring a big signing. Without this potential problem in the way, it would probably be time to move the title, and to move Asuka to the main roster. This match seems crafted to get Asuka away from the title without breaking her undefeated streak in one-on-one matches, if that's the way they want to go.
The booking for this match has been fairly solid as well. Peyton Royce and Billie Kay are the two-headed threat to the title that stick together and pick their targets, and Asuka won't be able to get any help from Nikki Cross, who hates all three of the other girls. The match as crafted does a good job of creating a believable threat to Asuka's title despite a lack of believable challengers in a one-on-one setting. If Asuka wins this match, who does she transition to? If she can beat Nikki Cross, Billie Kay and Peyton Royce, why would fans get into her next feud with any one of those girls as singles? While Peyton Royce probably does the best heel work of these three, but Kay is the most polished in-ring performer, so I'd expect Kay to walk out with the title while Royce (for now) sticks by her side to protect the title for a while. Cross, with her character, doesn't seem like one who would need or even crave a title, and she has progress to make in the ring anyway.
NXT Tag Team Championship Match: #DIY (champions) vs. The Authors of Pain
#DIY's match with The Revival to win the titles was a classic, like many of the tag team championship matches on NXT Takeover shows over the last year or so. This one could bring the streak of great in-ring tag title matches to a screeching halt, as the Authors aren't in the company to be great workers, they're here to be a real heel threat to babyface champions. The Authors haven't lost yet, and #DIY had a long trek to the titles, so is it really time for either side to lose yet? Again, there are options with Johnny Gargano and Tommaso Ciampa if they head up – would a run with the Cruiserweight division boost the division, or define down the men? I think I'd leave the titles on #DIY here while keeping the Authors strong; ideally, I think the Authors move up without ever losing, so this can be a talking point when they start tangling with teams like American Alpha or The New Day.
To be honest, while running down the card in my head, this is one of the matches I've struggled to remember. NXT has gone through the correct motions – the Dusty Classic was sacrificed as a great in-ring tournament to get them over as monsters – but the build to this particular match has been subpar at best. The Authors have Paul Ellering doing their talking for him, and while the words on paper have been fine, he's no longer doing his best work on the microphone. While there's no end to the names I'd like to see #DIY work with on the main roster, I think this one should get dragged out to another show unless they want to shift to Authors-TM61 again quickly, rather than build up TM61 for a while first. Why no Revival-TM61 match on this show, by the way (if someone's nursing an injury, forgive the question)?
Tye Dillinger vs. Eric Young
This one kind of came out of nowhere just recently. I've said before that Tye can't play the bummed-out loser forever and remain over as a babyface, but this match doesn't seem to be playing into his favor. Young has his whole SAnitY stable at his disposal, and the development of the Killian Dain character will probably continue with this match. Not to sound like a broken record, but this match didn't get a ton of hype. Maybe the plan now is for NXT to be more of a basic show that's good enough to engage the current fans but not great enough to overshadow the flagship TV shows, but it feels more like we're in a pattern of bare-bones storytelling and last-minute Takeover booking while the weekly shows focus less on hyping events and more on developing wrestlers. That's fine, but it does take the shine off of the Takeover shows.
It seems everyone had the same idea – have Tye enter the Royal Rumble at #10. The chant could happen regardless leading up to #10 entering, and as obvious as it might be, I think I'd go ahead with it. Of course, you have the problem of what to do with the match with Young if you're going to go this way. I think I'd prefer to see Dain and Alexander Wolfe cost Tye the match, only to have Tye clear out all of SAnitY and lay waste to them as he soaks in the cheers on the way out. This sets the stage for Tye to make a big splash in front of the same fans the next night.
Roderick Strong vs. Andrade "Cien" Almas
Almas, in a heel role, is doing a lot better than he was as a face. Blame the booking or blame Almas's natural cockiness in the ring, but he's enjoying a much better reaction now. Roderick Strong, for all his amazing ability in the ring, has been largely kept off the stick for a reason. His interview leading up to this match was pretty rough, but the match itself has show-stealing ability, since we know the tag title match probably isn't going to steal the show as normal.
This match, naturally, has been given the smallest amount of focus, as it's more or less a lingering issue from the aforementioned four-way match that Bobby Roode won. Roderick Strong will probably be hanging out in NXT for a while, developing as a character, so this match should go a long way toward getting the crowd more invested in his work. I think this match works fine regardless of who wins, but I'll predict Strong wins the match, since I've gone heavy on heels for this show.
Full Show
I don't know if this will be a memorable Takeover or not, but I think it can be, if it acts as a farewell for multiple performers. There are a lot of choices to be made regarding the Royal Rumble, and the state of NXT is going to be very interesting a few days from now, one way or another.
NOW CHECK OUT THE PREVIOUS ARTICLE: NXT TRACKER – ERIC YOUNG: A weekly assessment and predictions on the prospects of an NXT wrestler's main roster future