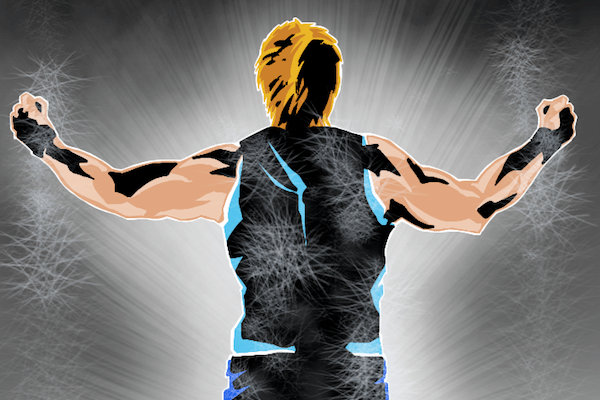 ---
SPOTLIGHTED PODCAST ALERT (YOUR ARTICLE BEGINS A FEW INCHES DOWN)...
---
RISING STAR OF THE WEEK: Chris Jericho
Do you know what happens when you make an actual relevant pop culture reference on Raw that doesn't seem forced? Hmm? Do you know what happens? I won't scoop Y2J's heat any further, but him adding Tom Brady to "The List" has been one of the first times in awhile Raw un-ironically made me laugh out loud. This, and the apparent start of his WrestleMania 33 "Best Friend" feud with Kevin Owens, shoots him right to the top today. No one on Raw has been as solid as a star week in and out as Jericho and, although I personally don't feel that splitting these BFFs up is the grandest route to take (how about they be bus buddies in a dual face-turn), it sure should be a fun dynamic.
HONORABLE MENTIONS
Alexa Bliss: Consider Alexa's honorable mention this week an honorable mention for every women involved in that double contract signing on Tuesday. Wow, what a segment. All of it, from the body language, to the dialogue, to the "forgetting that a certain someone" was in the ring hit its mark just as flush as Naomi's kick to Bliss's temple. Smackdown was an extremely good "go home" show this week. A huge part of it was in thanks to the ladies being on their game.
Daniel Bryan: Granted, our boy "DB" got the generous benefit of a hometown crowd pop, but it was a great refresher to how hot of an act he is, was, and still can be. The Smackdown opening segment was good despite the obligatory set-up of every competitor conveniently interrupting the previous, but Bryan started this Elimination Chamber build-up with the sizzle it needed. It a bitter-sweet shame that WWE won't be able to settle Bryan's score with Miz in the ring (bitter because of Bryan's itch and talent to wrestle again, but sweet because we can avoid further potential head injury).
The Ascension: I'm surprised my Chromebook's keys aren't melting away as I type this, but everything seems to be order: Did The Ascension really win this week? Can I actually see an angle with American Alpha actually working for albeit, only a short period of time? It's really bizarre to type "yes" and "The Ascension" in the same sentence. (Quick! It's time for the inaugural edition of "The Pop Quiz of Wrestling Relevancy": It's probably been since their WWE debut since we've last seen their finisher, but The Ascension's tenure on the main roster isn't the only part of their gimmick that we would call "apocalyptic." Cue The Jeopardy! music – answer is at the end of the column and must be answered in the form of a question.)
FADING STAR OF THE WEEK: Kalisto
It's hard to fathom someone falling deeper down the WWE doldrums than one Dolph Ziggler, but when you've been on the losing end of a feud with him (even if he's at the start of a new heel turn) and you need someone's help to get the job done (see below), then you're pretty darn close to being a bottom feeder. As talented as Kalisto is, he's a man without a country – no one considers him a credible Smackdown member and putting him in the cruiserweight division would only furthers this Lucha Dragon from going the way of the Funkasaurus.
DISHONORABLE MENTIONS
Apollo Crews: Why didn't Crews join Kalisto in the unwanted win this week? Because he may be the only one who gets an actual direction out of this low-card cluster-mess. If he beats Dolph, maybe he'll be able to grab a grain of notoriety when it comes to seeing some babyface build, but having him with the Kalisto handicap doesn't really paint an exquisite portrait of "handling things on your own," does it? Even if it's by the booking of the Smackdown GM.
Mauro Ranallo: Why in the blue hell did Tom Phillips starts Smackdown off? Vince McMahon apparently is not only getting in the WrestleMania mood, but he's letting his inner bully flourish. Not cool when it involves the best non-color commentator on the WWE brand. Thank goodness we have four people huddled around the table to pick up the slack.
Jeopardy! answer to "The Pop Quiz Of Wrestling Relevancy": What is "It's not relevant."
Okay, for you nitpickers, it's really "Fall Of Man," but do you really care? See you next week.
---
NOW CHECK OUT LAST WEEK'S ARTICLE: RISING STAR & FADING STAR OF THE WEEK: Samoa Joe, Naomi, Enzo, Baron Corbin, Bayley, Neville