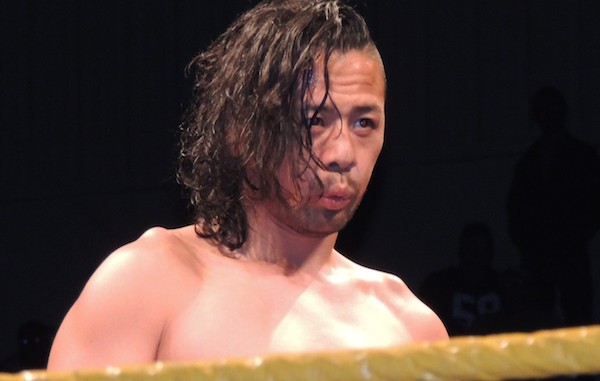 ---
SPOTLIGHTED PODCAST ALERT (YOUR ARTICLE BEGINS A FEW INCHES DOWN)...
---
NXT LIVE EVENT
FEBRUARY 11, 2017
ALBANY, N.Y. AT WASHINGTON PARK ARMORY
REPORT BY MATT ZALUCKI, PWTORCH CORRESPONDENT
I'd say the venue was around 90% full, about 2,500 in attendance.
1. Kassius Ohno defeated Patrick Clark. I'd never heard of Patrick Clark, but he came out in a Tom Brady jersey to get some heel heat. He actually had some decent moves. Loved seeing Ohno. Overall a good opening match.
2. Mandy Rose defeated Daria. Rose cut a heel promo against Albany before the match. Daria has the feel of a UFC fighter.
3. Steve Cutler defeated Oney Lorcan. I enjoyed this match; some nice spots of athleticism by Lorcan. Cutler has a good heel demeanor.
4. Allister Black defeated Andarade Cien Almas. Nice crowd response to Black. Really good back and forth between these two. Definitely a popular matchup for the indy wrestling fans in attendance.
5. NXT Women's Championship: Asuka defeated Nikki Cross and Ember Moon. Best match of the night. Nikki Cross is great. If there ever is a sister Abigail, it should be her. Asuka received one of the biggest pops and the crowd was excited for one on one action with Ember.
INTERMISSION.
6. Sanity (Dain & Wolfe with Eric Young) defeated Angelo Dawkins & Montez Ford. Dawkins and Ford received a really nice baby face reaction over the course of this match. I'll be sure to follow them as I think have a decent future, crowd really responded from the time they came out to when the match was over.
After the match, Eric Young got on the mic and said he saw no one in attendance that was man or woman enough to challenge him or Sanity. Crowd starts chanting "TEN" and here comes Tye Dillinger. Sanity beats him up 3-1 until Dawkins and Ford come in and clear out Dain and Wolfe. They fight to the back.
7. Tye Dillinger defeated Eric Young. Tye was probably the most over act in the venue. Consistent "ten" chants throughout the night and a nice pop when he came out and won.
8. Shinsuke Nakamura & DIY defeated Bobby Roode & The Authors of Pain (minus Paul Ellering). Pretty solid main event. Everyone left happy. Gargano seemed to hurt his ankle on a suicide dive. He hobbled just about the rest of the match, but seemed okay after. Lot of Shinsuke/Roode battle chants. I'm amazed and thrilled I was able to see Shinsuke in a venue like this. The guy just feels like big money from entrance to exit.
Overall this was a really solid show. NXT still manages to balance big names with younger acts still trying to establish footing. Great crowd, engaged in battle chants all night.
Biggest Reaction: Shinsuke, Dillinger, Asuka, Roode
Surprises: Dawkins & Ford, Patrick Clark
NOW CHECK OUT THIS PREVIOUS NXT LIVE EVENT REPORT: 2/10 NXT in Asbury Park, N.Y.: Shinsuke & Kassius Ohno vs. Roode & Almas in main event, plus Asuka vs. Mandy Rose, Young vs. Oney Lorcan
---
Please send any news tips and results to: pwtorch@gmail.com. For instance, let us know if you hear a pro wrestling reference on a popular talk show, see a pro wrestling related Tweet or Instagram from celebrity, hear an ad for matches advertised for an upcoming WWE event, or anything else pro wrestling related that'd be of interest to our readers. 
If you attend a live event, please send results. We don't set up correspondents ahead of time and count on readers like you to send an email with a report on live events you attend – not just WWE, but also ROH, NXT, international groups. and anything else.