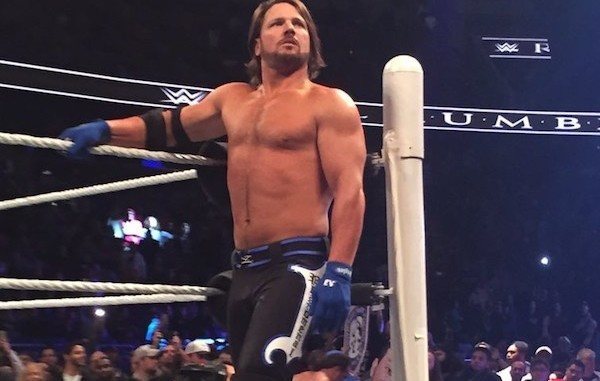 ---
SPOTLIGHTED PODCAST ALERT (YOUR ARTICLE BEGINS A FEW INCHES DOWN)...
---
SMACKDOWN HITS
None: This wasn't necessarily a bad show, but the battle royal left such a bad taste in my mouth that I don't feel like giving anything a Hit. The opening segment was fine. The performances were good, but the segment was overly long. It sucks for Naomi. Alexa Bliss vs. Becky Lynch was solid, but too short for a Women's Championship match. And once again having the same heel cheating to win the Title as you had before doesn't get me excited.
It was good to have the backstage promos during the show with the participants in the battle royal. However, some of them were not good like Apollo Crews and Mojo Rawley. Plus, I don't think John Cena was in one, which makes no sense. WWE should do these promos every week for the main event, or something similar to hype it and make the wrestlers in it seem like they have a chance to win. But, I'm not going to give them a Hit just for doing what they are supposed to be doing. As Chris Rock said in a bit many years ago, you don't get applause for doing what you are supposed to do.
American Alpha vs. Breezango was okay. The Usos were okay after. Natalya vs. Nikki Bella had some good spots in it, but some sloppy ones too. These matches are credibility killers. At some point in the future, Natalya is going to get pinned after a regular finishing move and you are going to question how she could kick out after getting thrown head first through a mirror, but not now? Also, Maryse's pipe attack was so ugly that it ruined a decent match.
SMACKDOWN MISSES
Battle Royal: I hated this on a number of levels. I accept the fact that there are going to be wrestlers in The Royal Rumble who don't deserve to headline WrestleMania. It is the Royal Rumble! But this battle royal isn't the Rumble. It is laughable that Danial Bryan would give guys like Mojo Rawley, Apollo Crews, and Kalisto a chance to face Bray Wyatt for the WWE Championship in the main event of WM. It is a joke that a wrestler who is eliminated can eliminate someone else. Why not have a rule that you have to be eliminated by someone still active in the match? They have done that in the past, but not always.
And that whole thing along with Maryse's attack on Nikki earlier is to set up a mixed tag match of John Cena & Nikki Bella vs. The Miz & Maryse for WM. What a load of crap. Has there ever been a good mixed tag in WWE history? None come to mind. Cena deserves better than this. Maybe this is what he wants to please Nikki, but the fans deserve better. Maryse hasn't wrestled in years and she sucked when she did. Miz deserves better than this. And then we get to the end.
First of all, something odd happened when A.J. Styles and Luke Harper went to the corner to go home and suddenly didn't. I'm guessing they went early and were told to stretch things out. That was bad enough, but then you could tell that Styles's feet hit first. It was ridiculous that five referees couldn't tell that. You know that they had video of it, but couldn't show it because it would have clearly shown that Harper won. There is no reason why they would not show a replay, but the execution was obviously off so they couldn't. It was also a bad plan to begin with.
You promise the fans that the winner of the Rumble will face the Champ at WM, but Randy Orton decided not to. Then you tell the fans that the winner of this battle royal will instead, but then there wasn't a winner. WWE didn't deliver what was promised, just to put it off and make the fans tune in next week to see the match between Harper and Styles. And it will ultimately likely lead to a triple threat Wyatt Family match at WM which isn't going to get me excited. This was just terrible in so many ways.
NOW CHECK OUT THE PREVIOUS SMACKDOWN HITS & MISSES: SMACKDOWN HITS & MISSES 2/8: Nikki-Natalya, Daniel Bryan, Cena-Orton, Miz, Luke Harper promo, Ziggler-Crews-Kalisto
OR CHECK OUT JASON POWELL'S HITLIST ARTICLES HERE.
---
Jon Mezzera is PWTorch.com's WWE Hits & Misses Specialist, providing his point of view for Raw and Smackdown each week. Email him at jmezz_torch@yahoo.com. Act now and become my 68th Twitter follower@JonMezzera (pretty clever handle right?). Just be aware that I don't live tweet Raw, I don't tweet much about wrestling, and I don't tweet much at all.