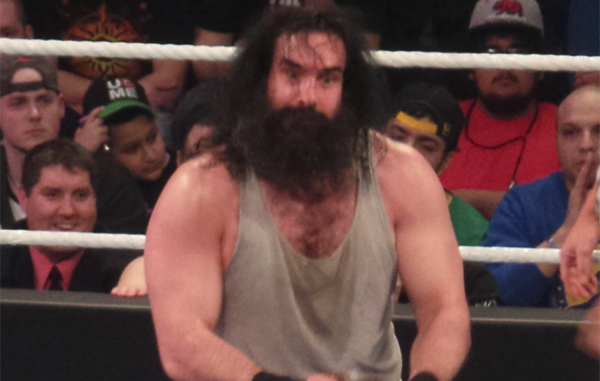 ---
SPOTLIGHTED PODCAST ALERT (YOUR ARTICLE BEGINS A FEW INCHES DOWN)...
---
With a wrestling week filled with big matches, powerful promos, and huge storyline developments, lets take a closer look at who made a huge impact and which wrestlers fell flat.
RAW ALL STARS: BIG SHOW and BRAUN STROWMAN
When Raw was promoting Braun Strowman vs. Big Show as their main event I am sure many fans (including myself) rolled my eyes and considered turning the channel. Those that stuck around, however, were treated to an incredibly well-wrestled match by two men weighing in over 300 pounds each. The sheer athleticism Braun put on display, partnered with the new-look Big Show who moved around and bumped like he did when he first entered the WWE, made for a tremendous main event that made Strowman look stronger than ever. What I liked most about this match was that Big Show finally seemed like a credible opponent and fought like he belonged. For so long now, WWE fans have been conditioned to expect Show to be trotted out every 2-3 months to make a newly pushed wrestler look good to the detriment of his own credibility. This Monday was much different, as Big Show got in quite a bit of offense and made Strowman struggle more than any other opponent has since he has been on the Raw roster. The ultimate goal here was to make fans believe that Braun can beat Roman Reigns, and while the smarter fans know Vince's favorite play thing will probably win at Fastlane, Strownman's performance on Raw did help cast some doubt.
RAW NOTABLE ALL STAR: KEVIN OWENS
The promo that Kevin Owens delivered in the opening segment of Raw was both fantastic and bittersweet. With less than two weeks left before Fastlane, where Owens will presumably lose his title, he was finally given the platform to be the credible, self-centered, and powerful champion fans have been longing for since his reign began. With all signs pointing to Goldberg being victorious on March 5th, Owens gave us reason to believe he will not be "next" for reasons other than "I am the Universal Champion, and thats why I'm the champ" and " Chris Jericho has my back." Owens subtly mentioned how he knows how to play "the game" while wearing a suit for the first time in a while, making sure we got the message. Sure, Goldberg beat Brock Lesnar in less than 90 seconds, but he did not have the authority on his side. Owens made us believe that no matter what, he was walking into Wrestlemania as champion. The cherry on top was how he conveniently left the ring before he could elaborate on last week's attack of his former best friend, leaving fans wanting more.
RAW NOTABLE ALL STARS: JACK GALLAGHER and NEVILLE
There has not been too much to get excited about within the Cruiserweight Division, but Jack Gallagher and Neville injected some new life into the presentation. Gallagher has been a fun character but little has been done to legitimize his toughness and ability to overcome true threats. His short and sweet delivery at the beginning of the contract signing was a great way to kick off the segment which invited out Neville to retort. It was great to see Neville provide some back story on his personality and defiance against a typical English stereotype, which was a nice touch. It was spoken so well that I was afraid Jack would be unable to respond in a strong way while standing there as the living embodiment of American professional wrestling's idea of a performer from merry old England. What came next from Gallagher could not have been more perfect and it instantly transformed this match from an afterthought to extremely anticipated.
SMACKDOWN ALL STAR: LUKE HARPER
Hidden within a very clunky and poorly booked Smackdown, tucked away behind a non-promoted, 8 minute (with a commercial break) Woman's Championship match, Mojo Rawley's never ending proclamation of the word "Wrestlemania," and John Cena being eliminated from the battle royal by a previously eliminated wrestler, was another fantastic performance from Luke Harper. Yes, Luke Harper is not ready for a championship match at Wrestlemania, but he continued to instill confidence that he is making great strides towards that spot on Tuesday. Harper has been able to partner his anger and rage stemming from his brother's betrayal with a shocking display of athleticism to endear himself to the fans in a short period of time. When Luke's music hit and he made his way to the ring, the live crowd in Ontario had a lukewarm reaction at best. Throughout the match, though, his performance had fans chanting his name. In the closing moments of the match he was opposite one of the most popular wrestlers on the roster in AJ Styles, yet the crowd was firmly behind Harper. The finish of the match notwithstanding, Harper held his own against Styles and proved he can compete with the best Smackdown has to offer.
SMACKDOWN UNDER PERFORMER: DOLPH ZIGGLER
As a Dolph Ziggler fan from the very beginning, it pains me each and every time I am forced to put him in this category but this week he left me no choice. We can all agree that Dolph's new heel run has been mediocre at best and he did himself no favors on Smackdown. The backstage promo he delivered was more of the same, proclaiming that there will be no new era as long as Dolph Ziggler is around. Really? This is coming from someone who cannot even defeat two mid-card wrestlers with zero credibility. To end the promo as ridiculously as he started it, Ziggler decided to super kick a green screen and asked anyone in the locker room to "follow that." During the battle royal Ziggler did absolutely nothing to stand out (again) aside from missing John Cena with a kick by what looked like 5 feet. Following that blunder, he was unceremoniously eliminated by one of the "new era" wrestlers Dolph previously denounced. I have said this before, and I will say it again, while the booking team is doing Ziggler no favors Dolph has done very little to enhance the things that are in his control to make him a believable and credible wrestler on the roster. Tuesday's performance was yet another glaring example of that.
---
NOW CHECK OUT LAST WEEK'S ARTICLE: ALL-STARS & UNDERPERFORMERS: Samoa Joe, The Usos, Corbin, Gallows & Anderson, Bray Wyatt