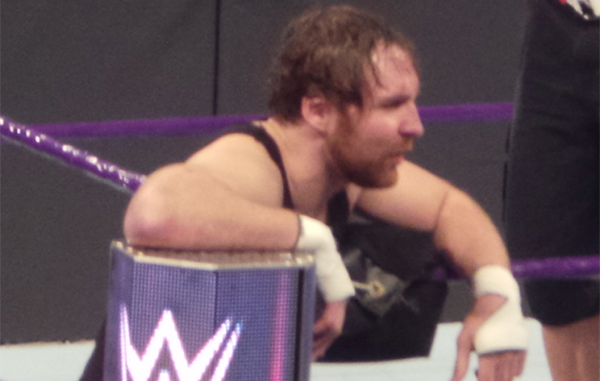 ---
SPOTLIGHTED PODCAST ALERT (YOUR ARTICLE BEGINS A FEW INCHES DOWN)...
---
WWE LIVE EVENT – SMACKDOWN
MARCH 18, 2017
ALBANY, N.Y.
REPORT BY MATT Z., PWTORCH VIP MEMBER
A good showing for the Smackdown live show in Albany tonight. All of the bottom half was full and a good showing in the upper level as well. I'd estimate around 10k in attendance. A lot of kids, have to think Cena being advertised played a big role in the turnout.
(1) Dean Ambrose defeated The Miz and Baron Corbin to retain the  Intercontinental Championship. Solid opening match. The Miz was first out and cut a good promo to get the heat early. Corbin was actually cheered when he cut him off. Ambrose received one of the biggest pops. Pretty good match, Ambrose won with dirty deeds on Miz.
(2) Rhyno & Heath Slater & Kalisto defeated The Vaudevillians & Curt Hawkins. Nothing special here. The crowd, being a lot of kids loved Kalisto and Rhyno and Slater were pretty over also. Rhyno won with a gore on Aiden English.
(3) Dolph Ziggler defeated Apollo Crews. Pretty good match. A lot of athleticism. Crowd wanted to cheer Dolph, but Apollo received a decent reaction also. Ziggler won with a rake to the eyes followed by the zig-zag.
(4) Bray Wyatt defeated Luke Harper to retain the WWE Title. Good match, Luke looks slimmed down from what I'm used to on TV. Bray was really over even as the heel. Bray won with Sister Abagail. After the match, Harper received a decent ovation and chants of Luke from the crowd.
Intermission.
(5) Mojo Rawley defeated Viktor of the Ascension. Slow start to the match, likely to allow people to return to their seats. Nothing special. Crowd was solidly behind Mojo. A lot of kids, what can I say? Mojo won with his running corner punch move.
(6) Alexa Bliss defeated Becky Lynch, Tamina, Natalya, Carmella, and Mickie James to retain the Smackdown Women's Title. Crowd was behind Becky big time. This match was okay, probably less action than you'd expect having 6 women in the match. Decent, although out of no where finish, when Becky had the disarmer on Carmella, Alexa ran in from behind and rolled up Becky for the three count. Chants of Becky after the match, they actually played her Music off once Alexa was in the back.
(7) John Cena defeated A.J. Styles in an Albany Street Fight. This was the match everyone was here for. The crowd delivered with a lot of intensity throughout the match. This crowd was very pro Cena. About 80-20 in favor of John. Makes sense with the kids in attendance. The crowd treated both as stars and it was pretty electric for a house show. Some big spots with foreign objects being a no DQ Match. Styles did a low blow and put Cena through the table for a believable near fall. AJ set up another table and Cena did an AA on him through the table for the 3 count. The crowd exploded after the three like Cena won another championship. I was there to see AJ, but i admit the crowd reaction was cool.
OTHER THOUGHTS: Solid, if not spectacular show. Was hoping to see Asuka during the women's match. Also no American Alpha was really surprising. Not as surprising not seeing Randy Orton at a house show, but American Alpha not being there was really puzzling. Being the tag champs and young acts that haven't been featured on TV much, I would have thought they'd be a sure thing on the show, but I guess that'll have to wait for next time.
NOW CHECK OUT THIS REPORT FROM TONIGHT'S OTHER WWE LIVE EVENT: 3/18 WWE in Allentown, Pa.: Reigns vs. Braun, New Day (without Xavier) vs. Gallows & Anderson vs. Cesaro & Sheamus, Swann vs. Neville
---
Please send any news tips and results to: pwtorch@gmail.com. For instance, let us know if you hear a pro wrestling reference on a popular talk show, see a pro wrestling related Tweet or Instagram from celebrity, hear an ad for matches advertised for an upcoming WWE event, or anything else pro wrestling related that'd be of interest to our readers. 
If you attend a live event, please send results. We don't set up correspondents ahead of time and count on readers like you to send an email with a report on live events you attend – not just WWE, but also ROH, NXT, international groups. and anything else.