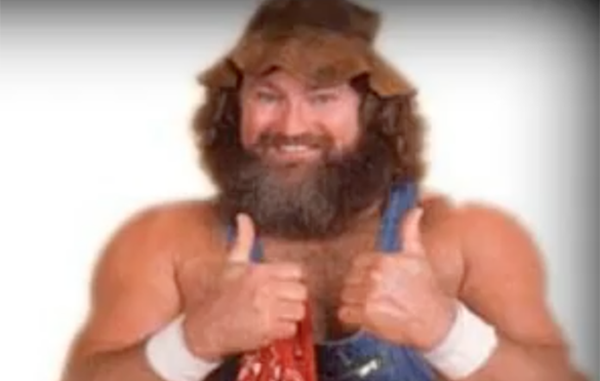 ---
SPOTLIGHTED PODCAST ALERT (YOUR ARTICLE BEGINS A FEW INCHES DOWN)...
---
John and Chad from "The Two Man Power Trip" sent PWTorch the following highlights of their interview with "Hillbilly" Jim, who was part of the Rock 'n' Wrestling Era of the WWF and early WrestleMania years starring Hulk Hogan…
---
We kick of WrestleMania week in style as we welcome a participant from the early days of WrestleMania and a huge part of the Rock 'n' Wrestling Era as Hillbilly Jim joins John and Chad for episode #253. Discussing his new book "Hillbilly Jim: The Incredible Story of a Wrestling Superstar," Jim offers a refreshing take on the glory days of the WWF and the madness that was the biggest boom period in the history of the business. We also discuss Hulk Hogan's role both in writing the book's foreword as well as how he helped Jim get over on WWF television and how Hillbilly Jim really is the first "Hulk Hogan buddy". And what would WrestleMania week be without touching on all of the WrestleMania's that Jim was a part of including WrestleMania 3 at the Pontiac Silverdome in 1987. The full episode is available for download at this link.
Hillbilly Jim Shoots On WrestleMania 3, Says It's Not A Top Match In His Career:
Hillbilly Jim On Being Paired With Hulk Hogan At The Height Of Hulkamania:
Being paired with Hulk Hogan: "There was nobody ever in the history of this business and I don't think there has been anybody since then or probably ever will be that was more over in America than Hulk Hogan. The WWF at that time was the vehicle but Hulk Hogan was driving it and when they brushed me up against him that gave me a seal of approval that has lasted with me through today.
"Jimmy Hart has said this better than anybody and it is the guys who were there in the 80s somehow or another we got woven into the fabric of America. It still remains the same and I'll tell you why. Yours truly, Hillbilly Jim I don't get paid for what I do, I get paid for what I did. I don't have my SiriusXM radio show because I'm Jim Morris, I didn't get put into the Wrestling Hall of Fame down in Texas because I'm Jim Morris, I don't get the keys to the city or places giving me wonderful interviews like this or honorary college degrees because I'm Jim Morris. I got it because I was Hillbilly Jim and fellas don't think I 100,000% am ungrateful because I feel lucky and honored to have been a part of it and that is why you never hear me say anything disparaging about wrestlers or the wrestling business because I had a wonderful run and I know our President says he wants to "Make America Great Again" well for Hillbilly Jim America ain't ever stopped being great."
Hearing the concept for the first WrestleMania and having to miss the show: "I realized early on that sometimes the window of opportunity doesn't open for you very many times in your life so I wanted to capitalize on it because I knew the business was going to be a fast business and it was going to be a quick business but not going to be a real long one. I wanted to make sure that I did as much as I could and to be a part of those things and you talked about it earlier it was some revolutionary stuff and stuff that set the bench-marks because we were the first ones doing pay per views and that first WrestleMania. I would have been in that first WrestleMania had I not got my knee torn up on February 25, 1985 out in San Diego, California in a match teaming with Hulk against Brutus "The Barber Beefcake" and Johnny Valiant. I went down with a bad knee injury or I would have been on that very first card. This happened like a month or two before it and I couldn't do it but I've been on many since then and I've seen the evolution of this business and the fans too.
"We could never have dreamed it. We were all talking about this new thing that they were going to do called WrestleMania. I was hanging out with Barry Windham and Mike Rotunda and we would travel a lot on the roads and we would do a lot of car riding to the places we'd go to between the shows and we were talking about this new WrestleMania thing. Then I got hurt out in San Diego and I wasn't on the show. As it turned out I made the next WrestleMania which was the one in Chicago where we did the WWF vs. The NFL in that battle royal and then the third one, which is the big one."
Memories of WrestleMania 3: "Everybody talks about it and it is not my favorite match but it has become one of my more talked about matches and it was that little thing that King Kong Bundy and I did with the midgets at WrestleMania 3 at the Pontiac Silverdome. There is more people who talk about that than anything and it wasn't really that good of match it just was it was but it was the fact that it was in an enormous crowd and at the time it was a world record crowd.
"I will never forget what an enormous thing that was because they were shooting for a world record crowd. We had to get there like two and a half hours before anybody else got there because it was out in the middle of nowhere and there was a limited amount of roads and when we got there and were waiting for this world record crowd, I can remember Vince standing back there in the tunnel and he said; "Guys you may want to check this out because this is something you may never see again and this is something here you will remember for all of your life" and we did. After that it took us three and one half hours before we could leave that arena because there were so many people leaving out of Pontiac. Than to think that as this thing has gone through all sorts of changes and I've been on twenty-something of them in some capacity either managing somebody or being at fan Axxess but just to think about that of how it has become wrestling's Super Bowl."
Is the larger than life personality missing from today's wrestling: "Y'all know me, I'll tell you like it is and I'm not going to sugarcoat anything but I don't have any beefs with anybody because I never had too much heat with anybody because I'm not that kind of guy. The business has changed a lot and I'm not going to put down anything but I'll just say this; it was as good as it ever was in my day, it is just different now. Every generation builds off of the one behind them and the guys that we had in our day it is not like when we go around the young guys today because they treat us like kings. When I came up in the business the guys before us, most of the boys did not like them. Our guys didn't like the old-timers because they tried to take advantage of them and now they look up to us and revere us and it is almost touching. It is the way it ought to be and the way you should show respect to people but us guys in the 80s never really treated anybody bad and I think we started everything to where it is now and it just changes all the time. It might not be for me now and I might not know who is who on there but I'll tell you, every generation has its different way of doing things."
For this and every other episode of The Two Man Power Trip of Wrestling, please subscribe to us on iTunes, Podomatic, Player FM, Earpeeler, and Tune In Radio. Also follow us on Twitter @TwoManPowerTrip.
---
NOW CHECK OUT THESE RECENT INTERVIEW HIGHLIGHTS: INTERVIEW HIGHLIGHTS: Jeff Jarrett talks about his return to Impact Wrestling and aligning with World of Sports in the U.K.