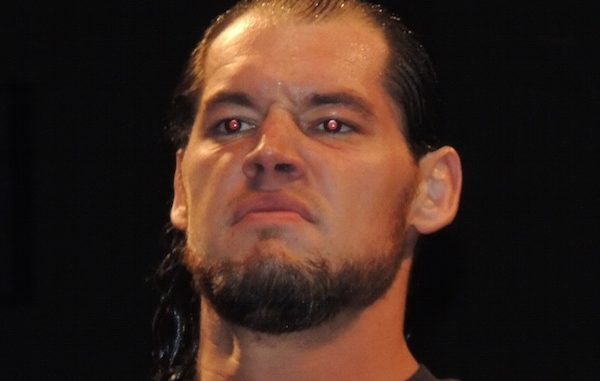 ---
SPOTLIGHTED PODCAST ALERT (YOUR ARTICLE BEGINS A FEW INCHES DOWN)...
---
WWE LIVE EVENT – SMACKDOWN BRAND
MARCH 26, 2017
RALEIGH, N.C.
REPORT BY ERIC SMITH, PWTORCH CORRESPONDENT
Decent show, but nobody was taking any chances of getting injured before WM.
(1) Randy Orton beat Miz (w/Maryse). I was kind of surprised this was the opening match, as it's usually a couple of mid-carders biding time till asses fill the seats. Nonetheless, Miz really worked the crowd, doing the flappy hands bit while stealing Rick Rude's promo as Maryce slowly removed his sunglasses. Orton was hugely over and did all the Greek god poses. Lots of RKO teases, and the ref eventually threw Maryce out. As she left, Randy put in his Vintage Orton sequence and won with the RKO. Very basic match.
(2) Heath Slater & Rhyno & Mojo Rawley & Apollo Crews beat Breezango & The Vaudevillains. Match started off with Heath and Fandango doing a kind of strip-off. Mojo channeled Chief Jay Strongbow at one point. Apollo got off a five-minute suplex on Tyler Breeze. Maybe Breeze can break out of midcard status some day. Heath was the perpetual victim this match, and Rhyno got a YUGE pop when he hot-tagged in. Rhyno GORES Breeze for the win and the crowd goes wild.
(3) Kallisto beat Kurt Hawkins. Hawkins is really more of a generic heel who may as well be invisible. Kallisto pretty much made the match all by himself. K wins with the Salena Del Sol, if I remember the move name correctly.
(4) Bray Wyatt beat Luke Harper for the WWE Championship. This is the only decent picture I got the whole evening, but at least I got to be a firefly. THE MOVEMENT'S GROWING MAGGLE! Luke Harper is now wearing a black "wife beater" and looks like he's lost about 30 pounds. Bray intimidated the ring announcer chick to always announce him as champion whenever he posed. Bray dominated most of the match. I guess Luke's role was to put him over for WM and didn't seem to offer much offense. Bray won with Sister Abigail. After Bray left, Luke picked up the mic, said he tried his best, then said we were looking at a future world champion.
(5) Becky Lynch & Tamina & Asuka beat Alexa Bliss & Natalya & Carmella (w/James Ellsworth) – Mickie James Special Guest Referee. I was glad to get to see Asuka, but I would have preferred a singles match. Still, she did her unhinged bit on Natalya and gave her a stinkface. The heels all acted like they were too scared of Tamina to take her on. Even Ellsworth ran away from her and cringed like he was confronting his worst nightmare. Carmella did her sassy bitch moves to perfection. Tamina was actually the fall guy for this match until Becky Lynch hot-tagged in, and the place went nuclear. Becky gets the win for her team by making Alexa submit. Really good match. One guy in the audience held up a sign that had Asuka's name and his phone number underneath.
(6) Dean Ambrose beat Baron Corbin via DQ so Ambrose retained the IC Title. One thing I noticed about Dean is that he's always vibrating, or staggering like the Drunken Master. He's really committed to his role of unhinged mental patient. Corbin does a lot of scowling and telling the audience to shut up. Corbin got DQed when he hit Dean with a folding chair, and tried to damage Dean some more until the Savior of Misbehavior reversed his attack into Dirty Deeds. His music started playing immediately upon completing his finisher.
(7) John Cena beat A.J. Styles in a Raleigh Street Fight. Cena easily got the loudest pop of the night. He's not turning heel any time soon. Styles got some respectable heat as well. These two are masters of their craft. They managed to work this match without taking any sick bumps or using too much plunder. Guess they didn't want to risk getting injured for WM. Cena wins with the Attitude Adjustment through a table.
Biggest Babyface Pops: Cena by a long shot, Orton, Becky, Ambrose, Slater, Rhyno
Most Heel Heat: Miz most definitely, Carmellsworth, Natalya, Bray, Corbin
NOW CHECK OUT THIS RECENT REPORT: 3/27 WWE in Norfolk, Va.: Huge Monday night crowd, Cena addresses Smackdown's perception as B-brand, Cena vs. Styles, Orton vs. Miz
---
Please send any news tips and results to: pwtorch@gmail.com. For instance, let us know if you hear a pro wrestling reference on a popular talk show, see a pro wrestling related Tweet or Instagram from celebrity, hear an ad for matches advertised for an upcoming WWE event, or anything else pro wrestling related that'd be of interest to our readers. 
If you attend a live event, please send results. We don't set up correspondents ahead of time and count on readers like you to send an email with a report on live events you attend – not just WWE, but also ROH, NXT, international groups. and anything else. No need to ask ahead of time!