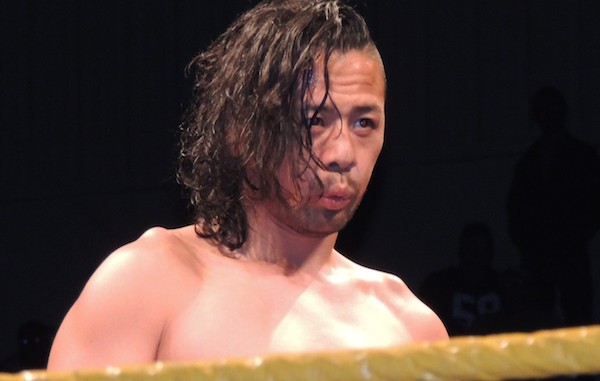 ---
SPOTLIGHTED PODCAST ALERT (YOUR ARTICLE BEGINS A FEW INCHES DOWN)...
---
SMACKDOWN HITS
Naomi vs. Bliss:  This was a pretty good Women's Championship with Naomi defending her newly won Women's Title against the former Champion Alexa Bliss.  Neither Naomi nor Bliss is a great worker.  But, they are both good.  They performed well here.  They were given 10 minutes which is probably as much as they should have gotten.  They worked the knee angle well which fit in perfectly with the storyline of Naomi just coming back from the knee injury which caused her to relinquish the Title in the first place.  I also like that new submission hold that Naomi is using as a finisher now.  It wasn't great, but it was good enough to get a Hit.
Tye Dillinger:  The Perfect 10 got a nice introduction to Smackdown with a hot reception from the WrestleMania week crowd.  This was one of the few times when the crowd felt as hot as they did for Raw the night before (more later).  He got a great reception and the fans were very much into the 10-10-10 gimmick.  Introducing him with a 2 minute squash match was strong.  He has more than just the Perfect 10 gimmick.  When he was having struggles in NXT winning the "big one", he came across as earnest and relatable in a very good way.  I hope WWE explores that with him and does something to really make him connect with the larger Smackdown audience moving forward.
Nakamura:  This was the second time when the crowd reacted with the excitement that you'd expect.  Just like with Dillinger, this is the perfect time to debut Shinsuke Nakamura.  It is great when a violinist starting to play some music gets the biggest pop of the night.  Part of me wishes that Nakamura had said something.  Just "The King of Strong Style is on Smackdown!" would have been enough.  But, maybe it wasn't needed.  It worked very well without any words.  We don't know what the roster will look like after next week, but right now it certainly feels like Smackdown needs Nakamura more than Raw, so this was the right move to make.  This followed on the heels of the funny bit with The Miz and Maryse doing the final "tribute" to John Cena and Nikki Bella.  That was amusing, but now you have to move Miz onto something new.  Assuming he stays on Smackdown, a feud with Nakamura has a lot of potential.  I can see some great stuff on the mic and a very good match to help introduce Nakamura to the larger audience.
Corbin vs. Ambrose:  The Intercontinental Championship on the WrestleMania pre-show was not particularly good.  It wasn't bad.  It was just ok.  There has been some good stuff in this feud, but over all it hasn't felt important.  Baron Corbin getting the win here in this non-Title street fight adds some juice to the feud.  This was better than their WM match.  They used the street fight gimmick well.  It was physical and intense.  It sets up a rematch for the IC Title.  But, it could also just be giving Corbin a boost before moving him to Raw next week.
SMACKDOWN MISSES
Opening Segment:  You could feel that the WrestleMania week crowd was running out of steam by the time they got to Smackdown.  It is fully understandable.  If someone actually went to the Hall of Fame, NXT Takeover, WrestleMania, Raw and Smackdown (plus maybe an indie show too), that person would be exhausted by Tuesday night!  There wasn't nearly as much energy in the crowd as there was for Raw.  But, they also didn't get as good a show so WWE didn't do as much as they should have to get them excited and into the show (only the Dillinger and Nakamura debuts stand out as anything to get excited about).  It started with this opening segment.  The WWE Title storyline has been terrible.  Randy Orton vs. Bray Wyatt at WM was bad.  Orton as the WWE Champion feels stale already two days into this Title reign.  You get some boring rudimentary mic work from Orton.  You get more over the top silly mumbo jumbo talk from Wyatt.  We got a tease of a House of Horrors match.  That was ok.  I really wanted to see supernatural elements in WWE retire with Undertaker on Sunday.  Instead we get Wyatt magically appearing in the ring.  It was silly that the announcers were like "who is that?" when Erick Rowan pulled Orton out of the ring.  Who is that?  It is a tall guy with a long red beard wearing a sheep mask.  Who do you think it is?  This didn't work for me.  It did set up the main event tag match which was ok.  It wasn't good enough to get a Hit and the hocus pocus crap at the end helped take it out of the Hit column.  But, it wasn't bad enough to get a Miss either.
Shane – Styles:  We were told that Shane McMahon would be on later in the show to shed light on the Superstar Shakeup that Vince McMahon announced on Raw.  I already went into great detail about why I don't like this concept in my Raw Hits & Misses.  I won't rehash all of that here, but I will say that part of my problem was the lack of details given to what it meant.  I thought we were going to get some details here based on what the announcers said, but we got zilch.  All we got was Shane saying that nobody should want to leave Smackdown and all the Raw wrestlers should want to come to Smackdown.  Then we got the wishy washy appearance by AJ Styles.  I guess that was supposed to be a babyface turn for Styles?  I am happy if he is going to be a babyface now, but this wasn't a great turn.  The whole point of their WM match should not have been Shane winning the respect of Styles.  Shane should still want to beat up Styles for putting his head through a window a few weeks back.  He already said that he had respect for Styles as a wrestler.  Why would he now have respect for Styles as a man?
---
NOW CHECK OUT THE PREVIOUS ARTICLE: WWE SMACKDOWN HITS & MISSES 3/28: Cena gets (too) heavy-handed with Maryse & Miz, Luke improves on mic, Women's Division at WM, Shane's handshake offer
OR CHECK OUT JASON POWELL'S LATEST HITLIST ARTICLES AT PROWRESTLING.NET HERE.
---
Jon Mezzera is PWTorch.com's WWE Hits & Misses Specialist, providing his point of view for Raw and Smackdown each week. Email him at jmezz_torch@yahoo.com.