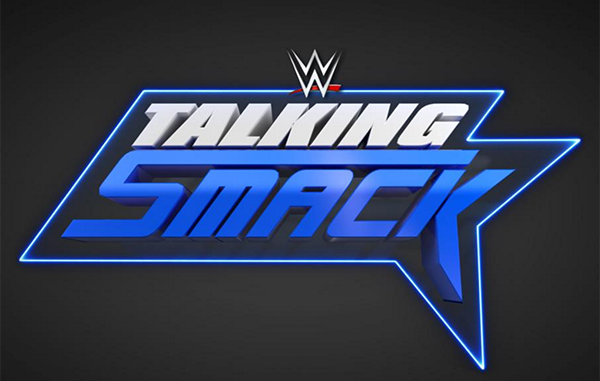 ---
SPOTLIGHTED PODCAST ALERT (YOUR ARTICLE BEGINS A FEW INCHES DOWN)...
---
Talking Smack has quickly become must see TV. That is very high praise for a network special that promotes sitting down and talking over wrestling on a wrestling network. It's smooth, easy viewing that appeals to those who want to know more about what really goes on without ever damaging the overall characters. Every episode gives us a few interesting things that it is definitely with knowing.
I'm Tom Colohue and this is Talking Points From Talking Smack.
Follow Tom Colohue on Facebook and @Colohue for updates.
---
Talking Points From Talking Smack
1. Bryan is trying to put Shane over
Talking Smack is better when Daniel Bryan is on it. That's a fact. Two people is better than three on commentary. That's an opinion. Three hosts to one guest on Talking Smack in a mess. That is obvious.
With Daniel Bryan definitely taking time off soon, the fans need to warm to Shane McMahon, and fast. There isn't anyone else. JBL was drafted in at one point; I doubt people are going to warm to him right now. The Miz was drafted in at one point too. Don't see that happening again soon.
Bryan and Shane appeared together in the hope that some of Bryan's face heat would transfer over. On a talk show. That is, indeed, a thing.
2. Dolph Matters
Dolph Ziggler outright stopped being important after TLC last year. I know that he appeared sporadically on TV, but he was never important. His appearance on Talking Smack showed a refined, determined heel who has positively developed his character in a direction that does not currently appear on Smackdown. His no nonsense, here-to-get-paid attitude almost reminds me of Dean Ambrose.
This is the perfect program for both men. Ziggler can work strong style, he can sell anything and he's a recognized, authentic name who can put Shinsuke Nakamura over well. As Ziggler himself said, this will put him back into contention for big money matches and potentially build back towards upper-mid-card feuds with Sami Zayn and maybe Luke Harper. From being uninvolved and unimportant between December and WrestleMania, Dolph suddenly matters again.
3. Smackdown has a mid-card now
The mid-card before the shake up barely existed on Smackdown. Apollo Crews and Kalisto were essentially it and nobody really cared. I'm still not sure what Crews's character is.
Right now, though, the lower carders of last year are starting to rise up. Mojo Rawley got a pop when he came out. Jinder Mahal not only has a heel character but an actual feud with plenty of TV time coming in. In fact, I was actually impressed by Mahal. He stumbled over a few words, but that just added authenticity. He was strong, determined, and seemed to actually be impressing Shane and Bryan.
And once Gronk goes away again, Mahal will probably get a win too. He's on the up and willing to work hard and that makes him valuable.
4. Talkers for talkers
I want to make this perfectly clear: My Smackdown holy trinity was Styles-Miz-Bliss. Those three defined everything that I liked about Smackdown. The one unifying force? None of them needs a script. It's also a fact that, especially in the upcoming Absence Of Jericho (drink it in, maaaaan), Raw needs talkers. If Raw Talk is going to be a regular occurrence, Miz and Bliss are going to be vital.
So who did Smackdown get lumbered with? Kevin Owens and Charlotte? Can they even talk? Yes. Yes they can. But, wait, can they… yes, yes they can. Very different, very the same. I can't wait to see Charlotte on Talking Smack.
5. The real prize
With A.J. Styles turning face and Bray Wyatt moving to Raw, Smackdown needed a legit top heel and this is a spot that Owens is more than ready to rise up into. Sure, he's not there yet, but give him a good win over A.J. Styles and he will be.
Owens has been teasing us for a while about being a genuine top drawer heel rather than his old comedy act. His opening promo was smooth heel. Wearing a suit is always strong heel. He's placed himself directly against Shane and Bryan, ensuring that the fans won't back him in a ring with either of them. Anti-America has always been a big seller for a heel. His appearance on Talking Smack really helped solidify his direction from here. He's a draw. This time next year he'll be one of the top draws in wrestling.
Owens won't be the U.S. Champion for too long. There are plenty of developing faces ready to take it (it's going to be Sami) and there is another belt that Owens came to Smackdown to take. Is there another heel to take it from Orton?
Owens vs. Nakamura for 'Mania, anyone?
---
NOW CHECK OUT LAST WEEK'S REPORT: TALKING POINTS FROM TALKING SMACK 4/4: Renee talks about Superstars Shakeup, Tye Dillinger has been waiting a long time for this, Naomi on again