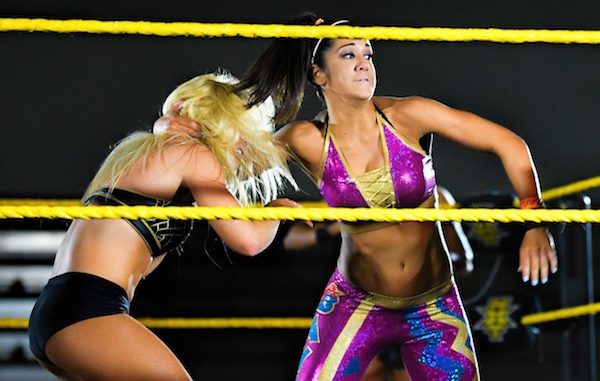 ---
SPOTLIGHTED PODCAST ALERT (YOUR ARTICLE BEGINS A FEW INCHES DOWN)...
---
While Raw had its final chance to sell us on tuning into Sunday's Payback PPV, Smackdown featured more fresh matchups and angles to further cement this Superstar Shake-up. Let's take a look at who stood out and who missed the mark this week.
RAW ALL STAR: BRAUN STROWMAN
Coming off of a stellar performance against The Big Show last week, Braun Strowman was met with a much different challenger this week in Kalisto and proved that he is capable of working with just about anyone. Braun's prematch promo was very strong and he is starting to garner the heat WWE is looking for.
While fans would have a hard time booing this physical specimen that takes great pleasure in beating down Roman Reigns, they are much more willing when he talks down to them as he did on Monday. The match that followed was a very good one, and Strowman did a fantastic job of adjusting to the quick-paced offense of Kalisto. What I loved so much about this performance was how unselfish Braun was in his selling and openness to allow for Kalisto to get in just enough offense to be believable.
Taking the loss did not hurt Braun at all. In fact, his stock rose after he showed how enraged he can become in defeat. The dumpster angle at the end provided an astounding visual and was a showcase of Braun's strength and malice. As Wade Keller talked about on the post-Raw Livecast this week, Strowman's push is no longer just the means to an end in furthering the legacy of Roman Reigns, but intended to position him as a top contender for the Universal Championship.
With the chances of a Strowman vs. Lesnar encounter sometime in the near future, more positive steps were taken on Monday to make that a must-see match. Strowman should be applauded for how far he has come in such a short period of time. Did he have a rocket strapped to his back? Sure. But it is what you do and how you perform when you are on this journey, and Braun has been nothing short of excellent. His match this Sunday should be quite interesting.
RAW UNDERPERFORMER: BAYLEY
It is becoming much more evident that the absence of Charlotte within Raw's women's title picture has proven to be a massive detriment to Bayley. Let me explain.
There is no doubt that Bayley is a good wrestler, but she has struggled quite a bit with finding her footing on the microphone since her main roster call up. With Charlotte being on the receiving end of many of her promos lately, Bayley's mediocrity was slightly hidden as Charlotte has not mastered the craft herself, and their matches have made up for most of their verbal shortcomings. This Monday, however, Bayley was completely outclassed by the fiery Alexa Bliss, who is increasingly becoming one of the best promos in all of WWE.
After Bliss made her intentions clear with confidence and vigor, Bayley had the opportunity to come out, defend herself and step up her game. Instead, we got a timid woman who came off extremely unsure of herself. You could almost see it in Bayley's eyes halfway through the segment that she was falling flat having to follow Bliss's performance and it was clear that the crowd wasn't buying what she was selling. Then, without fail, Sasha Banks's music hits to save the day… again.
This has happened so many times that it is becoming obvious to even casual fans that the WWE does not trust Bayley to stand on her own to deliver a message. The entire segment (once again) did nothing but hurt Bayley's credibility as champion and leaves fans like myself wondering if she will ever click with WWE's mainstream audience. It was another poor performance on the mic, ending with Bayley falling for another trick and left laying with Sasha by her side. I am not even sure a Sasha heel turn would help garner sympathy for Bayley at this point because of how poorly she has been portrayed.
SMACKDOWN ALL STAR: BREEZANGO
There is something to be said for a wrestler's dedication to character, and there are very few in the WWE that emulate that dedication more than Tyler Breeze & Fandango. Both men were paired up in an effort to pluck them out of obscurity and at the very least be an enhancement team for others on the rise, but their efforts were rewarded on Tuesday. This duo has had some tough tasks, like Breeze dressing up as Nikki Bella, and very little TV time to showcase what they can do but they always made the most of it.
On this week's Smackdown, WWE took a chance on these two who have persisted with this persona, and while their match with The Ascension was short, Breezango picked up their biggest win to date and sold the victory as such.
So often the ending of a WWE match lacks the exhilaration of victory and/or the sadness of defeat, but the weight of the moment came through crystal clear with the way Breeze and Fandango reacted after picking up the pin fall. Regardless of who they beat, they secured a win in under three minutes and are now the #1 contenders to The Uso's Tag Team Championships. With these two now positioned as babyfaces with ample time to build them up properly, the WWE has a real opportunity to strengthen their tag division with the emergence of these two. Well done.
SMACKDOWN ALL-STAR NOTABLE: JINDER MAHAL
There was something about Jinder Mahal's overall presentation this week that came across very old school and authentic. While many scoffed at the idea of Jinder being in a top spot on Smackdown, it seems like Mahal has relished in the challenge of proving people wrong. Portrayed as a wealthy and entitled foreigner, Jinder garnered some real heat when talking down to both Randy Orton and the WWE fan base which the live audience really reacted to. His continuation of driving home the point that the fans don't like him because they are incapable of accepting diversity was a tremendous play on current events in the United States and was delivered extremely well.
The addition of The Singh Brothers again this week helping to beat down Orton casts some real doubt as to whether Randy can overcome those odds when the title is on the line, and the three looked like a viable threat with a perfect heel look. The designer clothes is always a nice touch. It was needed given Jinder has not really been put in a position prior to his no. 1 contender win to seem like championship material. The cherry on top here was the visual of Mahal riding away in a super stretch limo shouting to anyone who would listen that he would be champion. It was a perfectly executed segment that I am sure changed more than a few opinions of his detractors.
SMACKDOWN UNDERPERFORMER: DOLPH ZIGGLER
In theory, putting Shinsuke Nakamura in his first feud with a guy like Dolph Ziggler seems like a good move. Ziggler can make anyone look like a million bucks and has above-average mic skills (when he isn't yelling all the time) to carry a program.
Unfortunately, this week's opening segment fell flat on its face as Dolph went on and on trying (and failing) to introduce Nakamura as the reincarnation of Michael Jackson. Understanding this was a terribly written promo, Ziggler was put into a tough position and did not help himself with the way he delivered it. I am guessing that this was intended to get heat on Ziggler which will lead into a match between these two down the road.
The live audience was noticeably bored and getting restless so much so that they even resorted to chanting "What!?" at Nakamura once he finally had the opportunity to speak. The problem here is that there is no basis to Ziggler's problem with Shinsuke. Dolph is still portraying the same whiney, entitled heel that is more groan-inducing than someone you want to see lose and unfortunately some of that stench is starting to rub off on Nakamura and his ability to endear himself to the mainstream WWE audience.
---
NOW CHECK OUT LAST WEEK'S COLUMN: ALL-STARS & UNDERPERFORMERS: Dean Ambrose and The Miz, Jinder Mahal, Alpha, Mickie James, American Alpha, Alexa Bliss