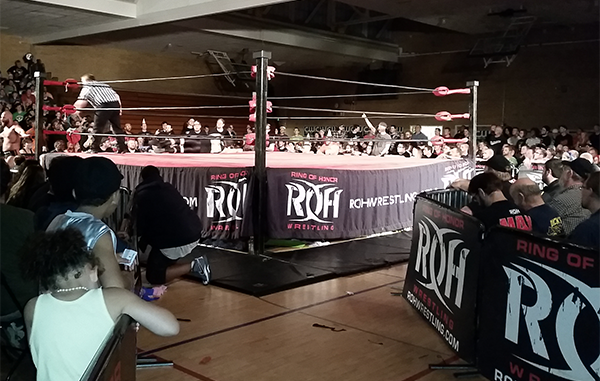 ---
SPOTLIGHTED PODCAST ALERT (YOUR ARTICLE BEGINS A FEW INCHES DOWN)...
---
HITS
Coast to Coast (LSG & Shaheem Ali) vs. The Kingdom (Matt Taven & Vinny Marseglia w/TK O'Ryan): Coast to Coast get a little offense in the beginning of the match before we settle into things. It's a relatively quick match that sees The Kingdom get the win. The biggest take away from this match was what occurred after The Kingdom defeated Coast to Coast. The Kingdom appeared to call out Christopher Daniels and stated The Kingdom would be getting their hands on the ROH World Title soon. I guess there will be more to come in this potential storyline but chalk it up to something new.
The Young Bucks: If you read this column frequently, you know that I am not a Young Bucks fan. As I always state, I do not dislike them. They just do nothing for me as a wrestling fan. In summary during this promo, The Young Bucks talk about who they've defeated and that there is no one else for them to defeat. They run through a few new names of teams that could be a part of their open invitation that they bring up during the promo for their title belts. They call out Demolition and The Rock 'n' Roll Express to name a couple of old school teams. The also add that although anyone is invited it DOES NOT mean The Revival is invited which got a reaction from the live crowd. Mike Mondo and Kenny Doane come out. Mondo says they're here and there's no need to wait till next week since The Young Bucks did state the challenge would start next week. Mondo states that they can do it this week. Mondo and Doane get into the ring and are immediately superkicked by The Young Bucks and laid out. While I am not a Young Bucks fan, this is something different and new for them. WWE fans probably remember the John Cena's U.S. Title Open Challenge a few years ago from RARawW. Will this be mildly as successful as John Cena's open challenge from a few years ago? Probably not, but I do like what they're doing and if they make it a weekly or every other week challenge, I think it would be interesting for what it's worth.
Matt Sydal vs. Flip Gordon: Sydal returned to ROH last week and then also appeared on Impact Wrestling on 4/27/2017 which reminds me of days' past when guys would show up in different territories. Sydal defeated the very talented Trevor Lee on Impact which surprised me given Lee's success in Impact over the last year. Ok, back to ROH. This was your typical solid ROH match. You've got a veteran in Sydal up against Flip Gordon who some may not be as familiar with but is still a solid wrestler. Gordon's leap to the top rope kick while Sydal was in the corner on the top was a thing of beauty. Unfortunately for Gordon, Sydal is able to gain the advantage and go to the top rope and hit his finisher. Sydal gets the win. Afterwards, Scurll attempts to come in after Sydal's victory but Sydal fights off Scurll and nails Scurll with a kick that sends Scurll reeling. Again, good match where Sydal earns a victory going into his expected match with Scurll for the ROH TV title soon.
Jay White vs. Jay Lethal vs. Adam Page vs. Silas Young: At the top of the show, we were shown a recap of how this match came to be. I really like how ROH has been doing these short recaps lately on their episodes. Remember, the winner of this match will get a match against Christopher Daniels for the ROH World title. I feel like whenever you have a 4-way match with the caliber of talent that is in this match, it's hard to have a bad match. There's plenty of action and I thought as a whole that the match was good. Not great, but good. Jay Lethal gets the victory and it appears he will face Daniel and Cody in a three-way match for the ROH World title.
MISSES
Far from a perfect show this week, but I won't put a miss in the miss category for the sake of needing to say there was a miss. Everything seemed to serve a purpose either for the upcoming PPV or towards ongoing ROH storylines.
FINAL THOUGHTS: Solid hour of ROH as they have done so lately in my opinion. I felt like the matches all had a purpose and there is some intrigue with The Kingdom's statement about Christopher Daniels' ROH World title. The one thing that I do sense as I watch ROH is that I feel like they are going through a transition period. It feels like numerous members of the roster have moved on lately. I think of guys like Donovan Dijak, Lio Rush, and Keith Lee just to name a few. I mention this because as I watch weekly, it just feels like we are in the midst of change with not much set in stone as far as the roster goes. This could be a good thing since a rotation of talent offers viewers fresh and new faces. Just my two cents for what it's worth.
Note: Adam Cole cuts a promo before the main event of this week's episode. However, there were technical issues when this aired in my area and I did not get to hear and see exactly what he said.
---
Mike Mills is the PWTorch.com ROH TV Hits and Misses Specialist, providing his point of view on ROH TV weekly. You can follow Mike at @BTT_Podcast and @Mike504Saints on Twitter.