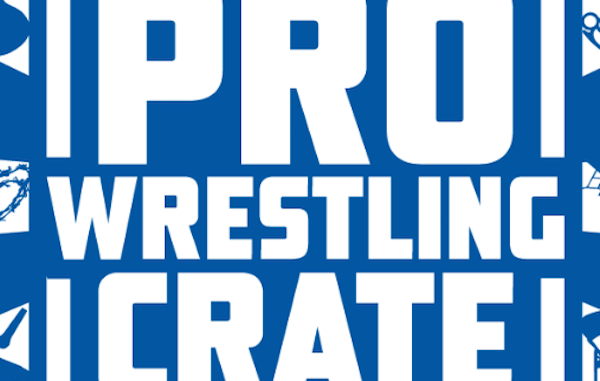 ---
SPOTLIGHTED PODCAST ALERT (YOUR ARTICLE BEGINS A FEW INCHES DOWN)...
---
The latest PWTorch.com monthly unboxing video for ProWrestlingCrate.com features an unboxing of their April 2017 crate with the theme "Animals."
There are several new changes to this service now that PWCrate is under the ownership of Pro Wrestling Tees. The first change is that there are three new options for subscribers. With the Original crate, you get one t-shirt. Another new option is the Tag Team box, which comes with two t-shirts. The third option is the Triple Threat, which comes with three t-shirts. These boxes will all come with a signed 8×10 from a wrestling legend or indie wrestler. They will also include other items such as DVDs, art prints, buttons, pins, stickers, and more. Depending on the length of your subscription, you can purchase these boxes for as low $14.95-$34.95 depending on which crate you choose plus shipping.
Keep in mind that if you get the Tag Team or Triple Threat crate, only the first shirt is tied into the monthly theme.
There is also a Cheap Heat box for $9.99 that includes an autographed 8×10 from a legend or indie wrestler and two of the collectibles from the regular boxes.
NEW: PWCrate has introduced a new option called a Mid Card box for 14.95 plus shipping. This box will get you a shirt designed by Pro Wrestling Tees and a signed 8×10 from an indie or legend wrestler.
The Triple Threat crate is the way to go in my opinion if you're going to subscribe to PWCrate. The shirts that are included in the box have fantastic designs and are really comfortable. These shirts are going to force other crate services to step up their game when it comes to t-shirts.
I enjoyed the Animals theme for April. PWCrate is always included a lot of really cool items in their box in addition to their shirts. The most recent addition to these crates have been the Micro Brawlers and this month Matt Jackson's Mirco Brawler was included as one of the items in the box. If you're an independent wrestling fan, you'll love the Micro Brawlers. They look fantastic and the only place you can get them is in these crates.
The t-shirts in April's crate were fantastic as well. I loved the Dalton Castle Party Peacock shirt. The other shirts included were cool designs for Tatanka and Rhino. The collectibles aren't just throw-away items, as PWCrate has clearly put a lot of thought into them. In addition to the Micro Brawlers, there was an awesome Jake Roberts drawstring bag, a Four Horsemen pin, and a George Steele shoot interview from Highspots and RF Video.
And now to the unboxing video!
There are several pro wrestling mystery boxes on the market now. In my opinion PWCrate is the best. The shirts are fantastic and you get a ton of value for your money. As I said in my video, these crates sell out quickly and the latest PWCrate with a Tag Team theme has already sold out. If you like what you see in this unboxing, the next PWCrate will be made available for purchase on May 15.
You can purchase a subscription to PWCrate by visiting ProWrestlingCrate.com. You can also follow them at Twitter.com/PWCrate. Act fast, as the deadline to order each month is the 15th. The May PWCrate has sold out, but you can order the June crate starting on May 15.
You can save 20% off your first purchase at ProWrestlingCrate.com by using the code "PWTORCH."
***
Email Sean at pwtorchsean@gmail.com
Please visit Facebook.com/SeanRadicanRWC and click "like" to join the Radican's Wrestling Community Facebook fan page.
Follow Sean on Twitter at Twitter.com/SeanRadican