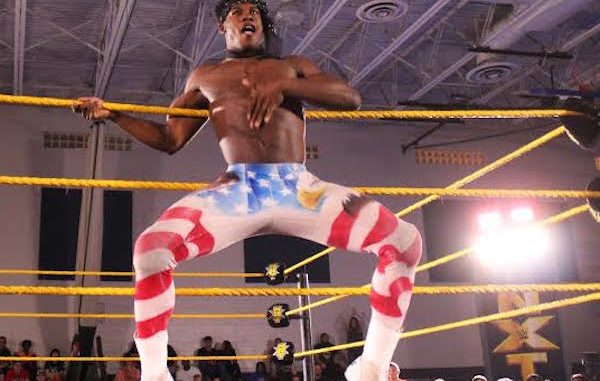 ---
SPOTLIGHTED PODCAST ALERT (YOUR ARTICLE BEGINS A FEW INCHES DOWN)...
---
NXT LIVE RESULTS
MAY 5, 2017
RIVERSIDE, CALIF. AT THE MUNICIPAL AUDITORIUM
REPORT BY MIKE B., PWTORCH CORRESPONDENT
Approx Attendance: 700-1,000
Vick Joseph announced as a new ring announcer. They said he has recently worked for many different companies, including CBS. Not sure if it's his real name or not, because I Googled and was unable to find him. They listed all the names we saw last time they were in Riverside and how awesome it was that last time we got to see those names! Ut-oh. Was skeptical we were going to get a NXT C-Show card, but we didn't. More of a B-. Mainly because the good and experienced wrestlers in almost all cases were matched up against those with far less experience. Tons of crowd interaction made up for a lot of this.
Anyways, this is my third NXT Elive event (first being in Hollywood, second being at this same venue in Riverside) and I'd approx the attendance between 700-1000 (tops). Super snug venue that's pretty awesome in a wrestling setting.
(1) No Way Jose defeated Kona Reeves via pinfall. No Way Jose every event I've been too has opened, and with good reason. He is awesome at getting the fans into it. Before the match begin a congo-line that went around the entire venue (for about five minutes, I'd say) began and he really hammed it up. No Way Jose also looks like he's lost a considerable amount of weight, I'd say 20-30 pounds. He looked far more athletic.
(2) Ruby Riot defeated Bianca Blair via pinfall. It's funny, the thing that stood out about this match was Biance Blair's hair. It was literally to the floor. The fans were so polite (not) with their chants through-out the night, and this was no exception. However, at one point, Ruby bounced off the ropes and she literally whipped her long hair into the face of Ruby Riot that sent Ruby flying to the match, which was a super unique and cool spot. She immediately had the fans behind her and, while the fans cheered on Ruby Riot, dare I say, Bianca was cheered equally. For what it's worth. She played heel in this match, even at one point holding Ruby on her shoulders doing full squats for 30 seconds or so. She really stood out.
Patrick Clark cut a pre-taped video promo. He's so in on his gimmick, I love it. The fans would chant Purple Rain at him all night.
(3) DIY (Tomasso Ciampa & Johnny Gargano) defeated Tino Sabbatelli & Riddick Moss via pinfall.
I'm fairly certain Tino Sabbatelli was molded from clay. He has a great look, and is improving in ring. From the last time I saw him last fall, I'd gather six months ago – he'd noticeably improved. Moss is a solid in-ring worker, but doesn't really stand out. Ciampa & Gargano were the stars here, and were ridiculously over. I'd say, the most over outside of the Main Event – and it wasn't close. #DIY won with their finish cleanly.
(4) Andrade "Cien" Almas defeated Kassius Ohno via pinfall. Match of the night prior to the Main Event, but this was the work-rate match of the night for sure. These two can both go and put on a show. In the end, Almas got a clean win with his finish – and I loved Almas new party-boy persona he played to through-out the night. Kassius Ohno was super over as well! This was a very good match to be able to see live.
(5) Hideo Itami defeated Patrick Clark via pinfall. Hideo Itami is so light years ahead of Patrick Clark in-ring it made for an awkward bout a times – however, the athleticism and charisma on this kid is first-rate. I don't think I saw another wrestler with anywhere near his raw athletisim the entire evening. He sells amazing as well. This match was brief though, as it probably should have been with Itami hitting the GTS for the win.
Intermission
(6) Drew McIntyre defeated Oney Lorcan via pinfall. I think McIntyre killed Lorcan. He dominated most of the very short match, but during the one time he didn't – they did a very interesting/dangerous spot – where Lorcan flew from the top rope to the outside and McIntyre caught him powerbomb position. He then launched Lorcan about ten feet back first into the turnbuckle post (remember, outside of the ring – zero padding). Lorcan turned over and you could see his back instantly. Poor guy. McIntyre after winning shook his hand and the announcers even said, " How about that Oney Lorcan! " to the fans as he was very slowly walking up the ramp and to the back. I'm sure it was a bump they've practiced but it looked absolutely brutal and unnecessary. Aside from this spot (and the Almas/Ohno match) everyone was working at half speed at best – but man, I just can't get over enough how crazy it looked.
(7) Asuka & Lacey Evans defeated Mandy Rose & Sonya Deville via pinfall. This was just a match. I feel bad saying it wasn't good, because it wasn't bad – but it wasn't good. It just was. Asuka was crazy over. No blurred lines here for Asuka, she played the babyface strong here.
(8) Bobby Roode defeated Tye Dillinger via pinfall to retain the NXT Championship. Good god is Tye Dillinger over. Bobby Roode is as well, but Dilinger really has something. You mentioned that possibly Tye Dillinger's best role in WWE could be to use him as an NXT Gatekeeper because he's so over with the fans. He'd be believable in a champion/challenger role. You were absolutely correct as Tye had the entire crowd in his hands the entire night. Of course, Bobby Roode and his Glorious act are insanely over as well, but Roode did a masterful job getting heat on himself and turning the crowd against him. It's an NXT house show that was chant happy, but Roode did his best to get the crowd against him. He won with a low-blow with the referee wasn't looking and a pair of finishers (after Tye kicked out after the first). After the match, Roode continued to beat up Tye to a point where Tye returned the favor with a low-blow and a Rock Bottom (yes, a Rock Bottom). Tye then looked around and hit the People's Elbow (yes, a People's Elbow) to end the show. Super fun.
All in all, this was another great NXT Live Event!