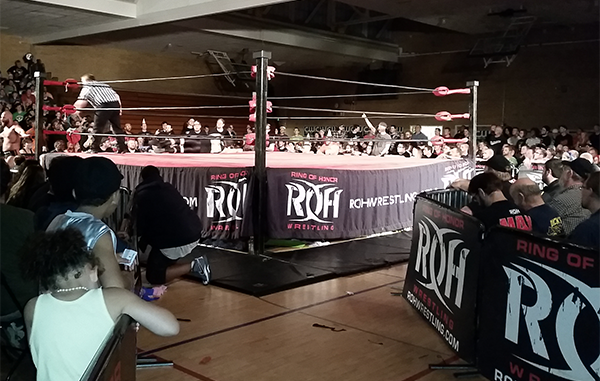 ---
SPOTLIGHTED PODCAST ALERT (YOUR ARTICLE BEGINS A FEW INCHES DOWN)...
---
HITS
Recap of Adam Cole Being Kicked Out of The Bullet Club: We get a recap of Adam Cole being booted from the Bullet Club and the induction of Marty Scurll into Bullet Club. I thought this was a good recap and summary of what happened recently. After the recap, we are thrown to a promo with The Young Bucks and Hangman Page. This is interrupted by Adam Cole who enters the stage. Cole has a few words for The Young Bucks and Page. Page has had enough of Cole's talking after Cole speaks for a couple of minutes and Page calls out Cole. Page tells Cole that The Young Bucks may have run you out of Bullet Club but Page is going to run Cole out of ROH completely. It appears we will have a match now between these two although as Ian Riccaboni states on commentary he is not sure when this will happen. We do find out later in the show that Page and Cole will be next week's main event on ROH TV. As always, I will repeat that I am not a Young Bucks fan and I believe the entire Bullet Club is getting old but it was a good opening segment of the show coming off the PPV a few weeks ago.
Josh "The Goods" Woods vs. David Starr: Before the match, we are presented a recap of the finish of the final match of the Top Prospect tournament which was won by Woods. After Woods won that match, Starr came in and decided to lay out Woods which is what got us to this point of this match happening. As the match starts, Starr and Woods go for the code of honor. Woods appears to at first be open to this but Starr taps Woods on the face and Woods, who already has a bad taste in his mouth from Starr, takes matters into his own hands and send Starr into the corner to begin working him over. I liked the beginning of this match. These two should have a personal issue and some friction between them based on what Starr did to Woods at the end of the Top Prospect final. Given all of this, the start of the match and throughout the match felt like they were continuing this bad blood between them. I thought this was a nice and hard-hitting match to open this week's ROH TV. Nothing too flashy but solid. Woods get the win and gets his revenge on Starr. Chalk this up as a positive for the episode. I'm curious though with the direction they go in with Woods moving forward coming off his win in the tournament.
Silas Young with Beer City Bruiser Promo, Leads to Match with Jay Lethal vs. Bruiser: This is the segment and match of the week in my opinion. Silas Young attacked Jay Lethal a couple of weeks ago backstage as Lethal was preparing for a commercial shoot. Young continues initially with a verbal attack on Lethal as Young is out with Bruiser in the ring. Young once again calls Lethal "the Golden Boy who gets all the opportunities." Lethal has had enough of this after a minute or two and Lethal heads to the ring. Lethal gets on the microphone and emphatically tells Young "this is not the company where we talk about our problems but this is the company where we settle things in the ring." Some may gloss over that but what a great line that it was considering there are some companies that open weekly with a 15-20-minute-long promo. Young tells Lethal that Lethal will have to earn a shot at him but that tonight Lethal must go through Beer City Bruiser first. I didn't mention it from the start but I should've pointed out that Lethal comes out selling the injury to his knee that Young contributed to a few weeks ago on ROH TV. He continues selling it throughout the match. I thought this was a good match. As we get to the end, Lethal comes off the top rope to the floor on to Bruiser. As soon as Lethal lands on Bruiser on the outside, Lethal stands up and is right by the announcer table. Lethal then says the heck with it and begins laying it into Young who was on commentary with Cabana and Riccaboni. Referee Todd Sinclair calls for the bell and we would assume a no decision. Bruiser and Young begin putting the boots to Lethal in the ring but Lethal is saved by Bobby Fish who comes in and clears the ring. I liked this segment and match. It's obviously going to lead to more down the road between Lethal and Young which is a good thing. Looking forward to seeing what happens with these two going forward.
Daniel, Cody, & Lethal Match Recap: Good recap and timely as it shows how Daniels retained his ROH World title recently.
Cody vs. Frankie Kazarian: Cody cuts a promo before the match which in summary tells us why he should've won the ROH Word title at the recent PPV. He does blame everyone but himself. Kazarian is tired of listening to this and heads to the ring to cut Cody off and the match begins with Kazarian on the upper hand for much of the beginning of the match. After the second commercial break, I really felt this match picked up. Cody ends up getting the win when he hits his finisher on Kazarian. Adam Page makes his way to the ring to celebrate with Cody. They start to finish off Kazarian even more but Daniels runs out to save Kazarian before any further damage can be done.
MISSES
Solid episode where I thought that everything that happened mattered and progressed the stories being told. No misses to report. Let me state, whenever there are no misses, it's not my way of saying that the show was perfect. However, there was nothing to nit-pick apart.
Final Thoughts: After taking a week off last week, I thought this was a good week of ROH TV. It was far from perfect, but I enjoyed watching this week. I'm particularly interested with where things go with Lethal and Young. This week's ROH is definitely worth checking out.
---
NOW CHECK OUT THE PREVIOUS COLUMN: ROH HITS & MISSES 5/14: Sabin, Ferrara, Cheeseburger, Lethal, Fish, Rebellion, Briscoes, Bully Ray, Riccaboni, Cabana
---
Mike Mills is the PWTorch.com ROH TV Hits and Misses Specialist, providing his point of view on ROH TV weekly. You can follow Mike at @BTT_Podcast and @Mike504Saints on Twitter.