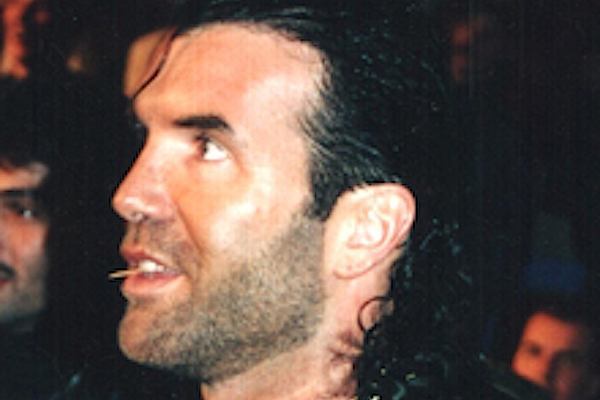 ---
SPOTLIGHTED PODCAST ALERT (YOUR ARTICLE BEGINS A FEW INCHES DOWN)...
---
Just over a week ago, prior to Smackdown's Backlash PPV, the WWE social media team sent out a tweet that caught my interest:
"Which member of The Kliq helped change the landscape of sports entertainment the most? Take the poll…"
Which member of #TheKliq helped change the landscape of sports entertainment the most? Take the poll…https://t.co/xKrD3Vn103

— WWE (@WWE) May 19, 2017
It's a bold question which covers a lot of ground. It is unquestionable fact that all five members of The Kliq influenced pro wrestling. It is also fact that this in particular is a question that divides opinion. A casual glance at the replies to that tweet says it all.
That said, I'm a bold, questioning-answering sort of guy, so I'm going to go ahead and subjective all over this with some old school Colohue Dogma.
So, who made the biggest difference in The Kliq?
I'm Tom Colohue and this is Colohue Dogma.
Follow Tom Colohue on Facebook and @Colohue for updates.
---
5. Sean Waltman
Poor Sean Waltman. As the smallest and weakest on the mic, Waltman was always coming from a position a way back. That said, he was able to carve a decent following using a combination of minor pushes and distinct offense. A big win over Scott Hall set him on his way as the 1-2-3 Kid and, as both Syxx in WCW and X-Pac in the WWE, Waltman was pushed based on the company that he kept.
Unfortunately, he was never really able to stand on his own. He couldn't convince anyone in the audience that a feud was worth investing in. His most infamous feud was undoubtedly the peak of his popularity, when X-Pac first teamed with and then lined up against Kane by attacking him from behind, stealing his girl (because Kane's history with women is awful) and spending literally months heeling his way to victories.
After that X-Pac actually led a stable. X-Factor was led by Waltman and was a supposed push for Justin Credible and Albert. It didn't work. We will never know if it was down to the Invasion angle overtaking whatever was planned or if X-Factor just plain sucked. Their theme song definitely just plain sucked.
I have fond memories of X-Pac. His high kicks, small physique, and hair vs. hair feud with Jeff Jarrett made him stand out well. Unfortunately, Waltman was very easy to get tired of and, in terms of actually impacting on sports entertainment? It was minimal. Waltman was a part of the NWO but far from a major player. He was one of the first wrestlers to switch from WCW to WWE and as a member of DX he had some good moments. He was part of events rather than a catalyst for change.
His one enduring legacy? Waltman's push helped create a perception that smaller guys could still win. As The Kid, his win against Scott Hall was unprecedented. His numerous minor title runs gave him legitimacy. Wrestlers like Jeff Hardy went through a door that Waltman had helped to open.
4. Kevin Nash
This is where people are going to start getting annoyed with me, isn't it?
Kevin Nash arrived in WWE as Diesel, bodyguard and best friend of Shawn Michaels. This was after spending quite a while in WCW doing not much of anything at all. As Diesel, Nash had a year-long world title reign during a very rough time for the WWE, acting as an anchor point for the company to base its programming around.
After losing a major match against The Undertaker at WrestleMania 12, Nash jumped ship as the second member of the NWO, helping to define the direction of WCW for the rest of its existence and being a principle factor behind the Attitude Era that catapulted wrestling into the mainstream. Nash had a major impact on pro wrestling.
But through it all, he was a follower. Nash joined the WWF as backup for Shawn Michaels. Nash was the second member of the NWO. He moved to WCW because Scott Hall asked him to. Whenever he rejoined the WWF afterwards, his reasoning was heavily based around Triple H. Even now, Nash makes a living by reliving. He's not a leader. He's not a doer. What is unquestionable is that Nash is a tremendous networker. He connects with the right people, shows himself to be reliable, and they carry him to the top.
Nash was part of some of the biggest things in the business, but he didn't change anything himself. Even if you're in the camp that consider Nash a major player in the downfall of WCW, he was certainly far from the main factor.
3. Shawn Michaels
And this is where the rage begins, isn't it?
What can I say about Shawn Michaels that hasn't already been said? Five consecutive match of the year awards. Founder of The Kliq. Carried the WWE together with Bret Hart for years. One of the most creative, accomplished, and celebrated workers wrestling has ever seen. His impact on pro wrestling is creating a world in which everybody wants to watch it. A world in which people will change channel from anything else because there's a Shawn Michaels match on.
Unfortunately for Shawn, he missed the biggest moments in pro wrestling history.
Shawn wasn't in the NWO. He led DX and is heralded as a founding father of the Attitude Era, but injury kept him from being in attendance all that much during. He gave his all to the company upon his return, but was far more of a bit part player than previous, appearing sporadically in much the same way as The Undertaker did or Triple H does now. He helped to put over John Cena, playing a part in the biggest star in the industry right now, but it's hard to argue that he was a major part of Cena's rise. That was mostly Kurt Angle and Triple H.
Shawn did tremendous things for the industry. Not least because he was the founder of The Kliq, bringing in Kevin Nash and beginning the push that would bring Triple H's greatest period of prominence. His matches were consistently the gold standard of the industry. In any other list he would be higher. Unfortunately, The Kliq contains industry pioneers.
2. Scott Hall
Scott Hall, on the outside, doesn't look like he should be at no. 2 here. I grant you that. To a pure WWE fan, Scott Hall would be even farther down than Sean Waltman. However, Scott Hall is the primary reason that WCW held a record of almost 100 weeks straight of winning the ratings war over the WWF. Let's roll it back though.
In the WWE, Hall was never a big deal, but he was heavily trusted and instrumental in a ton of huge moments. The loss to Waltman that signalled Waltman's first push? Scott Hall laid down for that. The huge ladder match with Shawn Michaels that brought the format to prominence? Scott Hall laid down for that. Almost his entire time in WCW, in order to maintain Nash's push? Scott Hall laid down for that. The Kliq member to lose at WrestleMania after the invasion? Scott Hall laid down for that. Nash didn't wrestle and Triple H won the undisputed title that night.
Scott Hall was also the founder of the NWO. He made the choice to jump sides. He walked out of the crowd into the WCW ring and signalled the beginning of a form of realism that had previously been missing in wrestling. He made the choice that made wrestling cool. The curtain call, in which all Kliq members except Waltman infamously exposed kayfabe, happened because Scott Hall was leaving.
With everything that happened afterwards, including the collapse of WCW, Hall's problems with drugs and his lack of in-ring activity for long periods, it's easy to forget that it was Scott Hall who made the choice that changed the landscape of wrestling forever. Sure, it was largely motivated by money and a lighter schedule, but that doesn't mean that he didn't have a huge impact.
1. Paul Levesque
Was there ever any doubt? I think I'd have received death threats if I put anyone else in number 1, to be honest.
Paul Levesque, or Triple H, was not involved in the same defining moments that a lot of the other Kliq members were. He was not a part of the NWO at any point. Though he was on the WCW roster, it was never in any sort of major capacity. After the curtain call he was punished in a huge way. He was part of DX but didn't do much to create the Attitude Era.
With Triple H, he simple seized the opportunities that followed when Kliq members started to drop out of the equation. In the absence of Nash, Hall, and Michaels, Triple H brought back Sean Waltman and recreated DX. After Vince McMahon stepped out of the WWE to focus on the XFL, Triple H became the top heel of the Attitude Era, to date being the single wrestler with the most wins over Steve Austin and, separately, the most wins over The Rock. In addition to this, Triple H was an early factor in bringing both Chris Jericho and Angle to mainstream prominence.
After the invasion angle, Triple H was the leader of Evolution, grooming both Randy Orton and Batista to be the future faces of the company that they became. He played a part in putting Cena over and has since done the same with Brock Lesnar. This means that Triple H put over the entire class of 2002 with major losses. He lost to The Undertaker at WrestleMania on three separate occasions, raising the profile of The Streak.
From there? NXT. How many wrestlers have come through that system? How much talent states Triple H as a major factor in their career? At this point, I'm pretty sure the only person in the world who has had more impact on pro wrestling is Vincent Kennedy McMahon himself.
Where does he go from here? Who knows. After losing to The Undertaker, Triple H came out of semi-retirement to put over Brock Lesnar, Roman Reigns, Dean Ambrose, and Seth Rollins. Right now he's working a background storyline that, if followed up, could see him putting over Kevin Owens and or Samoa Joe. NXT is rebuilding right now but isn't far from reaching a renewed peak. With Stephanie and Shane McMahon positioned to take over the reigns eventually, Triple H looked to be positioned to have a major say in the direction of the company in the future.
It seems like it's in safe hands lately.
So that's my Kliq breakdown. What do you think? If you disagree feel free to message me @Colohue or send a comment below the line. Thanks for reading and peace y'all.
---