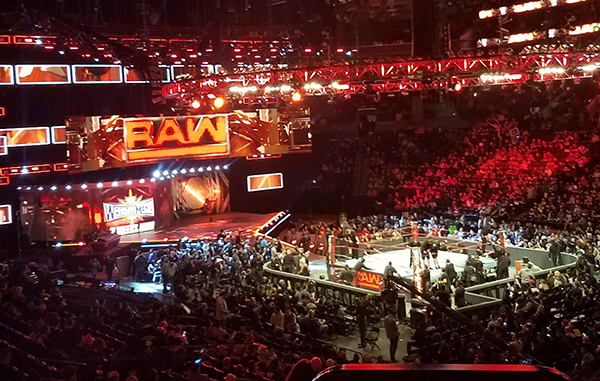 ---
SPOTLIGHTED PODCAST ALERT (YOUR ARTICLE BEGINS A FEW INCHES DOWN)...
---
WWE RAW HOLT REPORT (Happenings Off Live TV)
MAY 31, 2017
GREENVILLE, S.C.
REPORT BY T.J. FROM FLORENCE, S.C., PWTORCH CORRESPONDENT
The crowd was white hot to start the night, even giving Heath Slater a huge "We've Got Kids" chant during his Main Event match.
HITS
–  Opening Segment:  The crowd was white hot for this six-man tag.   Dean Ambrose and The Hardys all got great pops and the crowd was into this from start to finish.  There were some miscues and muffs, but overall this was a fun tag match.
–  Drifter Squash match:  Simple and effective.   Side note:  Drifter looks like a Seth Rollins clone with about 30 pounds more muscle.
– Triple Threat Match:  This was a solid match with three of Raw's heavy-hitters. A fun match to witness live and the crowd was very into this match.
Notice how all of these hits were in the first hour and quarter.  Since we knew that we had Rollins and Roman Reigns in the main event and nine of Raw's biggest stars had just competed… the crowd died off… and WWE didn't help with the next hour and a half or so.    I'll talk about that in the misses section.
– Rollins vs. Reigns:   After the first hour, I knew we were in for a "lack of star power" for the rest of the show leading into the Main Event.   Luckily WWE kept reminding us of Rollins vs. Reigns in the Main Event.  It had a big fight feel.   It didn't disappoint.   Reigns was booed out of the building when his music hit.   That wasn't portrayed on television in which it sounded muted.   Reigns got the biggest reaction of the night.   The crowd had been dead since the triple threat match, but they perked right up for this match.  The turning tide of this match happened when Seth hit Roman with the buckle buster and Roman exploded into the Superman Punch.  The crowd came unglued and actually started cheering Reigns.  By the end of the match, Reigns had 70 percent of the crowd cheering him.  It was a good outing and a damn good match.
MISSES
– Alexa Bliss "This is your life":  Dreadful is the one word that comes to mind.   This was absolutely dreadful live.  I'm a big Alexa fan and was very excited to see her, but there was only so much she could do here.   It felt like the writers went to the bar, got hammered, and said: "What's the dumbest thing we can do on WWE TV?"   The Result?  What we saw on Monday night.
– Cruiserweight Division:  There were three or four cruiserweight matches to fill in the time (including the Main Event tapings).  Side Note (Props to the ground crew. Fifteen or so people had about three minutes to run out there and either tape the ropes purple or take off the tape).   Once the purple ropes were broken out, this was a clear message to the crowd "Go get beer," "Go to the bathroom,"  "Nothing to see here,"   GET RID OF THE PURPLE ROPES!!!!
Fun Fact:   Roman Reigns's wife was a couple rows in front of us with their daughter.   It was cool to see Roman interact with his family after the show.
BIGGEST POPS:
Ambrose
Hardy Boys
Finn Balor
Seth Rollins
BIGGEST HEAT:
The Alexa Bliss Segment:  Loud "this is boring" this is awful" chants in the middle of that travesty
Miz
Samoa Joe
Biggest REACTION:
Roman Reigns
FINAL THOUGHTS: It was a fun show to attend live, anchored by the first hour and the main event.  I read that Raw had the lowest Raw in what?  Decades?   I have a theory.  Your "main" babyface isn't a babyface.   There is a lot of money to be made in Roman Reigns being a badass, cocky, trash-talking heel.   See Floyd Mayweather, Connor McGregor and even Brock Lesnar's UFC run.  People will pay money to see the cocky heel lose.   Where there is no money?  In having Roman Reigns stay his current course.   There is nothing about Roman's personality that 95 percent of the WWE audience can identify with.  He's stone-faced and unlikable.    I remember when Stone Cold was getting his big rub, he was a bad ass with a bad attitude… What was special about Steve's run though and why was he a babyface?  He was an UNDERDOG!  Yes.  The great Stone Cold was a HUGE underdog.   He had to fight and claw and against Vince McMahon every week it seemed.   What odds are against Roman?  Nothing.   Roman just seems to win.   I'd rather Reigns win the Fatal Five-way at Extreme Rules, Beat Lesnar by cheating or whatever he has to do… Turn Heel… and build Finn or someone up to take Roman out.  There is money in that.  Roman Reigns in his current form is a ratings disaster.