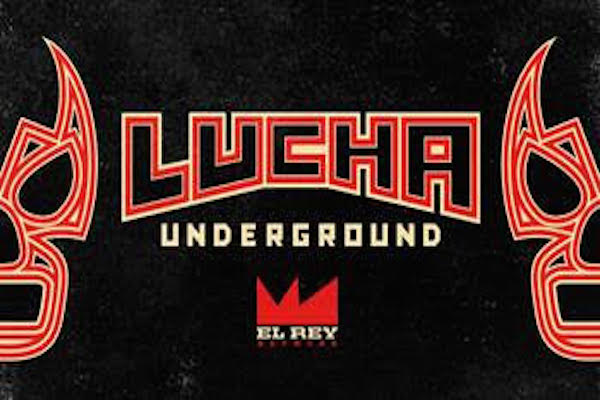 ---
SPOTLIGHTED PODCAST ALERT (YOUR ARTICLE BEGINS A FEW INCHES DOWN)...
---
LUCHA UNDERGROUND REPORT (Season 3 Episode #20)
MAY 31, 2017
TAPED IN LOS ANGELES, CALIF.
AIRED LIVE ON EL REY NETWORK
REPORT BY JOEL DEHNEL (@DEHNELTORCH), PWTORCH CONTRIBUTOR
Announcers: Matt Striker
The show opened with a recap of the major events earlier in season 3.
-Title Card
-Mariachi band played to open the show.
Announcers: Striker welcomed the audience to the show. He said that Mundo will defend his championship against The Mack. He said they would be facing each other all night long.
In ring: Santos introduced The Mack and Johnny Mundo, both of which were already in the ring.
(1) Lucha Underground Champion JOHNNY MUNDO vs. THE MACK – All Night Long match (Iron Man) for the Lucha Underground Championship
Mack gained leverage on Mundo with multiple strikes. Mundo slipped away then Mack hit a clothesline. Mack picked up Mundo then dropped him on his knees. Mack continued to dominate. Mundo landed some head kicks to get Mack to the ground then went for a cover.
Mundo hit Moonlight Drive, but Mack kicked out at 2. Mack took control and lifted Mundo onto the turnbuckle. Mundo fought back and they traded blows at the top. Mundo climbed down then hit End of the World for the first pinfall at 4:19.
Mundo: 1 Mack: 0
[Break]
Mundo was back in control when we returned. Mack reversed for a side slam and a 2 count. Mack hit Mundo in the corner then leaped onto him. Mundo landed several kicks then hit some forearms while Mack was down. Mundo threw Mack into the corner then hit a springboard head kick. Mundo tried to climb the turnbuckle but Mack rolled him over which ended in Mundo gaining leverage with the ropes for a pinfall at 7:32.
Mundo: 2 Mack: 0
Mundo rolled to the outside where Mack leaped on top of him. Mack swipped Mundo on the ring apron then knocked him to the floor. Fans chanted "Holy S—". Mack rolled Mundo back into the ring and attempted a pin. Mack hit a release exploder then Mundo landed another head kick followed by a cross body which Mack reversed for a power bomb and a pinfall at 10:38.
Mundo: 2 Mack: 1
[Break]
Mundo pretended to be hurt then tripped Mack into the corner. Mundo continued to beat on Mack. Mack reversed a suplex. They traded blows with each other on their feet. Then Mundo hit a standing C4 for a 2 count. Mundo climbed to the top rope where Mack tried to take him down. Mack hit a suplex from the top. Mack tried the cover, but Mundo grabbed the bottom rope. They traded forearms again climbing the top rope. Mundo hit Mack's eye to knock him off then Mundo hit a spinning drive to the outside. Mundo grabbed his ankle after the move to which the referee called for attention. Mack just rolled Mundo back into the ring. A trainer stopped Mack from attacking as a stretcher was rolled out.
[Break]
The trainers were still helping Mundo. Mundo sudden got up then kicked Mundo between the legs and hit a DDT onto the stretcher for a pinfall at 17:45.
Mundo: 3 Mack: 1
Mundo rolled to the outside. Mack tried going after him, but got beat down with the stretcher. Mack fought back at the top of stairs in the temple. Mack slapped Mundo to knock him over then hit a scoop slam onto the stretcher. Mack strapped Mundo onto the stretcher then slide him down the stairs.
[Break]
Mack walked down the stairs towards Mundo then flipped him over. Mack threw Mundo back into the ring. Mack hit a stunner for a pinfall at 21:55.
Mundo: 3 Mack: 2
Mack threw Mundo to the outside. Mack chased Mundo into the back. It was then revealed the Mack was actually chasing PJ Black and Mundo was hiding under the ring. They both beat down Mack with Singapore canes. Son of Havoc then came from the top of the temple and beat down Black and Mundo with his own Singapore cane. Havoc knocked on Dario's door. Dario offered Havoc a water. Dario then gave him some beer which Havoc poured on Mack's face. Mack was revived and started to beat down Mundo and Black with the cane. Mack and Havoc setup a couple tables just as Mundo and Black took back control. Mundo grabbed the microphone to talk trash to Mack and ask the Mariachi band if they knew any victory songs. Mundo laughed and taunted the band when somebody leaped onto them. It was Sexy Star. She helped Havoc and Mack take control again. Mack brought Mundo back towards the ring then hit a pile driver off the apron and drove Mundo through the tables. Mack rolled Mundo back into the ring for a pin at 30:00.
Mundo: 3 Mack: 3
Mundo and Mack tried pinning each other. Mundo then went under the ring and grabbed another table. Mack grabbed a ladder then gave Mundo the finger. Santos announced there was 5 minutes remaining. Mundo grabbed the ladder and set it on the ropes. Mundo dropped Mack onto the ladder and went for a pin. Mack grabbed Mundo's leg which made him knock over the ladder. Mack tried another pin that was broken up when Mundo grabbed the bottom rope. Mundo laid Mack onto the ladder as he climbed the top rope. Mack reversed it and knocked Mundo off then set up the ladder. Mackset Mundo on the table then climbed up the ladder very slowly. Ricky Mandel grabbed Mack's legs to stop him. Sexy Star then knocked over Mack. Mack leaped from the top onto Mundo. Mundo crawled over to Mundo but there was not enough time.
WINNER: Tie, Mundo remains champion at 36:25.
Post match: Dario came out and said they put on one hell of a fight, but there are no ties in the temple. So next week they will have another All Night Long match that will go as long as it takes to determine a winner. Mack attacked Mundo from behind and hit a stunner then celebrated with the title.
FINAL THOUGHTS: Both men gave ton of effort in this one to make it memorable. I think it is a bit ambitious though to have a rematch of the same match type next week. This feud has been dragged out for a very long time, but with the break in the season the match up feels fresh again. I look forward to see what direction LU takes us for the rest of the season.
CATCH UP ON OUR REVIEWS OF PAST EPISODES OF LUCHA UNDERGROUND HERE.