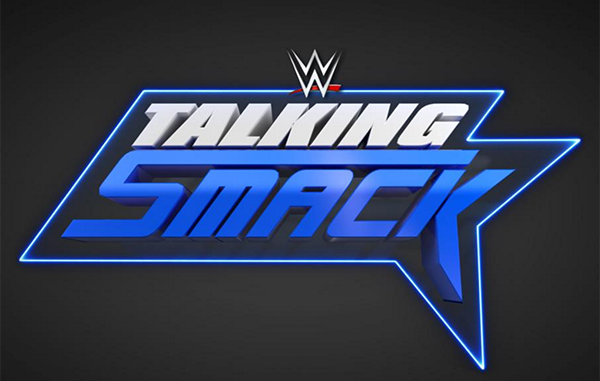 ---
SPOTLIGHTED PODCAST ALERT (YOUR ARTICLE BEGINS A FEW INCHES DOWN)...
---
TALKING SMACK REVIEW – POST-MITB EDITION
JUNE 18, 2017
AIRED ON WWE NETWORK
REPORT BY CRAIG ELBE, PWTORCH CONTRIBUTOR
Duration: 26 minutes, 11 seconds
Renee Young, joined by a visibly earpieced Booker T, sell shock and awe for Baron Corbin winning Money in the Bank. She thought it would be A.J. Styles or Shinsuke Nakamura, but Corbin slithered in and took it away from them. Booker was reminded of the U.S. Open's similar situation. (Because wrestling and golf pull from the same demographic so similarly.)
Booker continued that Corbin is first time MITB winner who's setting himself up to be a major player; what a fight and what a night! Renee remembered how long Corbin has had a chip on his shoulder and always wanted to be a major player. Now, with the MITB contract he has that golden ticket.
The night wasn't without controversy as Renee pivoted to the women's MITB match. Booker left out James Ellsworth when saying Carmella won, Renee kindly reminded him. But, Booker said that doesn't matter. Carmella is the recipient of the briefcase (as the ink in the pen to sign his paycheck SHOULD have dried up). For some reason Booker relegated Carmella's use the MITB contract anywhere in the country. (Did he forget they cater to a "Universe?" Booker is just being Booker, but I wish that was a charming factor in his personality but it's not. He's plain terrible.) Since Ellsworth came to WWE, Renee noted he has always found his way around. Booker thought his throwback jumpsuit was "fly," like those sold in the district.
Footage was shown of Ellsworth getting the briefcase for Carmella and the controversy that ensued.  Booker laughed after Ellsworth announced Carmella as the winner. To him it was cut and dry. The bell rang, her music played, and she walked out with contract. Possession is nine-tenths of the law.
Renee recalled last year when Bray Wyatt interfered with Roman Reigns and allowed Dean Ambrose to capture MITB as somewhat comparable. Booker made a decent point that Ellsworth's ringside presence should have been addressed beforehand but wasn't. He went further, that the other ladies in the match should have read the fine print in the contract for the match to negate Ellsworth's presence. Renee suggested an entertainment lawyer should have been utilized, Booker said to call him up. (He must have a great lawyer for being able to be so useless and still employed in these TV roles.)
Renee lamented the bummer of a finish for such a historical match. Booker wondered if Renee was suggesting an asterisk for the match. Her voice turned to sadness as she knows those decisions aren't hers to make.
Speaking of women who may have something to sound off on, Renee perked up as the first guest came to the desk.
First Guest: Naomi
Booker told Naomi she must have taken his pre-show advice by taking it to Lana. She wondered if Booker used reverse psychology on her.  During the match Naomi thought about of how she's going to show him! He asked her what the submission move she won the match with is called. It's the FTG-Feel the Glow! Renee noticed ice on Naomi's knee. Naomi just passed it off as just a little razzled, but she's a tough chick and will be able to go tomorrow.
Booker thought Lana brought everything but the kitchen sink to Naomi, and for a while the tide was turning in Lana's direction. But, Naomi sucked it up and got the win. During the match, Naomi remembered to just keep getting up and dig deep. She pulled through and won the match. Renee noted Lana's upper hand of having tape of Naomi to study and used that advantage to do damage on Naomi's previously injured knee. Despite that, Naomi still won and Renee congratulated her on that.
Now, with Carmella looming as the MITB contract holder, Renee wondered how Naomi feels. Naomi wasn't surprised how Ellsworth was used. He's helped Carmella in the past and that's why she keeps him around. Naomi promised she was prepared when Carmella almost cashed in on her tonight, but thought Booker may have twisted her words from earlier. Naomi clarified it's impossible to plan for a future that's unknown, but she was prepared to dig deep just in case. Had Carmella cashed in, Naomi believes she would still be sitting there as champion.
Booker gave Naomi props for insisting on defending her title tonight, and it would have been a travesty of justice if she did lose her title. Naomi asserted herself as a fighting champion to Booker. She wants to defend her title as much as possible because she believes in herself very strongly, and that's what the glow is all about! Renee didn't think Booker was feeling enough of the glow, so Naomi gave him a plastic glow bracelet. He promised to wear it all the time.
Booker's past criticisms of Naomi got some push back on social media. He's always maintained she is the most talented lady in the locker room but was missing some small pieces. Now, she has put everything together as Booker called her a perfect champion. He's there for more advice and has her back! Renee concurred and reiterated how she has been saying how Naomi is in such a great pocket with every aspect of her career.
Renee indicated the MITB controversy will be addressed on Tuesday. Naomi felt that everybody in that match should have had someone with them if Ellsworth was there. Booker tried to redeem himself and said MITB matches are no DQ but this one had controversy. He and went to the 2007 MITB match at WrestleMania 23 when he was King Booka, briefly reprising those vocals. Queen Sharmell interfered and prevented Booker from winning the match. He knew it was unfair, but life is unfair. You take your lumps and move on. He advised Naomi to be prepared at all times; Carmella will notice any little slip up and cash in and it will be all over for Naomi.
This week's Smackdown will see how things will unfold from tonight, said Renee. All Naomi knows is the glow champ is here to stay! Booker sang "she's got that glow!" and Naomi finally feels they're on the same page. Naomi's final words to Carmella is that she's always ready and prepared, and she'll even take it to Ellsworth if he wants to! She hopes he is because she's been waiting to snatch him, (but didn't say bald) then walked off the set.
Renee brought up how Shane McMahon and Daniel Bryan tweeted their frustrations on how the women's MITB match ended, with the tweets shown. Bryan's tweet promised the controversy will be the first thing addressed on this week's Smackdown, which marks his long-awaited return from his time off to see the birth of his and Bri's first child. Renee is interested to see how Bryan handles the situation as he's been a vocal fan of Ellsworth. Booker wants to see Bryan address the situation in person instead of casting his ballot from home. Renee said my favorite and long-wished words that Bryan perhaps will co-host Talking Smack with her on Tuesday.
The next guest interrupted the riveting segment.
Second guest: Jinder Mahal
Jinder apologized for his interruption, but it's WWE Champion time. Booker rose and shook Jinder's hand. Jinder, as the modern-day Maharaja, felt a kinship with fellow royalty King Booka. Booker told everybody, cameramen included, to give the Maharaja his just due with applause. Jinder corrected Booker, that he's the Modern-Day Maharaja. Booker seemed embarrassed and said, "Who we talking about here!" when he should have just apologized and stood corrected.
Jinder wished Booker Happy Father's Day, as well as Cowboy Bob Orton, whose son Randy let him down in a big way in his hometown of St. Louis. Jinder said he was going to embarrass Randy Orton – and he did. Renee thought Orton had the match won, and brought up Jinder getting an RKO. Footage was shown of the RKO and the Singh Brothers putting Jinder's foot on the rope during the pin attempt that followed. Jinder seemed lost for words before he said his foot was already on the rope and that the Singh Brothers were merely pointing that out to the referee. Booker couldn't see what she was claiming, either. Jinder bragged his ring awareness as one of the reasons he's WWE Champion.
The footage continued, showing when the Singh Brothers grabbed Orton's dad out of his seat and sent Randy Orton into a frenzy. Renee called that a dirty move from the Singh Brothers and said they got what they deserved from Randy by putting their hands on his father. Footage the their beatdown was shown.
Booker made note of the pressure Orton had in his hometown with all the legends sitting in the front row, including his father. Booker named all the legends but errantly called Orton's dad Bob Orton Sr. instead of Jr. Nobody corrected him. Booker asked Jinder how sweet was it to beat Orton in his hometown. For Jinder, it felt almost as good as the night he won the title. Jinder also misspoke, that Orton is a 14-time (13-time in reality) champion who made a rookie mistake by turning his back on the dangerous competitor he is and lost as a result.
Jinder was in high school when Orton won his first world championship. Orton is past his prime and Jinder is just entering his prime. He said that's a scary thought because he's getting better every week. Jinder contradicted himself when he said he intends on being a long-term champion but will break Orton's, John Cena's, and Ric Flair's records of title reigns. Jinder claimed he's the hardest working person in WWE and, when somebody outworks him, he'll give them the WWE Championship. Until then, the (not modern-day already?) Maharaja will reign.
Booker mentioned all the hate Jinder has received. For some reason Renee pointed out Jinder has a lot of supporters. Booker continued that he knows Jinder's story. He left (was released from) WWE, found himself, and came back to WWE and became champion. He asked Jinder his thoughts on the American people. Renee offered a quiet but audible "Oooo."
Jinder thinks he should be an inspiration and role model to Americans. He went from being in 3MB, to being released, which he wanted to make clear. Booker tried redemption again by saying "fired" but looked dumber again. From being released and becoming WWE Champion within one year of a return, Jinder challenged the statistic as nobody had done so. (Renee and Booker agreed, but forgot Hulk Hogan was fired for doing Rocky 3 by Vince Sr. His son, the Vince we all know today, acquired his father's company in 1982. He brought Hogan back to WWF in December of 1983 and crowned him champion the next month. Quite ignorant indeed by everybody involved. I could have looked for more examples, but this was the most obvious, and possibly most well-known.)
Jinder feels that anybody that disrespects him should be idolizing him instead. Renee asked where the disrespect comes from. Jinder quickly answered jealousy and intolerance. As he's said before (here we go again), he's booed because of the color of his skin, and he sticks to that.
Booker transitioned to Baron Corbin winning the MITB contract. He flubbed again when pointing out on his paper with his pen that Corbin won the Andre the Giant Memorial CUP, not battle royal or even trophy. Corbin is now looking to make it a trifecta by cashing in and winning Jinder's title. Jinder reminded Booker what he did to another Andre the Giant Battle Royal winner when he beat Mojo Rawley.
Jinder declared he is the champion at the top of the mountain right now and nobody is above him. Currently, he is worried about keeping the championship and he will see about Corbin when that time comes. He's focused on going down as the greatest WWE Champion in history.
Renee gave credit to Jinder as somebody who has worked hard and kept his word. Baron Corbin is somebody else that has worked very hard to a top spot. Now he has a golden ticket with the MITB contract.
Jinder is firm believer that where you are is a direct result of the work you're putting in; and you're exactly where you deserve to be. When Corbin outworks him and deserves to be WWE Champion, he will personally give him the championship. But, that day will never happen and he will simply not be outworked.
Booker asked Jinder about his inspirational role in his home country. Jinder said he's the pride of 1.3 billion people and it's a great feeling. Representing India as champion isn't an honor he holds lightly. He said something in Punjabi not translated to English before we heard a loud bang on the desk.
Third Guest: Baron Corbin
Corbin, after he woke everyone up by slamming his MITB briefcase on the desk, stared at Jinder. Jinder stood up and glared back but revealed an earpiece that wasn't in his ear all the way. It was out of camera view in his right ear. I guess that explains how he was lost for words in some spots.
Taking a cue from last week's Raw segment with Samoa Joe and Paul Heyman, Corbin coldly and quietly but with a smirk told Jinder, off mic, "Why don't you kick rocks. I'll see you soon." Jinder walked off and stayed focused on Corbin until he was off set.
Booker wanted to hear some smack talk! Corbin wasn't going to hurt Jinder there. He gave Jinder a warning shot. Jinder will see later what he brings to the table. Booker asked if the champ got a pass; Corbin assured Booker this was just a notice to Jinder he is there. Corbin said hard work is a crutch for people that aren't talented. Jinder can talk about how much time he puts in the gym, but Corbin doesn't need abs to punch Jinder in the face. He doesn't need abs to break Jinder in half. And he doesn't need abs to walk away with Jinder's WWE Championship.
Renee asked Corbin if Jinder's talk of outworking everyone bothers him. Corbin couldn't care less, and doesn't even know what that means; except that it's a crutch for the talentless. It's a crutch for kids who aren't naturals and guys who aren't pros and top-level contenders like himself. Some people have it, some people don't.
Renee said Corbin sure has it tonight in the form of the MITB contract! Corbin is looking forward to the opportunities it will afford him. Booker added it wasn't easy to win, that Corbin is the ultimate opportunist. Footage was shown of Corbin attacking Shinsuke Nakamura during his entrance with Booker adding his usual over the top commentary of how Corbin was sending a message that it's his time now! Just like he did at the Andre the Giant Battle Royal (Booker got it right this time), he went out a did it!
Tonight, Booker said, Corbin came out and "cashed in his ultimate prize" (WTF???) and got the contract. Corbin didn't have time to waste and wait for Nakamura's long entrance. He's here to make his mark in WWE and did what he felt necessary, and everybody could thank him later while he was attacking Nakamura. For Corbin, it was about going to war with five guys who have been in the game for a long time. He has barley been in the door and look what he's accomplished. When people like Corbin walk away with things like a MITB contract, you have to walk away take everything he says as the truth.
Booker likes Corbin and his style, that he steps on toes and keeps walking. He gave him a quote of his own, that Corbin is about "chicks and championships." Corbin said there's no question about that, and he isn't afraid to get his hands dirty to get what he wants. That's why he's there.
Now he's got the contract, Renee asked when he's going to cash it in. Corbin replied whoever is champion has to keep their head on a swivel and eyes in the back of their head. As Nakamura can attest, Corbin can come from anywhere to strike and ruined Nakamura's night.
Booker asked Corbin if he's going to wait for the entire year the contract is eligible to be cashed in. Corbin loves that idea and would be entertained by having an always nervous champion around. He's already a pro at putting people down in various settings, and enjoys people's misery. Booker also favors the waiting game approach to cashing in a MITB contract. He remembered savoring a match with Disco Inferno when he was WCW Television Champion because it was easy pickings for a title win! (Booker is still terrible, but earned points from me on this one!)
The threat alone is enjoyment enough for Corbin, and will carry the MITB briefcase with pride because he earned it by not taking any shortcuts once the bell rang (quite the heel caveat!). Booker agreed. Corbin called his shot a few weeks ago that he would be Mr. Money in the Bank, and now he is.
Renee asked for a final word from Corbin to Jinder. Simply enough, Corbin told Jinder to keep his head on a swivel and to not blink because it won't feel good when cashes in. Once he does, it will be a long, lonely, quiet, and empty-handed walk out of the ring. Booker feels a new champion coming.
Corbin got up, held the briefcase up, and said, "Mr. Money in the Bank is going to enjoy his night, because come Tuesday, everybody can say goodnight when I put that champion down." Booker told Corbin to have a cold one on him.
Booker was puzzled about whether or not Corbin was promising a cash in. Renee was doubtful and thinks Corbin will just show everybody what he's got. Booker loved Corbin's gamesmanship and knows everybody's listening.
Renee thanked Booker for joining her and thought he was in a different element. (Yeah right, he's always this crappy.)
She hyped Daniel Bryan's return to Smackdown that will see him address the women's MITB controversy. Booker added some more over the top nonsense, and Renee signed off.
Craig's Conclusion
We can all agree Booker T is not very good or being used to his strengths. God knows he has given plenty of examples over the years in any TV role when he wasn't a wrestler, with the occasional promo snafu. I could write a short novel about how bad he was here and when and why. I chose to just point them out and not bore anyone with the rhetorical nature of it all. I wonder what he tells his students about these appearances or if they choose to have narrow vision. Maybe they just focus on what he teaches in the ring. I hope he has a much more qualified person or people educate them on anything relating to talking.
Renee was okay here. Her floor was established last Tuesday and came up a bit from there. She's very talented but carrying Booker is just too much for one person to handle, let alone two talented people in Michael Cole and Cory Graves every Monday for three-plus hours. Her interaction with Naomi is usually good but had a better showing with Baron Corbin on this show.
Money in the Bank had so many booking holes and this Talking Smack was hardly better. Renee as the unbiased one except for an unruly heel seems to be the best formula, while her co-host should pick a side and be strong with it. Booker was too all over the place for credibility. He seems like a coward who took Jinder's side, then Corbin's side when he was next to each of them.
I don't know what WWE was trying to pull over our heads by having Jinder say he's the first to win a world title less than a year from returning to the company following termination. The Hogan example I provided is a layup and very insulting to fans' intelligence.
Naomi normally comes across robotic and scripted, but I thought she showed more of her true personality. It was her best appearance in a long time, if not the best. IF she put me in her FTG, I would feel pain, not glow. It should be renamed to sound more vicious and intimidating. I doubt she named it but wouldn't be surprised about it either.
Jinder Mahal was only good until he played the race card. Corbin couldn't have come out faster once that happened. Before that, he was stiff and didn't have the same poise when he made his first Talking Smack appearance. He impressed me then and had me hopeful, but now he's just another clone. He will end up in the long line of failed stereotypes because he doesn't have IT, no matter how great of a guy with a great attitude he is. And the visual floppy earpiece didn't help either.
Baron Corbin has a much greater upside than Jinder, and it showed to me when they were face-to-face. Jinder had his dim light darkened when Corbin shone his light after slamming down his MITB briefcase. The rest of what Corbin said was good to great, still in the middle of his evolution. He sat and spoke with the poise of a star on the rise. His words sounded more his own, which is a sign of having a strong hold of his character. It's also an example of how great somebody can become when they have time to develop within their character. He's been a heel since day one, going back to NXT as a squash match specialist. He is also probably the best example of a person that needs to be booked strong as a MITB winner, despite everybody before him that wasn't. Even Cena got that crap treatment. I hope he hold onto it for a long time with many teases in between.
Quick Money in the Bank Thoughts and Grade
The pay-per-view felt like a gaudy-themed rollercoaster that wouldn't disrupt a toddler with its ups and downs. Yes, the Usos vs. New Day was a good match but the New Day, to me, are still stale. The main event was the best match for my money and had the best result to go along with the best story telling. Everything else had so many booking holes it would have sunk the Titanic before the iceberg was in sight.
I was bothered that each match had the biggest star or the champions come out first. New Day aren't champions and usually come out first, so that was standard procedure.
The legends sitting front row were a waste. I loved seeing them but what was done could have seen just Cowboy Bob Orton there. Another wasted opportunity. Also, why didn't Flair punch the Singh Brother he was closest to? It would have given more to the scenario, then have Baron Von Raschke give the other one the claw. Gagne and Hennig could have had a shot each, too, but perhaps it would have been done if Orton was winning. Still, I hate to see great and legendary talents wasted.
I hated the excessive time killing and commercials between matches. I agree with less is more, but another match plus more time to the women's MITB match would have been a better balance to the show.
Grade: D
---
NOW CHECK OUT LAST WEEK'S REPORT: 6/13 WWE Talking Smack Review: Renee & JBL play name association with Nakamura, Hype Bros reunite, Jinder & Singh Brothers