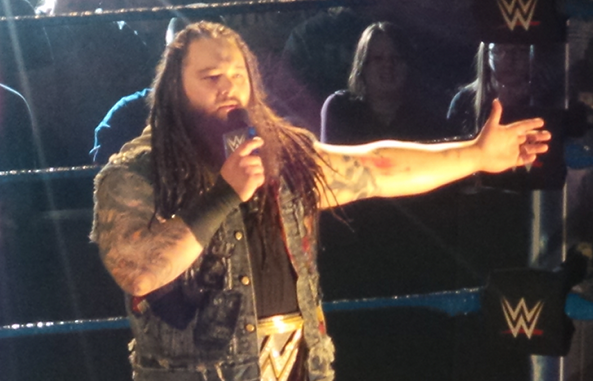 ---
SPOTLIGHTED PODCAST ALERT (YOUR ARTICLE BEGINS A FEW INCHES DOWN)...
---
RAW HITS
Opening Segment: Samoa Joe is doing some great work right now at the perfect time in his career going into his WWE Universal Title Match against Brock Lesnar at the next PPV. I wish he was interrupting a babyface who was actually over with the crowd as a face. Roman Reigns gave another good heel promo, but I know he isn't a heel. I don't understand. He acts like a heel, but was matched up with Joe here who is clearly a 100% heel. So, WWE really needs to reconsider what they are doing with Reigns. They shouldn't want Joe getting cheered which is what happened here. So this is a minor Hit, for the strong mic work from Joe, the fight at the end which worked well, and the strong mic work from Reigns in a miscast role.
Hardys vs. Gallows & Anderson: This was a good tag match. After the weak 2 out of 3 falls Tag Team Title match last week, The Hardys needed a strong win to continue to keep them in that Title picture. They got it here against a credible team in Gallows & Anderson. It was a fun match to watch and gave the Hardys some momentum.
Elias Sampson: I am enjoying The Drifter's gimmick. Elias Sampson is doing a nice job with it. It was strong here where he didn't even sing, but just told the audience to shut up while he tuned his guitar. The interruption by Finn Balor who was tired of waiting for his scheduled match against Bo Dallas worked well. That match was fine in showing Dallas as having some fire, although the announcers were super annoying debating whether it was a cheap shot by Dallas (Booker T has made it his mission in life to preach that there is no such thing as a cheap shot). The fire shown by Balor in his come back was good. Later on, we saw Sampson attacking Balor during a post-match interview. I am at least intrigued by this feud even though it seems like a step down for Balor who needs to come out on top, but Sampson is so new, he needs to look strong too. So, I am a bit worried about that dynamic.
Joe vs. Reigns: This was a very good match. Reigns continues to have really good matches, but of course it is easier to have good matches when you are wrestling an opponent like Samoa Joe. It was interesting to see them bring back the fact that Joe had already beaten Reigns. They need to keep Joe super strong going into his match against Lesnar, so reminding the audience that he has already defeated Reigns and then having him win again here was the right way to go. Joe and Reigns worked hard here and had a very good 20 minute match with a dippy ending. I am ok with Braun Strowman having surprise return early from his injury to distract Reigns to allow Joe to get the win. But it was super cheesy how he came back in an ambulance. Did he steal it? What are we supposed to think about that? That was stupid. The attack was fine, but again that is the move of a heel, but it doesn't get any sympathy on the babyface since it was on a babyface who comes across like a heel most of the time.
Joe – Lesnar Video: WWE is hitting everything right on in the hype to this big match. That says to me that they believe in Joe and really feel like his match against Lesnar can help to increase network subscriptions. I felt WWE should have had Lesnar talk last week. It was good to see him talk here in this sit down format. Obviously, WWE is more confident in this format than talking in the ring. At least we got to hear from him in his video and he performed well in it. Joe did too. This was well produced with the interviews and the footage cut together. WWE knows how to do this well and they continue to make me want to see this fight.
RAW MISSES
Rollins – Wyatt: This is a minor Miss. I did like part of this, but on the whole I wasn't a fan. The biggest issue is that so much of it was Seth Rollins talking about being on the cover of the new WWE video game. I don't care about that. It felt forced and out of character for Rollins to be so happy about being on the cover. It was good that he continued to incorporate the fans into his story. That was something that was missing from his initial babyface run after that terrible turn (non-turn?) last year. Bray Wyatt's interruption from the screen wasn't particularly strong. It wasn't bad, but not good either. The leap off the top rope by Rollins onto Wyatt when he came out was cool. So as I said, I had mixed feelings about it, but it just wasn't strong enough in the end.
Titus Brand: I really couldn't enjoy what was a good effort by Akira Tozawa and TJP in their match because of the presence of Titus O'Neil at ringside. I don't understand why WWE sees Titus as someone who can bring someone up. He is bringing the entire Cruiserweight Division down which is hard to do. Now Tozawa and Neville are involved and we have the tall but totally untalented O'Neil calling the short but super talented Neville a little guy. Later on, he and Apollo Crews lost to Sheamus & Cesaro, as they should have. But, that reinforced that he is a loser and that everyone connected to him is a loser also.
Miz TV: I continue to cringe at this terrible feud for the Intercontinental Championship between The Miz and Dean Ambrose. This was boring. I wasn't interested in seeing The Miz apologizing over and over again to Maryse. I don't care about their marital problems. The feud with Ambrose won't end. Do we have to have multiple people dressed up as bears on every episode of Raw? If I was going to try to recruit an entourage of wrestlers to back me up, I don't think Heath Slater (last week), Bo Dallas and Curtis Axel would be the first three I would try to sign up. They are losers. They might end up as a positive addition to Miz's act, but I'm sort of over factions at this point.
Women's Mess: What a mess the women's division is on Raw. I guess Smackdown too. What a shame. There is too much talent with Sasha Banks, Bayley, Alexa Bliss, Emma and Mickie James to have such a poor division. Nia Jax and Dana Brooke can add to it also. But, this was bad with the Banks vs. Jax match being interrupted by Emma coming out to chase Bliss away from the announce table. I don't understand why after Emma came out to get revenge on Bliss for walking out on their tag match last week, when she finally had a chance to fight her, she helped Bliss instead beat up Banks. That made zero sense. And then you had the babyfaces out number the heels when Bayley came out to make the save. The babyfaces shouldn't have the numbers advantage. This didn't work.
Detective Angle: Man, Kurt Angle is terrible at solving mysteries. He promised to get to the bottom of the mystery as to who has been attacking Enzo and Cass the last month or so on Raw. The only thing that he apparently did to find out who was behind the attacks was asking the few suspects if they did it or not. This angle has been good at times, but the ending wasn't. If Angle had established the alibis for The Revival, then why have them come out at the end to make their case? He already knew they were no longer suspects. And ultimately, it was Corey Graves for some unknown reason who actually found out the truth that Cass had attacked Enzo and faked the attacks on himself. Did Angle not think to ever check the security footage? Why not? That would have been the first thing I would have done. The scripting here was terrible. And the reveal was anti-climactic. Now Cass did cut a pretty good promo when it was revealed that he was behind it. Of course, I found myself nodding long with the heel who made sense. Enzo is a terrible person. I wouldn't wand to be his friend either. So, Cass was good here, and I am curious to see where they ultimately go with him after his feud with Enzo is over. However, the rest of this segment was bad.
NOW CHECK OUT LAST WEEK'S REPORT: WWE RAW HITS & MISSES 4/12: The Bear, Bayley, Lesnar-Joe, Ambrose-Samson, Titus Brand, Alicia on Phone, Hardys vs. Sheamus & Cesaro
---
For another view from the original Hitlist author, compare Jason Powell's views to mine by visiting ProWrestling.net's "Hitlist" section HERE.
---
Jon Mezzera is PWTorch.com's WWE Hits & Misses Specialist, providing his point of view for Raw and Smackdown each week. Email him at jmezz_torch@yahoo.com. Act now and become my 68th Twitter follower@JonMezzera (pretty clever handle right?). Just be aware that I don't live tweet Raw, I don't tweet much about wrestling, and I don't tweet much at all.