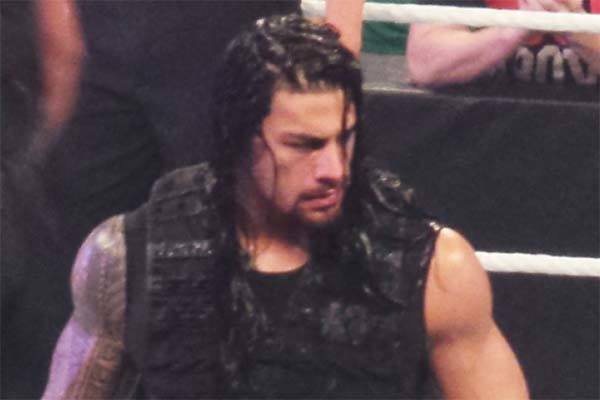 ---
SPOTLIGHTED PODCAST ALERT (YOUR ARTICLE BEGINS A FEW INCHES DOWN)...
---
Roman Reigns is one of the most divisive and talked about WWE performers in history. The company makes desperate play after desperate play to make him their number one star – thus far to no avail. How do they do it? What do they do?
I'm Tom Colohue and this is the Monday Night Reigns-o-meter.
Monday Night Reigns-o-Meter
This time of year, the long, slow, naturally low rated instalments of Raw and Smackdown between Wrestlemania and Summerslam, weird things always seem to happen. Higher star power breeds higher ratings, while higher ratings are conducive to the growth of greater star power.
So yes, right now, a lot of lower card storylines are getting major attention. Who'd have thought that the go home show for Great Balls of Fire would be opened by a package on Enzo and Cass, with the opening shot a fan sign for Ruby Riot (obviously planted I think it's fair to say)
Enzo will bring a lot of eyes to 205 Live, I'm sure. If they don't go that way then what, exactly? Enzo vs. Lesnar part 2? Please.
This time of year also means that Finn Balor doesn't need to be in the main event picture. He can instead develop his relatively unknown WWE character and make the most of the Drifter's debut. Meanwhile fan support for people who do know who he is just grows and grows and grows.
On the other side, Jinder Mahal is a big deal. Who saw that coming, right? Dolph Ziggler is a major heel while Baron Corbin comes up at a calm pace. How do you know what the main event is, as a casual viewer? You kind of don't. That's the point. Enzo Amore is being treated like a star in the hope that he will become one. That's how you build talent.
And then there's Roman Reigns. His ability to take a beating has skyrocketed Braun Strowman way past Bray Wyatt, Seth Rollins and Finn Balor to the absolute top of the card, ready for Lesnar, should that still be the plan. Ready for Joe if it should not. Want to be a main event level face? Just beat up Roman Reigns. Who has most consistently done so? Braun Strowman. This feud has gone since January and practically the same thing has happened every week. And yet, it's glorious.
Has there ever been a heel so hated? Has there ever been someone so effective at creating a face opponent? Reigns is amongst the company of the McMahons and the Dibiases. Was it intentional? Are WWE just making the most of their original mistake? Who knows. Who cares? If I can watch Braun Strowman brutally beating on Roman Reigns for the rest of the year, I'll be happy.
With that in mind, I'm more than happy for Roman to win the occasional match. On Sunday we'll be able to see what the plan is. Will it still be for Roman to get beaten, battered and bruised until winning the number 1 contendership in the Elimination Chamber? Well then, Roman's getting stuffed in an ambulance, isn't he? Is he going to be the all conquering champion, taking the title from Lesnar at Summerslam and holding it until the all important WWE2K18 sponsored Seth Rollins Title Run kicks in at Survivor Series? Well Roman's definitely beating Braun.
Shocker of the week? Apollo Crews was in a main event match on Monday Night Raw. WWE have kind of given up on that last hour, recently, haven't they? Or so they want you to think. Swerve! Here comes the real star. Roman Reigns emerges from am ambulance to throw some hits from the beating tree.
These 2 are totally going to fight through the crowd, aren't they? Roman did a spear off the stage. Wow these guys have such intense 'I want to hurt you' chemistry. I love it.
Odds Counter
– Braun Strowman
Did Roman Reigns beat the odds?
Yes
In what is, I'm sure, the plan, I really don't mind letting him have the occasional win.
Like what you're reading? Looking for more? Help me hit 500 followers by #summerslam by hitting that follow, retweet or like button. Thanks!

— Tom Colohue (@Colohue) June 27, 2017
---
NOW CHECK OUT LAST WEEK'S COLUMN: MONDAY NIGHT REIGNS-O-METER #24: Tracking Roman Reigns's ability to beat the odds and come out on top