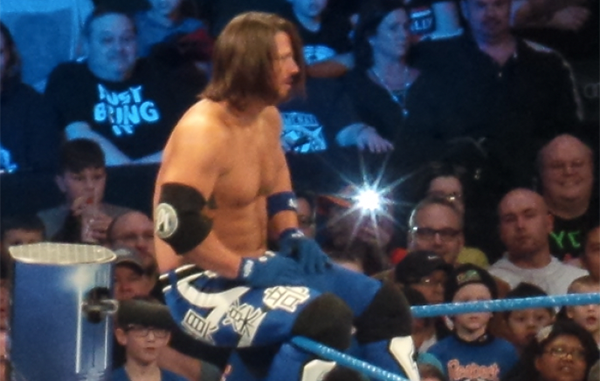 ---
SPOTLIGHTED PODCAST ALERT (YOUR ARTICLE BEGINS A FEW INCHES DOWN)...
---
WWE LIVE EVENT REPORT – RAW
JULY 7, 2017
NEW YORK, N.Y. AT MADISON SQUARE GARDEN
REPORT BY ROMEO FROM NYC, PWTORCH CORRESPONDENT
Very late arriving crowd, which is normal in NYC, but I thought that this time there were more late arrivals than usual. Byron Saxton and Mike Rome shared announcing duties.
(1) Shinsuke Nakamura defeated Dolph Ziggler by pinfall. This was Shinsuke's first match at MSG, although he had performed in the smaller Theater at MSG which is in the same building. Whoa, the pop for Nakamura's music was huge. I bet those late arrivals were disappointed they missed this. Most people seemed shocked this was first. I was with my younger brother who hasn't seen a show since Mania 28 and he said Nakamura's entrance was the best entrance he's ever seen. They went 20 minutes. Shinsuke won with the Kinshasa. Good match.
(2) R-Truth defeated Goldust by countout. Both got respectable receptions from the crowd. Goldust walked out, thought about coming back in, and then just accepted his countout loss.
(3) Neville defeated Cedric Alexander via pinfall to retain the WWE Cruiserweight Championship. This was Cedric's first match at MSG. Fun match. Cedric is a treat to watch in person. Crowd really got behind him. Someone tried to start an "Austin Aries" chant; guess it was too soon and not too many people knew why. My friend in the second row said someone yelled at Neville, "You suck, that's why you're a cruiserweight!" Neville turned to the section and yelled, "Who said that!?" The entire section pointed at the guy. Funny. Neville won after tripping up Cedric on the ropes during a high spot and pinning him with his feet on the ropes.
(4) Dean Ambrose & Seth Rollins defeated The Miz & Samoa Joe when Ambrose pinned Miz after Dirty Deeds. Miz came out first and delivered some funny lines on the mic. The most notable one being that after he learned the Knicks signed Tim Hardaway Jr to a four year, 81 million dollar deal, he knew MSG wasn't worthy of seeing him defend the Intercontinental title. (The original card had Miz vs. Ambrose for IC Title and Joe vs. Rollins in a singles match). He introduced Samoa Joe as the man who is going to be dominant in victory on Sunday. Crowd was very into Joe, chanting his name to the tune of his music. Ambrose introduced Seth Rollins as his partner and he got a big pop as well. "You're a chicken" chants at Miz as he was very hesitant to get in on any action in the match. Rollins got the crowd laughing by doing chicken gestures.
I would say at this point that finally, most of the crowd had made it to their seats. There were still pockets of empty seats here and there, though.
(5) A.J. Styles defeated Kevin Owens via pinfall to WIN THE WWE UNITED STATES CHAMPIONSHIP! Whoa! Nobody saw this coming. I want to say there was a massive pop when A.J. won, but it was more of people jumping to their feet in shock. Then it was followed by cheering. People were looking at each other wondering what just happened. Match of the night as one would expect with these two. My friend in the second row heard Owens talking trash to the fans at ringside during a chinlock. Among the things KO said were "You're a bitch" and "Why do you even own a phone, you don't have any friends?" Styles kicked out of the pop up power bomb and Owens kicked out of a Styles Clash. A.J. won with a Phenomenal Forearm. After the win, KO quietly left and Styles soaked up the moment in the middle of the ring. This was ironic because Styles's first match at MSG was in 2016 during a house show against Kevin Owens, in which he lost. Styles celebrated with fans all around the ringside area and ramp, even going into the crowd for some photo ops.
Intermission. Here are the shirts I saw at the merchandise stand: Owens, Nakamura, Balor, Reigns, Hardys, Styles, Ambrose, Cena and a NYC 3:16 shirt.
(6) Sasha Banks & Bayley & Mickie James defeated Alexa Bliss & Nia Jax & Emma via submission. Sasha made Emma tap to the Bank statement. This was Nia Jax's and Bayley's first matches at Madison Square Garden. (Not sure about Alexa, possibly hers too). The little girl behind me was more into Sasha, though. She had been asking her poor dad all night when Sasha was going to come out.
(7) Finn Balor defeated Karl Anderson via pinfall after a Coup De Grace. Bullet Club chants as well as "Too Sweet Woop Woop" chants. This was Finn's MSG debut and wow was it quick. Squash match, Finn hit a dive to the outside and then hit his signature moves and finisher. They were done quickly. Seeing Finn's entrance at The Garden was an awesome sight.
(8) Sheamus & Cesaro defeated The Hardys via pinfall to retain the WWE Raw Tag Team Championship. Hardys got a massive pop. "Delete," "obsolete," and "Brother Nero" chants galore. Jeff hit a Swanton on Sheamus but Cesaro quickly smothered him with a pin that Jeff couldn't kick out of. It was weird, but Jeff didn't see it coming so it worked. Cesaro left carrying Sheamus on his shoulders. The Hardys got respectable applause and chants on their way out.
WWE is returning Dec. 26, pre sale password is HOLIDAY. They didn't specify Raw or SD, but I assume it will be a mixture like tonight.
(9) Roman Reigns defeated Bray Wyatt via pinfall after a spear. Roman got a typical loud mixed reaction as he always does at the MSG house shows. With so many kids in the audience, the cheers are louder. When I go to the Barclays Center for TV or PPV events, his boos are much more prevalent. Again, I saw fans turning their back during his entrance. I also either saw some fans leaving to beat traffic or going to the restroom, who knows? Reigns had by far the LONGEST entrance of the night; he really milked the reaction. After Roman won, there was the sound of an ambulance played. Brauns video played on the screen and then quickly went away. Then finally, his music played as he came out staring down Roman. Braun hit the ring finally and they went at it! Dueling "Let's go Roman" and "Let's go Strowman" chants. Strowman left Reigns lying with his running power slam. Out of absolutely nowhere, Cedric Alexander came running down and tried to springboard attack Braun. It didn't work. R-Truth then came down and also got wrecked by Strowman. Finally, Seth Rollins came down to his music to a nice pop. He got in some offense on Braun until Bray rejoined the fray. Bray and Braun had a stare down as we got ourselves a mini Wyatt Family reunion. They double teamed Seth until Roman finally returned to even the odds. There were loud "We Want Ambrose" chants. Roman helped clean house. After a little celebration between Seth and Roman, Seth got on the house mic. He said he had good news and bad news. The bad news was that Dean Ambrose is probably somewhere in a Midtown bar right now. The good news is that we were an awesome crowd. He thanked us. I didn't stick around to see if Roman got on the mic too, but I'm sure he did.
OVERALL THOUGHTS: It's always a great house show when you see a title change! I loved the added star power of AJ, KO, and Nakamura to a Raw show. Glad they used Strowman, too. Loved seeing the MSG debuts of Nakamura, Balor, and Bayley.
Match of The Night: A.J. Styles vs Kevin Owens
Biggest Pop: Hardys, Nakamura
Biggest Heat: Roman Reigns, The Miz (even though Roman got cheered as well, his boos were louder than anyone else's).
---
NOW CHECK OUT OUR FIRST REPORT ON THIS EVENT: 7/7 WWE in New York City, NY at MSG: Styles captures the U.S. Title from Kevin Owens in rare house show title change, Reigns booed