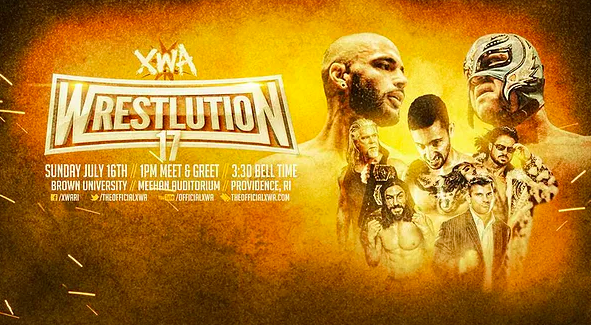 ---
SPOTLIGHTED PODCAST ALERT (YOUR ARTICLE BEGINS A FEW INCHES DOWN)...
---
XWA WRESTLUTION 17
JULY 16, 2017
MEEHAN AUDITORIUM (PROVIDENCE, R.I.)
REPORT BY MIKE MCMAHON, PWTORCH CONTRIBUTOR
PROVIDENCE, R.I. — XWA ran its biggest show of the year, Wrestlution 17, on Sunday afternoon at the Meehan Auditorium in Providence, Rhode Island. The venue seats 3,100 fans for Brown University hockey, and XWA drew an estimated 1,000 fans on Sunday afternoon for a 3:30 bell time.
The show was headlined by Rey Mysterio vs. Ricochet, with other appearances by John Morrison, LAX, Kenny Dykstra, Keith Lee, JT Dunn and several more of the biggest names in Northeast indie wrestling.
Pre Show: BUFF INC. vs. TOUGH GUY INC. vs. ALPHA MALES
Buff Inc. won the match in about 8:00. It was a fun opener, which the die-hard XWA fans were very vocal for. XWA runs regular weekly Thursday night shows, where these guys are featured heavily. A funny moment came when the XWA Firebrand Title, which was hanging above the ring for a ladder match later in the night, was knocked off the ropes suspended above the ring. After the match, Tough Guy Inc. celebrated for a bit with Buff Inc.
(1) FLIP GORDON [c] vs. VINNY MARSEGLIA vs. KYLE THE BEST vs. MIKE ORLANDO vs. MJF vs. DONOVAN DIJAK vs. TESSA BLANCHARD — Ladder match for the XWA Firebrand Championship
This match was terrific. They announced the addition of Tessa Blanchard just before the bell rang, and it got a huge response. Eary in the match, Blanchard took out all of the guys with the spinning ladder spot. MJF ran in and slapped her down to the mat, which drew huge heat. Blanchard then took a scary-looking German suplex from Orlando, appearing to lander on her head/neck, but she was OK.
Kyle the Beast hit a moonsault on a group of wrestlers from the top rope to the outside. Orlando picked up Blanchard and threw her over the top rope onto a group of wrestlers on the outside, and then Orlando followed that up with a dive.
Flip Gordon had the biggest "Oh My God!" spot of the match, climbing to the top of the staging used for the ladder match (think of the Ultimate X match in GFW), and dove off the staging to a group of wrestlers at ringside.
.@TheFlipGordon is a crazy person! #Wrestlution17 @TheOfficialXWA pic.twitter.com/a8Am5ir9Pf

— Mike McMahon (@MikeMcMahonPW) July 16, 2017
WINNER: Vinny Marseglia in 13:00
Along with winning the title, Marseglia's entrance was great. It began with several people surrounding the stage area wearing Jason masks. They came out through the curtains and out from under the ramp. We heard a woman scream and she ran out onto the stage. Following her was Freddy Krueger, who attacked the woman, but Marseglia emerged and beat up Freddy Krueger before heading to the ring. It sounds a little nuts, I know, but you had to see it to believe it.
(2) CRUSADE FOR CHANGE vs. THE AMAZING GRAYSONS vs. THE FRATERNITY — No. 1 contender match for the XWA Tag Team Championship
Admittedly, I didn't see much of this match. Attending the show with my kids, they wanted some food at this point and, per usual, I was the one tasked with going to get it.
That being said, I've seen the Crusade For Change quite a bit, and I like them both in the ring and on the mic. Their matches with the eventual tag tag champions — we'll get to that in a bit — should be a lot of fun for local New England indie fans.
WINNER: Crusade For Change in 14:00
– Brian Fury interviewed Mike D'Antonio, the bassist for the metal band Killswitch Engage, who was sitting front row.
(3) MIKE VERNA vs. RICHARD HOLLIDAY
This was the first time I've seen either of these guys like, and thought that Verna, in particular, looked really good. I liked his style and his look.
WINNER: Mike Verna in 8:00
(4) LAX (Santana & Ortiz) vs. TAKE ME HOME TONIGHT (Ace Romero & Anthony Green) vs. NEW GORE ORDER (Josh Briggs & Mike Graca) — XWA Tag Team Championship match (crowning the first champions)
This match was going to crown the first XWA Tag Team Champions. One of the highlights was a huge dive by a huge man, Ace Romero.
.@TheAceyBaby dive, bay-bay! #Wrestlution17 pic.twitter.com/13rjNRcBL7

— Mike McMahon (@MikeMcMahonPW) July 16, 2017
Take Me Home Tonight gets the win after Green goes for the pin and Romero dives through the ropes to take out the New Gore Order at ringside.
WINNER: Take Me Home Tonight in 18:00
(5) KEITH LEE vs. JEFF COBB
This match was everything you would expect from a heavyweight fight. Lee and Cobb traded forearms, elbows, punches, chops and backfists in the middle of the ring multiple times. After the match, Lee and Cobb embraced in a sign of respect. The crowd was quiet at times during this match, but also there were a lot of "ohh!" during the big exchanges. The building was very hot and with the show running about four hours, we were a little more than two hours in here with a building that was hot and humid.
WINNER: Keith Lee in 14:00
(6) JT DUNN vs. JOHN MORRISON
The crowd was split, with people very happy to see Morrison but Dunn is the hometown guy. If you want more of a history on JT Dunn, check out this really great feature. Dunn's story is truly amazing.
Dunn got the win here after catching Morrison. It was a surprising finish the the crowd was genuinely shocked, but excited. Morrison argued briefly with the referee and went to leave. Meanwhile, in the ring, Dunn was grabbing his head looking shocked at scoring the pin. Morrison climbed back in the ring and shook Dunn's hand and raising it, endorsing him. Dunn got on one knee and bowed to Morrison before going around to almost every fan at ringside.
The match was honestly great. Some people seemed to feel like it was too short, especially given the time other matches were given, but I thought it was perfect. The finish came out of nowhere and the timing of it worked perfectly.
If you didn't know it before, this match proved that Dunn is ready for a bigger stage. Whether that's Lucha Underground, ROH, GFW or even NXT, he's ready. He was in there against a world-class talent, and he went toe-for-toe. Morrison endorsing Dunn at the end of the match was a really great touch.
WINNER: JT Dunn in 14:00
(7) ANTHONY HENRY [c] vs. DAVID STARR vs. PAUL LONDON — XWA Championship match
Paul London shook hands with just about every fan in the building on his ring entrance, taking about five minutes to go up through the crowd and around the entire arena, even stopping to take pictures. Starr, at one point, hit four dives in a row with Henry and London on opposite sides of the ring (on the outside), diving through the ropes, sliding back into the ring, and then diving out the other side.
The match, with the entrances, was over 20 minutes but the three put in a lot of work. London hit a pair of shooting star presses and the action never had a slow period. In the end, Henry retained with a small package on Starr.
WINNER: Anthony Henry retains in 16:00
(8) JASON BLADE vs. KENNY DYKSTRA
Kenny was in the Spirit Squad gimmick, cutting a promo before the match. The match seemed to get cut short with Dykstra suffering a legitimate shoulder/arm injury. About four minutes in, Dykstra submitted to Blade, but he immediately rolled to the outside. The referee checked on him and was immediately signaling for someone to come down for help. After a few minutes where no one came, the ring announcer looked like he was on a radio to someone in the back and one of the play-by-play announcers ran backstage to get help. More referees and an XWA official came to ringside and Dykstra was eventually helped to his feet and he walked back clutching his left arm. It looked like — though it was hard to tell from my seat — that they have had brought down ice and had Dykstra's shoulder wrapped as he walked to the back.
WINNER: Jason Blade via submission in 4:00
(9) BATTLE ROYAL
The crowd thought we were getting the main event at this point, but they threw in a battle royal, like WWE, to get all the guys in the promotion on the card in a big show. I believe there were some XWA students in this match as well. Overall, it was quick and well put together, with the enormous Wrecking Ball Legursky getting the win.
WINNER: Wrecking Ball Legursky
(10) RICOCHET vs. REY MYSTERIO
This match was everything you would expect it to be. Ricochet and Mysterio put on a terrific show and the match ended after Mysterio hit a 619 but Ricochet countered into a Benadryller.
After the match, Ricochet cut a promo with Rey still in the ring. He said he grew up watching Mysterio and a "Thank you Rey!" chant broke out, with Ricochet letting it pick up. He then called Mysterio a "friend, mentor and inspiration," and said he thinks Rey is still in the best shape of his life and he can certainly still go against the best today.
Mysterio took the mic and said he felt like this was a "passing of the torch" moment. He said guys like Ricochet and Johnny Mundo keep pushing him to be in the best shape he can be. He thanked the fans and Mysterio's music played to close the show, but he rolled out of the ring and gave it to Ricochet, who won the match.
Like most people in the building, I went into this match with high expectations, and they did not disappoint.
WINNER: Ricochet in 15:00
---
If you attend a live event, please send a report like the one above to pwtorch@pwtorch.com. Thanks!