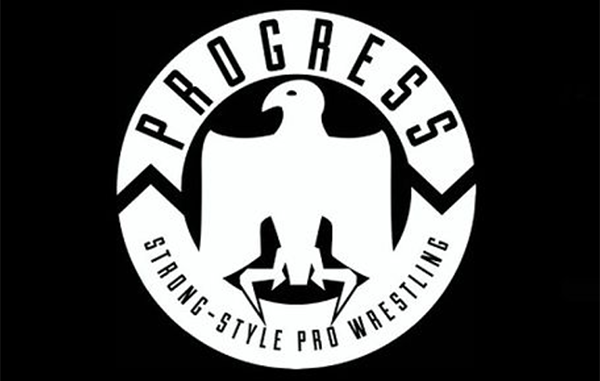 ---
SPOTLIGHTED PODCAST ALERT (YOUR ARTICLE BEGINS A FEW INCHES DOWN)...
---
PROGRESS WRESTLING – CHAPTER 53 "FATE LOVES THE FEARLESS"
JULY 30, 2017
CAMDEN, LONDON AT ELECTRIC BALROOM
REPORT BY DAVID GREEN (@dagreeno), PWTORCH CORRESPONDENT
Before this report, a quick recap of events from the last two chapters in Birmingham and Manchester.
Chapter 51 saw British Strong Style regain the tag titles from #CCK, after the new champs were cajoled into putting the belts on the line in the six man tag main event. The #CCK tandem of Chris Brookes, Kid Lykos and Travis Banks fell to Pete Dunne and new champs Tyler Bate & Trent Seven after Dunne hit Lykos with a sledgehammer.
Another new champion was crowned at the same show when WALTER defeated Matt Riddle to win the Atlas Division Championship in a superb match. War Machine had another incredible battle against the London Riots, which saw them victorious, while Chief Depute Dunne saw his Anti-Fun crusade off to a good start with a win over Flash Morgan Webster. Meanwhile Mark Haskins and Jimmy Havoc both scored singles wins over Mike Bird and Jigsaw respectively, with both men making their case for being the rightful PROGRESS champion and the face of PROGRESS.
Chapter 52 saw the beginning of a series of matches involving Pete Dunne and Travis Banks choosing each other's opponents in each chapter show before their title clash on September 10th. This show saw Dunne take on Eddie Dennis, while Banks took the challenge of Matt Riddle. Dunne was victorious in an incredibly dramatic bout, while Banks took a loss to Riddle due to a Dunne distraction.
War Machine took Bate and Seven to the limit in their tag title challenge, but were unsuccessful. #CCK defeated El Ligero & Dave Mastiff and the debuting Extra Talent-ed, though a controversial finish saw #CCK challenge Extra Talent-ed to a match for tonight's show. And Toni Storm made her second successful Women's title defence over Laura Di Matteo.
So that leads us into tonight's show, which kicked off with a bonus preshow match.
Preshow match…
(A) Connor Mills defeated Spike Trivet by pinfall. A fun opening between these newcomers, with Trivet get immediate heat due to his Tory character billed as the King of Strong and Stable Style. Mills impressed with his Lucha style and took the win with a beautiful top rope 450 splash, evening their series of matches at 1-1.
(1) #CCK (Chris Brookes & Kid Lykos) defeated Extra Talent-ed (Ricky Starks & Aaron Solow) by pinfall to become No.1 contenders to the PROGRESS Tag Team Titles. An entertaining opener with some typically sick f—ing tag moves. For those unaware, Starks & Solow were alternates for WWE's Crusisrweight Classic and use that fame as their gimmick. Solow got on the mic before the match to put down the crowd, stating they (the crowd) could never get a girl like his girl (his girl being WWE's Bayley). Late into the match, Solow tied his hair to mimic his beloved and hit Brookes with the Bayley-to-Belly for a two. #CCK wrapped things up hitting their Lung Blower/Senton combo, followed by a Brookes underhook piledriver for the win.
(2) Chief Deputy Dunne defeated Chuck Mambo by pinfall. Dunne and Mambo featured in a four way match last weekend at Chapter 52, which saw neither win or lose, but Dunne took the fight to Mambo early on in this encounter. Mambo had a lot of fun in the match, but ultimately fell to the Fun's Over DDT.
(3) Zack Gibson & James Drake defeated Never Say Die (Alex Cupid & Dillon D'Angelo) by pinfall. The new tandem of Gibson & Drake were dominant in this one, proclaiming themselves to soooooon be the number one tag team in PROGRESS. NSD we're making their Chapter debut, but aside from a few bright moments from D'Angelo, they were crushed by their more experienced opponents.
(4) James Davis defeated Rob Lynch by submission. This battle of the London Riots was made after the team requested management give them a new challenge. The caveat was that the winner would granted an Atlas Division title match. Before the match, Lynch's mother was introduced to the crowd.
Despite the men's mutual respect, this broke down quickly with both men fighting fiercely from the start. On the outside, Lynch threw Davis into the crowd with an overhead belly to belly. The referee was about to reach a ten count, but Lynch stopped him and made sure the match ended in the ring. After a very high impact match, Lynch went for a Spiral Tap from the top, but missed and landed hard on his shoulder. In a flashback to ENDVR:12 when Lynch was legitimately injured, he bellowed in pain that he'd hurt his shoulder again. Davis tried to make him stop the match, but Lynch wanted to continue. He went for a spear, but was kicked in the bad shoulder and locked into a Cobra Clutch. Lynch eventually tapped.
Post match, Lynch requested to speak to the crowd, where he shockingly announced his departure from pro wrestling. He stated his personal life was a mess and he couldn't stand to be hurt anymore. He recalled the in ring accident I mentioned earlier and stated how it made him feel to have the crowd standing in appreciation for him, which tonight's repeated with a huge ovation. Lynch bent down to kiss the PROGRESS symbol…..when Davis broke his trademark cricket back across Lynch's back! Davis locked in the Cobra Clutch again and Lynch passed out, in front of a stunned crowd. Davis laid into Lynch's personal problems and labelled him a loser. Davis left a hated man, while Lynch was escorted out by security and his mother by his side.
This turn was immaculately executed, with the symbolism of the Riots cricket bat being broken in half across the back of Lynch being particularly powerful an image.
(5) PROGRESS World Champion "Bruiserweight" Pete Dunne defeated "The Pansexual Phenomenon" Jack Sexsmith by pinfall in a non-title match. Travis Banks has been choosing wrestlers with immense heart to challenge Dunne in the run up to Alexandra Palace, so this match was much anticipated. Also on the line was a title shot, as anyone that beats Dunne will get a title match before the big September show.
Dunne attacked Sexsmith from behind and threw him into several sections of the crowd. After Dunne got into altercations with security, Sexsmith scored with top con hilo. This match was extremely dramatic, as Dunne just could not put Jack away, despite big moves such as two consecutive tombstones. Sexsmith made his comeback, but an attempt at Mr Cocko resulted in bitten fingers. Sexsmith came back with a finger snap and the Big Double Stompy Move. In the end, the champ proved too dominant and put Jack away with the Bitter End.
(6) Toni Storm defeated Candice LeRae by pinfall to retain the PROGRESS Women's Title. This match was announced only a few days ago and got a lot of positive hype online. The match did not disappoint. LeRae got a huge pop for her PROGRESS debut and what followed was an excellent match between two of the absolute best in the world. Storm scored with her Strong Zero piledriver for only a count of one. LeRae hit a big back suplex off the top for a close count, but Storm scored with three more Strong Zeros to put Candice down for the successful title defence.
(7) British Strong Style (Trent Seven & Tyler Bate) defeated Mark Haskins & Jimmy Havoc by pinfall to retain the PROGRESS Tag Team Titles. Havoc and Haskins have been extremely vocal online regarding their standing in PROGRESS, so were granted this title shot against a tandem they have a lot of history with. An outside brawl quickly developed, while back in the ring Haskins and Havoc took the champs to the limit. Haskins trapped Trent in the sharpshooter, while Havoc held Tyler at bay in a Crab. Before either could submit, Pete Dunne emerged from the back and grabbed Haskins' wife Vicky and held her roughly at ringside. Haskins released the hold to remonstrate with Dunne, while Havoc looked visibly annoyed that Haskins wasn't concentrating on the match. Havoc got caught with a low blow and roll up by Seven, which gained BSS the title retaining pinfall.
After the match, Haskins and Havoc argued. Inevitably after months of tension between the two, they came to blows. The brawl was so intense that security and various roster members had to get involved to separate the pair.
(8) "Limitless" Keith Lee defeated Travis Banks by pinfall. Making his PROGRESS debut, Keith Lee was selected to face Banks by Pete Dunne, clearly choosing huge physical challenges for Banks on the road to Ally Pally. Dunne also forcibly made himself guest commentator for the match. Lee dominated at the bell, running through Banks' attempt at a clothesline and hitting a running hurrancarana. Later he countered a Banks suicide dive by literally catching him like a child jumping into a pool, before hitting a Spirit Bomb on the apron. He then hit a series of massive hip tosses, including one into an entire seating section. Banks attempted to rally, but Lee was dominant. Lee hit huge chops to Banks' chest which the entire crowd seemed to feel as well. After Lee hit a second rope moonsault, Banks kicked out at one! He then went into Terminator mode, hitting everything he could onto Lee. After knocking him into the corner, his attempt at a cannonball was caught once again, with Lee lifting into a Spirit Bomb for only two. Travis rallied with his massive lariat before lifting Lee into the Kiwi-Krusher for a close near fall. Dunne ran to ringside with his sledgehammer, distracting Banks. Banks went for the Slice of Heaven, but it was caught and countered into another Spirit Bomb into a Death Valley Jackhammer to give Lee the slightly tainted win.
Post match, Seven and Bate attacked Banks. #CCK ran in for the save, but Dunne entered to lay out Brookes and Lykos with the hammer. British Strong Style controlled the beat down on Banks before setting up for a final, potentially fatal, shot with the hammer…….
"Keep it 100" blasted out of the sound system and the crowd created the loudest pop in PROGRESS history as TK Cooper and Dahlia Black made their surprise return to PROGRESS and the UK to run BSS out of the ring! The crowd were on their feet for the return of the South Pacific Power Couple, who looked extremely emotional to be returning. Banks was literally in between the two factions he's a part of, CCK and SPPT. Brookes and Lykos gestured that Banks should rejoin his fellow New Zealanders, which he did to the joy of the crowd.
This was an extremely emotional show, from the lows of the London Riots split to the highs of TK & Dahlia's surprise return. With Dunne's wins and Banks' losses in their matches, the road to Ally Pally is a lot rockier for Travis at present. Plus the continued story between BSS and CCK, along with the Havoc and Haskins angle, are progressing nicely.
Chapters 51 & 52 are already on demand-progress.com to view, with this show to be on there hopefully by next weekend. All three are highly recommended.
---
CHECK OUT THIS PREVIOUS DETAILED PROGRESS REPORT: 6/25 PROGRESS Wrestling in Camden, London – 50th Chapter: Pete Dunne vs. Donovan Dijak, Trent Seven & Tyler Bate vs. Chris Brookes & Kid Lykos