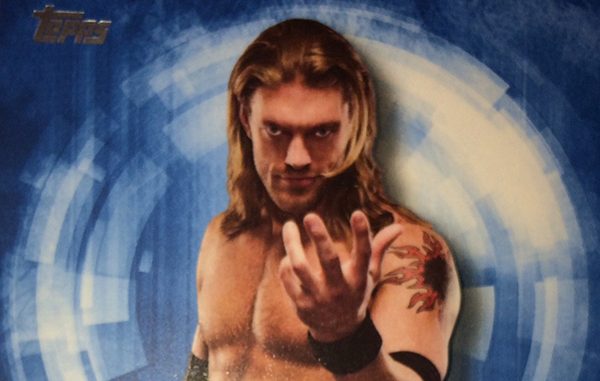 ---
SPOTLIGHTED PODCAST ALERT (YOUR ARTICLE BEGINS A FEW INCHES DOWN)...
---
Box Break
Number of Packs: 10
Cards per Pack: 5
Number of Hits (Autographs or Relic Cards): 11
Total Number of Cards per Box: 50
Shirt Relics (numbered to 199): Sasha Banks, Becky Lynch
Autographed Shirt Relics: Braun Strowman (base, 99), Kalisto (Green, 25), Kalisto (Gold, 10)
Base Autographs (numbered to 199): Edge, Dean Ambrose, Naomi
Bronze Autographs (numbered to 99): Sasha Banks, Chris Jericho
Silver Autographs (numbered to 50): Carmella
Base Set Parallels: Lana Green (25), Randy Savage Silver (50), Seth Rollins Silver (50), Shawn Michaels vs. the Rock Dream Matches Bronze (99)
The Basics
WWE Undisputed, Topps' high end premium product, returns for its third year. Originally launched in 2015, Undisputed is a hobby-exclusive product that delivers five cards per pack, including one guaranteed hit (autograph or relic card). Each box guarantees 10 hits, including eight autographs, but many box breakers have found extra hits in packs that contain a basic relic card or a redemption. Individual packs usually sell for around $25 at hobby shops, and full 10-pack boxes can be purchased online for around $200.
The Good
Most of the autographs are on-card, with only a few cards using sticker autographs (Brock Lesnar, Undertaker, Goldberg and some Diamond Dallas Page cards). Most of WWE's top stars from the main roster and NXT are in this set, including first-time WWE autographs for Bobby Roode and Roderick Strong. Some of the most popular autographs in the set are Alexa Bliss, AJ Styles, Shinsuke Nakamura and Charlotte Flair.
Basic blue autographs are serial numbered to 199, and there are several serial numbered parallels: bronze (numbered to 99), silver (50), green (25), gold (10) and red (1/1). Some big name stars – Lesnar, Undertaker, Goldberg, Randy Orton and John Cena – don't appear in the basic blue autographs and only appear in the serial numbered parallels. This is actually a good strategy by Topps, as limiting cards of bigger stars makes them feel more special for collectors who do pull them.
There are very few autograph redemptions, with Bret Hart being the only big name whose signature wasn't available when packs were released. But Topps now has those cards in hand and ready to ship to collectors. Many collectors who have grumbled at redemptions for a signature of Big Cass or Sami Zayn have been pleasantly surprised to sometimes find an extra hit in the pack with the redemption card. Autographed relic cards and mutli-autograph booklet cards use stickers instead of on-card autographs.
The base cards, printed on a much thicker card stock, have a real premium look and feel to them, even compared to past Undisputed products. Each card features one very simple shot of a wrestler against an artistic background. The Green parallels in particular look fantastic and are serial numbered to just 25 copies.
The Dream Matches insert set feature some pretty cool fantasy matchups, such as Sting vs. Undertaker, Bret Hart vs. Edge and Steve Austin vs. Brock Lesnar. Bronze, silver, green, gold and red parallels are available for Dream Matches cards as well.
The Bad
There's really not much to dislike about Undisputed. Collectors would like to see on-card autographs of Undertaker, Lesnar and Goldberg, but a few sticker autographs for top stars aren't a major flaw that will damage the product; a sticker autograph is certainly better than a redemption.
The only real duds in Undisputed are the shirt relics, which basically look like the autographed version without the sticker. Without the autograph on the card, there's just a lot of dead space below the swatch of T-shirt. Perhaps if Topps is going to use unsigned relic cards in high end products like Undisputed, the company could change up the design and maybe use a large swatch of shirt.
Final Thoughts
High end sports card products are often a crapshoot; it's fairly common for collectors to buy a box and end up with a couple autographs of obscure rookies. But Topps delivers considerable value with Undisputed. The price point is going to naturally turn off some, especially casual collectors, but for the most part collectors who break a box of 2017 Undisputed are going to get their money's worth. Roughly $200 will deliver at least eight autographs, and even if box breakers don't hit a big ticket item like an Undertaker autograph or low-numbered booklet, there are enough top stars in this product to make it well worth a collector's while.
The box reviewed in this column was provided by Topps.
Two autographs from this box are being given away on Twitter! Follow @MMooreWriter for instructions. Two winners will be selected via random drawings.
NOW CHECK OUT THE PRIOR COLUMN: COLLECTIBLES COLUMN: The Rise of Alexa Bliss
---
PWTorch Collectibles Specialist Michael Moore can be reached at michaelmoorewriter@gmail.com. Follow him on Twitter @MMooreWriter.