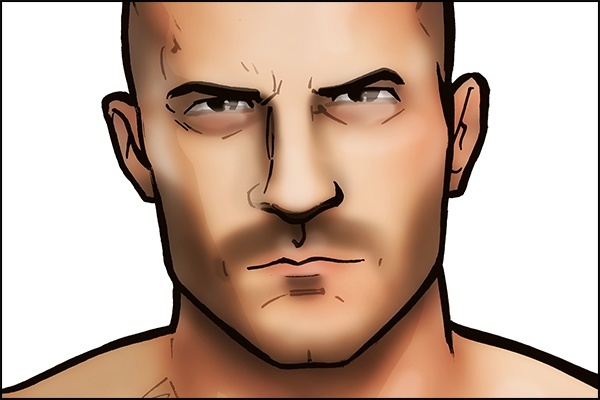 ---
SPOTLIGHTED PODCAST ALERT (YOUR ARTICLE BEGINS A FEW INCHES DOWN)...
---
We are less than two weeks away from Summerslam and WWE churned out yet another week of solid programming with both Raw and Smackdown both delivering in a big way. Lets take a closer look at who stood out and who missed the mark.
RAW ALL-STARS: DEAN AMBROSE AND CESARO
While the match between Dean Ambrose and Cesaro went a little longer than fans may have liked, these two provided us with one of the best Raw matches of 2017. WWE fans have almost been conditioned to not expect matches of any great length on either Raw or Smackdown unless it was a mega-hyped championship or grudge match. This, on the other hand, was a match announced just that evening between two wrestlers with very little history and made magic. I really enjoyed the chain wrestling early on, a side of Dean we never get to see. Based on his persona and how he carries himself in the ring we understandably view Dean as more of a brawler than a wrestler so it was refreshing to see him mix it up with someone as talented on the mat as Cesaro. It was also a great way to start the match, building to the high spots and near falls to get the crowd invested. Following the match Dean sold the attack by Sheamus and Cesaro incredibly well and his reaction to Rollins coming in for the save was spot on. This is the best version of Dean Ambrose and I hope to see more of it leading into and coming out of Summerslam. In my opinion – The fist bump with Rollins should have happened. WWE has recently struggled to create truly memorable moments and missed out big time here. It will eventually happen but it will have lost steam and not capture the level of gravity WWE is hoping for with how Monday played out.
RAW UNDERPERFORMERS: MICKIE JAMES AND DANA BROOKE
I would love to sit down with whomever had the idea to rehire Mickie James as a full-time wrestler and ask them exactly what the logic was. In what was basically an enhancement match to determine who will fight to be the next #1 contender for the Raw Women's Championship, Mickie James and Dana Brooke were disposed of in just under 3 minutes by Nia Jax. Dana has improved in the ring but with only 3 minutes to work she rushed most of everything she did, offensively and in selling, and came out looking even less credible than when the match began. It is a shame because Dana was really on to something in NXT and could have used another year there to really solidify the power lifter/pin-up gimmick they were cultivating for her. Mickie is still getting crickets when looking for a crowd reaction. Half of the live audience who knows about her past run aren't interested because she has been booked so poorly and the other half who know very little about her history have been given no reason to get invested. Sure, Nia is getting a push right now but it would be best to make her wins mean something. If you she is beating two women that have been defined so far down, is it even that impressive that she made such quick work of them?
RAW NOTABLE UNDERPERFORMER: BOOKER T
Most of us ardent fans that have been watching professional wrestling for a long time can recall different instances where an announcer was off his game, but no one up until this point performed as poorly as Booker T did on Monday night. What made matters worse was Corey Graves insisting on pointing out every terrible comment made by Booker and indicated just how ridiculous he sounded. This all came to a head during the Cesaro vs. Dean Ambrose match which unfortunately took away from how well both men were performing in the ring. There is not much else to say here except for the fact that this should be a wake up call to WWE that Booker belongs nowhere near a live mic during Raw. Period.
SMACKDOWN ALL-STAR: SHINSUKE NAKAMURA
With Shinsuke Nakamura heading into the biggest match of his WWE career it was a great idea to keep him off of live television and conduct an interview in a controlled setting. Up until this point all we knew about Shinsuke was that he was a superstar in Japan who hits people really hard. In this interview we finally learned why Nakamura came to WWE and what a championship match at Summerslam truly meant to him. Without the nerves of being on live television and working through the slight language barrier, this was a fantastic portrayal of his personality which endeared him to the audience. Nakamura has the ability to speak not only with his words but with his facial expressions and body language that is unlike any other wrestler we have seen in WWE which he utilized very successfully when speaking with Renee Young. When he leaned in at the end to proclaim that the Nakamura Dynasty will begin it was a terrific cherry on top of a string interview. It was short, sweet and gave us just enough to want more. Very well done.
SMACKDOWN UNDERPERFORMER: JINDER MAHAL
Speaking strictly from a storyline perspective, it was not a good look at all for the WWE Champion to lose clean and in the middle of the ring less than two weeks from his title match at Summerslam. Up until this point, Jinder has relied heavily upon the help of the Singh Brothers, and also The Great Khali at Battleground, to win and retain his Championship. With Mahal only having one true title program under his belt this loss hurts his credibility going into what is presumably the biggest match of his career. Understanding that he is a heel, it is passable to win matches by way of cheating, but if his first televised match without backup ends in a decisive loss, what does that say about the legitimacy of his title reign? WWE has used interference in finishes so much lately to help keep wrestlers looking strong and it was puzzling to see the attack from Rusev on Randy Orton happen after the final bell had rung here. It will be interesting to see how Mahal is booked next week in the go-home episode, but as of right now he is most certainly the underdog heading into his match versus Nakamura.
Follow Michael Souza @TheWrestlingFix.
---
NOW CHECK OUT LAST WEEK'S COLUMN: WWE ALL-STARS & UNDERPERORMERS: Paul Heyman, Jason Jordan, Rusev, Sami Zayn