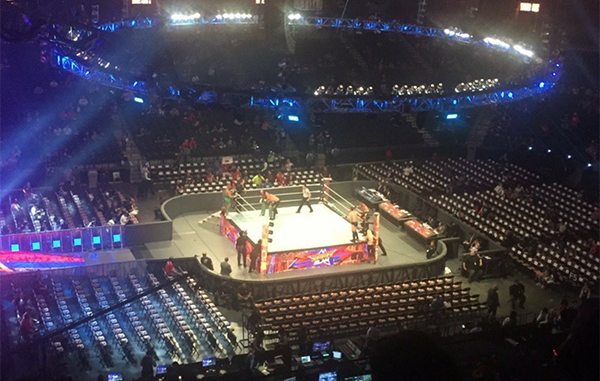 ---
SPOTLIGHTED PODCAST ALERT (YOUR ARTICLE BEGINS A FEW INCHES DOWN)...
---
WWE SUMMERSLAM HOLT REPORT
AUGUST 20, 2017
BROOKLYN, N.Y. AT BARCLAYS CENTER
REPORT BY JOSH PARRY FROM ORLANDO, PWTORCH CORRESPONDENT
Some notes from Barclays Center last night…
• The printed and advertised bell-time, right up until Sunday afternoon on Barclays Center social media was 6:30 p.m. As the crowd filed in leading up to 6:30 p.m., I overheard many families and kids upset that they didn't get to see The Hardys. That must be really disappointing, and I'm surprised at WWE's lack of foresight (or communication) on this.
• I had just grabbed a beer and found my seat when the Miz's music hit around 20 minutes after the doors opened. It was nice not having to sit around for 90 minutes waiting for the show to start, but what an embarrassment for the wrestlers. There must have been fewer than 1,000 people in their seats at the time of the match. A friend who was also in attendance sent the picture above, which gives a good look at how empty the place was.
• The lack of pyro at the start of the main card was jarring, being used to that as a fixture of my wrestling adventures since I was little. There was a collective "aww" of disappointment in my group, but I understand getting rid of it.
• The reaction to Baron Corbin in a nutshell was "look at this dork." Chants of "Where's your briefcase?!" we're most prominent, with "Dumpster fire" and a small chant of "You f—ed up" not picking up much steam. They've done an effective job of preventing him from being taken seriously whatsoever. A "C.M. Punk" chant gathered some steam during a low spot in the match, but was quickly shouted down with boos.
• Fans were not into Big Cass vs Big Show. There was a "boring" chant at one point. Fans did get a kick out of Enzo's antics, but there was generally less interest in his spiel than at past shows I've been to, especially compared to this past WrestleMania. In person, the shark cage looked like it was hanging so low that either of the 7-footers could have reached up to grab it. I suppose this ended up being so that Enzo could get down safely. If you're WWE and you're set on having a 6 hour show, valleys like this are a good way to conserve audience energy for later, but I would rather they keep matches like this off of such a big show. Trim time, or utilize actual fan-favorites like Zayn, Gable, or a Miz IC title match like you said in your report.
• Orton still gets a big pop. Somehow. Fans in my area were glad this was over quickly so we could get to the more exciting stuff.
• Bayley was loudly booed when she appeared onscreen.
• The crowd was 70/30 for Bliss over Sasha.
• Finn Bálor's entrance got one of the biggest babyface reactions of the night. The big entrance with the fog, the lights, and the Demon get-up was very cool in person. A couple of loud pro-Balor chants during the match.
• Fans loudly shouted "Burn it down" along with Seth's entrance. Dean got a noticeably louder initial pop for his entrance music. Cesaro shredding the beachball babyfaced him to 90 percent of the crowd. It got a bigger reaction than any actual move in the match. Hopefully he doesn't catch any heat for shredding a ball with the American flag printed on it, as some people nearby me pointed out.
• Brooklyn was hot for Shinsuke's entrance, but didn't really get up for his offense. It's still odd seeing him fight from underneath, especially against Jinder Mahal. Fans booed Jinder heartily, which was more to do with their support of Nakamura than the color of anybody's skin. On a night of many false finishes and finisher kick-outs, the sudden ending to this match was deflating for many in my area. Shinsuke gyrated and danced for fans on the way out while the package played for the main event.
• Loudest pop of the night for Braun Strowman. This crowd came to see Braun Strowman win the title. Brock was a fine alternative solution, and I think most would have gone home happy with any outcome other than Roman. I've heard split reactions for Roman in person, and I've heard mostly positive reactions to Roman in person. This was neither. This was all boos and indifference. The dull reaction to Brock-Roman staring down, versus the eruption for the Brock-Braun staredown should be a massive wake up call to Vince if he hasn't figured it out already.
• Nobody in my section sat at all during the main event. I looked around and noticed most of the crowd was standing also.
• Roman knocking Braun in the side of the head with the corner of the ring steps looked brutal in person, and I was concerned that the cut would be much worse than it was.
• After the PPV ended, Brock left up the ramp, and the other three sold pain and dismay in the ring.
• Overall, not near the level of excitement of Takeover from the night before, but a really fun night of wrestling. Having attended the previous two seven-hour WrestleMania's, I've grown accustom to long slog wrestling events, but this actually flew by in comparison. I can imagine it didn't fly by so much for the TV audience, but it was a fun live experience.
• We ended up waiting in line at the same valet lot as Dewey Foley. He was very pleasant. We asked him about how much of what he suggests and inputs reaches TV. He said most of what he thinks is the best stuff across the board rarely makes it into the plans.
---
NOW CHECK OUT THIS REPORT: KELLER'S WWE SUMMERSLAM REPORT 8/20: Lesnar vs. Strowman vs. Joe vs. Reigns, Jinder vs. Nakamura, Naomi vs. Natalya