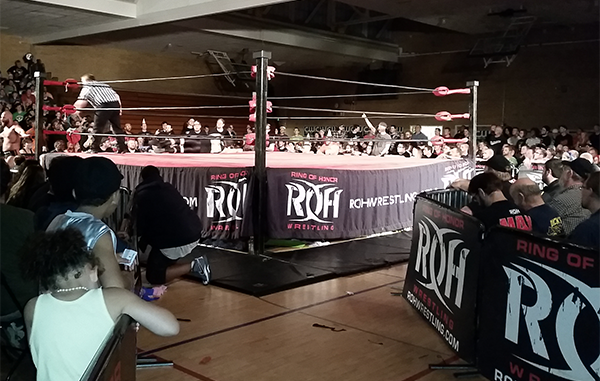 ---
SPOTLIGHTED PODCAST ALERT (YOUR ARTICLE BEGINS A FEW INCHES DOWN)...
---
HITS
Jay Lethal and Silas Young Feud Recap: Nice video package placed at the beginning of the episode showing some of the highlights and key moments of the Lethal and Silas feud that has been going on now for a few months. This led right into a hot opening of the show mentioned in the next segment.
Jay Lethal vs. Beer City Bruiser: Right after the video package above, this week's first match kicks off between Lethal and Bruiser in a no DQ/Falls Count anywhere matchup. Lethal dominates much of the early part of the match with Bruiser finally taking over once we're well into it. Additionally, security is guarding the entrance ramp at the start of the match. They will not allow Silas Young near the ring although Young does find his way to the commentary booth with Ian Riccaboni and Colt Cabana. 17 minutes in and Lethal hits Lethal Injection but instead of going for the pin, Lethal decides to duct tape Bruiser to the bottom rope. Lethal proceeds to then use Bruiser's beer keg on Bruiser's knee. He follows that up with using a folding chair as a mallet as he hammers the keg into Bruiser's knee repeatedly. Meanwhile on commentary, Young is begging for Todd Sinclair to help Bruiser even though it's a no DQ grudge match. Lethal finishes off Bruiser by putting Bruiser in the figure four. Bruiser gives up. Lethal breaks the hold but then puts it back on Bruiser as to make a statement. Young heads to the ring to try to go after Lethal but security stops the two from any contact. This was an excellent opening to the show and could easily have been the main event. It's amazing how when you build a feud the right away and let it play out over time how great things turn out. We'll have to wait a few more weeks for Young and Lethal to battle but this only enhances the feud as we move along.
Silas Young On Commentary: During the opening match between Lethal and Bruiser, Silas Young was excellent on commentary with Riccaboni and Cabana. While the match above was good, the three on commentary made the match even that much better.
Minoru Suzuki Video Package followed by Cody: I assume most ROH viewers know who Suzuki is. If you don't, they show a short package on him as a small introduction to who he is. They probably could've done a little more to build him for those who don't know but otherwise this was a good idea to insert this short package into the show. This is followed by Cody who does a good job speaking up for pro wrestling/sports entertainment. He puts over Suzuki's MMA record but also says he's going to stretch Suzuki which I thought was a great line and end to a good overall segment.
Caprice Coleman's Pulpit with Christopher Daniels and Frankie Kazarian: This was a combined follow up from last week's episode where The Addiction interrupted the main event and where Coleman talked about his new segment. The segment got off to a rocky and slow start but I liked the way it ended with Daniels repeating what Kazarian talked about a few weeks ago when Kazarian said they'd create chaos in ROH. Not the greatest segment from these three but still good and it does go along with the story that they've been telling.
Will Ferrara vs. Howie Timberché: Earlier in the episode they show a pre-show autograph signing where Ferrara, as a masked fan, attacks Cheeseburger. It was a funny segment a little before this match. Obviously, Burger and Ferrara still have to settle their differences and more will come in a second on that. On to this match, Timberché displays some good offense for a newcomer in ROH and gives Ferrara everything he can handle. It crept in my mind a few times that Timberché might just win this thing. But, the veteran Ferrara ends up hitting Timberché with a tornado DDT and Ferrara gets the pin and win. After the match, Burger comes out and challenges Ferrara to a match next week to settle this thing once and for all. While I look forward to next week's match with these two, I have to put over Timberché. This was my first time seeing him and he really did well against Ferrara. I look forward to hopefully seeing more of him on ROH.
Jay Briscoe: If you don't like a Jay Briscoe promo, then I can't help you. He is one of the most legitimate and believable wrestlers you'll ever see. Jay Briscoe has been told he can't compete in the 6-man tag match this week due to a concussion but he makes the point that he's still in North Carolina. With that said, I'd say he may be seen later in this main event. Effective promo as always from Jay and let's see what happens.
Mark Briscoe & Bully Ray vs. Adam Page & Cody: This match was fine although not my favorite. Count me in with the category of people who feel like Bully Ray's act is getting old. Don't get me wrong, I respect his career and his contributions I'm just not tuning into ROH to see Bully Ray. The Briscoe yes, but not Bully Ray. Now, with that said this was good. It didn't take too long for Marty Scurll and Jay Briscoe to find their way down to the ring. Scurll and Jay Briscoe eventually fight their way to the back of the arena and out of the way of the match. With Mark Briscoe about to fly from the top rope to the floor on to Page, TK O'Ryan and The Kingdom come in and hit Mark Briscoe while he is on the top rope. Mark Briscoe falls into the ring where Cody is waiting for Mark Briscoe. Cody hits his finisher and Page & Cody get the win. Afterwards, The Kingdom hit the ring to finish attacking Bully Ray and The Briscoes. The Kingdom hit their finisher on a concussed Jay Briscoe as we go off the air with The Briscoes and Bully Ray laid out.
MISSES
Ring of Honor didn't miss on anything this week. For a one-hour show, all the pieces and segments fit in fine.
Final Thoughts
This was a very good episode of ROH. I thoroughly enjoyed Beer City Bruiser vs. Jay Lethal. Lethal was injured by Young and Bruiser months ago and Lethal finely got some revenge on Bruiser. Now, he will go after Young to complete the deal. The Will Ferrara vs. Timberché match was also surprisingly good. I only say surprisingly because I had never seen Timberché prior to this and I thought he looked very good against Ferrara.
---
NOW CHECK OUT LAST WEEK'S COLUMN: ROH HITS & MISSES 8/26: Young Bucks vs. War Machine, Cody, Suzuki, Coleman, War Machine, King
---
Mike Mills is the PWTorch.com ROH TV Hits and Misses Specialist, providing his point of view on ROH TV weekly. You can follow Mike at @BTT_Podcast and @Mike504Saints on Twitter.